"If you put in the time, nothing can stop you." ~ Josh Smith
Thirty years of playing and Josh Smith is still learning new tricks. His most recent CD Over Your Head is filled with gritty, rockin' blues with guest appearances by Kirk Fletcher and Joe Bonamassa. If he's not touring or playing with other acts, you might find him jamming at his local haunt, The Baked Potato, or noodling on some vintage guitars at Norman's Rare Guitars. But let me be the first to tell you: this cat can play!
In my interview with Josh, we discussed balancing a life as a solo and session musician, his guitar inspired tattoos, and what motivates him most in life.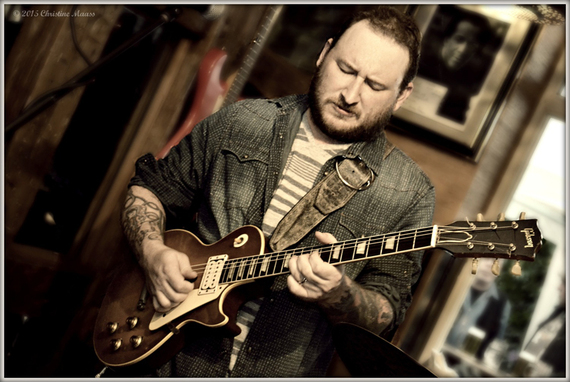 Do you remember the first blues song that you connected with?
JS: It was B.B. King for sure. It could have been The Thrill Is Gone, but I'm pretty sure it was Sweet Sixteen.
You started playing out and doing gigs before you hit your teens. What was that like?
JS: It was great. I started playing guitar when I was six. I kind of got good fast, and when I started to get into blues music, there were not a lot of kids my age into it. What was popular at the time was 80's rock n' roll and then eventually grunge. I wanted to play with musicians that were as good as me, and there weren't too many kids as serious as I was, and if they were, they weren't playing the music that I liked. I ended up begging my parents to drive me around to open jams for adults. This is how it started for me. I'd go to these jams, and sit in with a bunch of adults and the audience would freak out because I was a little twelve year old. The second people started cheering for something I was playing--there is no other feeling like that. It was the best feeling ever. I've never had a Plan B.
How do you differentiate your music from other blues players?
JS: It's changed over the years. I've been in Los Angeles now for twelve years, and that has changed me a lot because I work as a session guitar player, playing for a lot of different artists playing different styles of music. This has certainly broadened my horizons. The blues world is an interesting world. Sometimes you get stuck because people want either one of two things: either traditional blues, or this heavy, rock blues where guitar players are shredding. There's no real "in-the-middle" anymore. I'm trying to bring all of my other influences into the blues and trying to make something unique. I've spent thirty years playing guitar and working and playing all styles of music, but no matter what I do, it's going to be based in blues.
Solo musician vs. Session musician. Is there anything wrong with being both, or should you just focus on whatever your main thing might be?
JS: There's nothing wrong with being both--it's just difficult to balance. When I moved to L.A., I kind of gave up doing my thing for a while because I needed to be able to find a way to make a stable living, because this is my only skill--playing guitar and being a musician. I came out here thinking I would just go out on tour with other artists and be just a guitar player for a while--and that was great. But then I signed a record deal with a company in Germany, and in fact this year will be the most I've played of my own music in probably twelve years. I've easily spent half of this year doing just my stuff. It's a great feeling, but it's really hard to balance because you'll get called for a tour that pays really well and it might interfere with doing your own thing. I'm still trying to work on balancing it right now.
Do you think it is a risky decision to release an instrumental album vs. an album of songs that include lyrics?
JS: It depends on what you do. I did my instrumental record as almost like a business card. It's very diverse. It's got a lot of blues, jazz, country and rock. I kind of wanted to show what I could do in the event that I was called for a gig--I'd have an example to show them. It also helps me broaden my fan base.
You've had the opportunity to share the stage with a lot of great guitar players. Did any of them ever give you any memorable advice?
JS: Oh yeah....plenty of them. When I was a kid, I got to play with B.B. King. He didn't give me any specific advice, but it was more than the way he functioned on stage--rather it was the way he handled himself off the stage. He was so incredibly gracious with everyone, and that left a major impression on me. Once I moved to L.A., another big one for me was Michael Landau--one of the top session guitar players of all time. For some reason, he liked me right away and started to recommend me for session work when he couldn't do them, and sometimes I'd fill in for him. I watched how he did the jobs, because I was kind of new to session work. I watched how he carried himself and how he went about trying to make producers happy. That left a big impression on me too and helped me in that line of work.
In our digitally saturated world, what have you found to be some of the best ways to get your music in front of the masses?
JS: Man, I struggle with that one. My opinion changes every day. I think: should I just give my music away for free because it doesn't matter, and people are getting it for free anyways, or do I act all uptight and not let it out and limit what I put on Facebook and on YouTube. If I post all this stuff online, will it change the amount of people who buy my records, in a good way or bad way?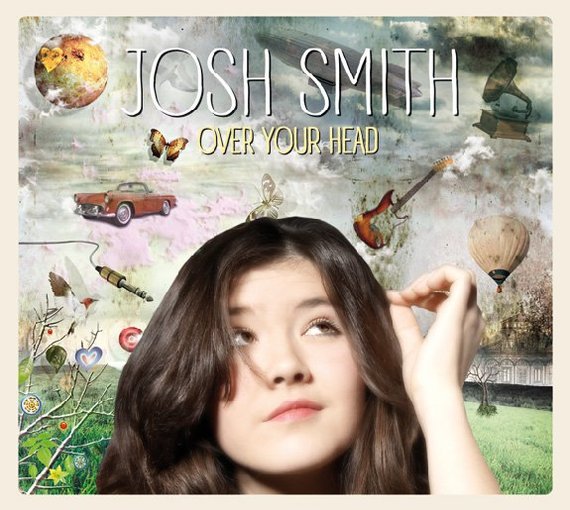 You did a crowd-sourcing campaign to raise funds to do your CD Over Your Head. How was that experience for you?
JS: It was incredibly flattering and amazing. My last record Don't Give Up On Me is easily far and away the record that I'm most proud of. I pulled every string I could get to make that record. It had a full orchestra, a string section--it was the record that I wanted to make my whole life. And you know what, I feel like it just disappeared because I didn't have the money to even release it in America. I have a record deal in Europe--but it's a licensing deal. They don't pay for me to make the record--I make the record myself, and they print it out over there. I spent so much of my own funds making the record, that I ended up not being able to afford to do anything in America, and it ended up never coming out, because I couldn't find a label to put it out over here. It's weird because it comes out in Europe and it's on iTunes and people can buy it, but technically, really, I never released it in America. So, I didn't want that to happen on this new record Over Your Head. So I did the Kickstarter mostly so that I could afford to press it up here and put some money into promotion and to get the ball rolling with this record.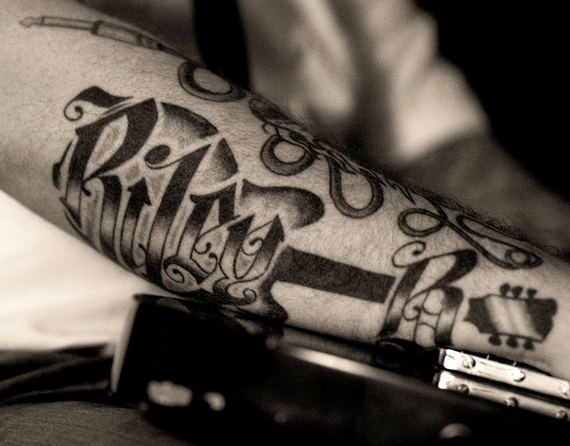 I noticed that you have a lot of guitar and music inspired tattoos. Which guitar player did you immortalize in ink first? Which tattoo means the most?
JS: Most of them are like 'wink-wink' inspirations to people. The one that means the most to me is the one that says Riley B. It's a tribute to B.B. King and my son--as my son is basically a tribute to B.B. King. My son's name is Riley B. Smith and B.B.'s real name was Riley B. King. I also have tattoos for my daughter and my wife that are also etched into a musical theme. My daughter's name is Mackenzie, and I spelled her name on Marshall amp.
What do you know today about being a guitar player that you wish you knew when you were younger?
JS: The thing about being a guitarist is that you're never done learning. Every day I play something new that I never would have thought of the day before. Because it just shows up, and I'm like, Wow, I've never played that chord that way--or that lick that way. I just wish that I knew back when I was a kid to take more time on rhythm playing. It's like anything thing you do--you learn what you want to learn. If you put in the time, nothing can stop you.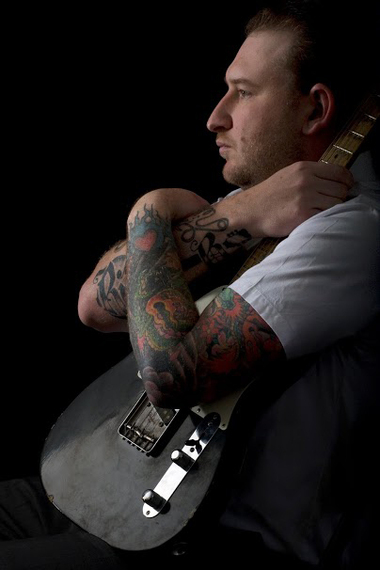 What motivates you the most in life?
JS: Two things: One is obviously providing for my family and making sure that they are happy. And the second is: to make music. I'm never as happy as when I'm being creative or when I'm playing everyday. I just want to be improvising. That's what I live for. Being on that stage, being with a group of guys and improvising over changes, or playing a shuffle, or playing some slow blues, trying to say something to an audience and hoping that they can relate to it. Every day that I can do this is a better day. I'm trying to always build toward this moment that I am saying something that no one else will say--something completely unique that sounds like Josh Smith, and maybe that'll happen.
Quick Notes:
Over Your Head by Josh Smith is available on Amazon.com
Favorite Track: First Hand Look (At Down And Out)
For more information about Josh Smith, visit his website: joshsmithguitar.com
Calling all HuffPost superfans!
Sign up for membership to become a founding member and help shape HuffPost's next chapter