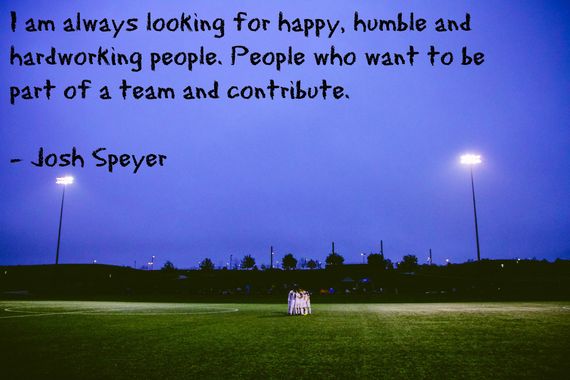 Josh Speyer is the CEO of Aerserv. And I love a CEO that is focused on the culture of the company he captains. Yes, revenue is an important indicator of the health of a company. But more importantly, the cultural health of an organization is a key indicator of its continued progress.
And Speyer makes it a priority in making sure that the culture at Aerserv is one that promotes happy, humble and hardworking team members.
Let's kick off this interview with Josh's story.
So, Josh, what is your story?
I am an entrepreneur of twenty years; my life has always been about seeking out new challenges. I love the thrill of embarking on a new venture. I'm also a former athlete and that competitive drive is core to my personal and professional identities; I'm always looking for new challenges.
I started with domains in 1995 and jumped online fulltime 1998, when it became clear that it was going to be something big, and it has been a fun, constantly challenging journey.
What kind of person do you like to work with?
I am always looking for happy, humble and hardworking people. People who want to be part of a team and contribute, who want to share in the wins and fight through the setbacks. At AerServ, we look for folks that have a team-first, not "me-first" attitude. Good teammates want to help the team in any way they can.
We are always looking to draw from each person his or her unique perspective, intrinsic talent or hard-won skill. I love to see people live up to my expectations of them and exceed their expectations for themselves.
And that only happens when each person knows that he or she can find individual success, however they define it, within that team concept. I love to see everyone contributing in their own way - and it is those that are happy, humble and consistently hard-working that get there. And I might be happier for them than they are for themselves when they do.
Tell me about a project or accomplishment that you consider to be the most significant in your career?
Bob Dylan sang, "There's no success like failure, and failure is no success at all." I don't have a particular accomplishment or even failure that is more significant than the fun I have had working through challenges to succeed (or sometimes fail) with teams of people I liked and respected.
Whether that was athletics as a young man or operating a business today - just getting the opportunity to play is a win.
Solving complex problems often requires a re-framing the problem. So what is your process of re-framing the problem so it can be resolved?
This is a recurring theme in technology; as problems or issues arise, we must troubleshoot the source and often, create new solutions or technologies to solve them. I start my process by identifying everyone involved and trying to
understand the problem through each party's point of view.
It's easy to become myopic in any industry, but ad-tech in particular requires you to look outside your own universe to understand literally dozens of businesses that must work in unison, and to approach problems in the broader context of that collaboration.
Not every business determines success in the same way. What trophy do you want on your mantle?
I am not sure by the time I retire that we will have mantles anymore!
But if any trophies were up there I hope they would be pictures of my family, friends and teammates doing fun things, going fun places and enjoying the journey.
I am proud and grateful that I get to work with great people everyday.
How do you make sure that AerServ will be relevant five years from now? Ten?
I think part of finding success is listening and part of it is leading.
We first need to listen to our customers, our partners and our team here.
And then we need to lead - leveraging what we have heard, our experience, our creativity, our entrepreneurial agility - we must anticipate the market and anticipate what will please our customers and all constituents - so that by the time the marketplace realizes it wants or likes or needs something - we are already there to provide it.
This business seems complex but like all businesses, it is actually quite simple. Give the people what they expect from you, do it well and you will win and keep
their business.
Reader Question: As a solopreneur or entrepreneur, how do you make sure that the company you are building will be relevant five years from now?
Image Credit: Unsplash By Abigail Keenan
Calling all HuffPost superfans!
Sign up for membership to become a founding member and help shape HuffPost's next chapter