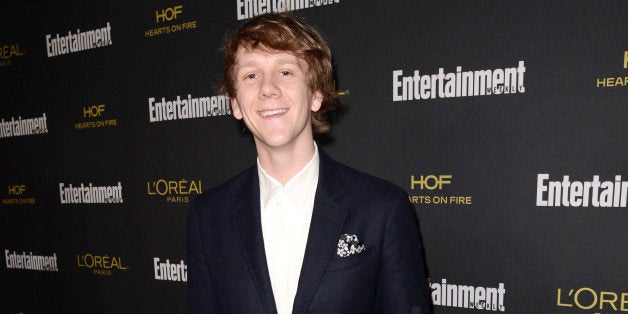 The Australian dramedy "Please Like Me" began in February 2013 with its central character being informed he's gay. The finale of Season 2, which just came to a close, finds him falling asleep next to a guy who's hospitalized for his anxiety disorder. It's been a long, winding and often humorous road for Josh, and the same can be said of Josh Thomas, the creator, writer, executive producer and star of "Please Like Me." The breakout show, which has proven to be a hit with critics and has found a small but devoted American audience thanks to Pivot, on Monday earned an International Emmy Award nomination for Best Comedy.
Halfway through Season 2's run, when Josh was still shacking up with Patrick and tampons were having a moment on the show, HuffPost Entertainment met Thomas for lunch in New York City's Greenwich Village. He chronicled everything from the five-year development process "Please Like Me" went through before making it on television to the time he accidentally crashed a "Saturday Night Live" A-lister's birthday party.
1. He could find a side gig as a chest-hair consultant. Thomas' days are often spent with men asking him whether they should shave their chest hair. "All right, show me your chest," he tells them. They oblige. "Please leave your chest hair, it's fine." Such is the duty of a 27-year-old comedian who had never set foot on a television set before becoming the creator, writer, executive producer and star of his own show. Which is to say that he is in constant demand for what frequently seems like menial concerns. Like the day producers brought in seven photos of macaroni and cheese so he could select which style of the dish would appear on the show. Or the many times he's looked through hundreds of extras' headshots in order to cast background players. "I just didn't realize that everything is chosen. If this was a scene," Thomas said, referring to the restaurant where we were dining, "that shot, that jacket, every extra, everyone's hair, the fucking style of Negroni and the notepad would be a conversation." (He was drinking a Negroni, and we had a notepad sitting on the table.) All that, and he still has men's chests to evaluate.
2. When he first began developing "Please Like Me," Josh was straight. "It was like: Josh has trouble with girls," Thomas recalled. "And then I came out and we had to change the pitch. No one told my producer, which was an awkward conversation."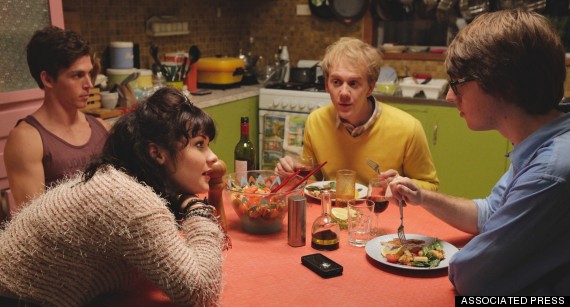 3. Even though his older brother is gay and no one in his family would have minded, Thomas was "deranged" in coming to terms with his sexuality. While his parents were in the other room watching the news, he'd watch "Will & Grace" with his brother, who, like many closeted teenagers, wanted to see the show's gay characters. Thomas, on the other hand, who'd already decided he wanted to do standup, was just interested in seeing the comedy. "I really just didn't think I was gay," he said. "I had sex with quite a few girls. I watched gay porn and just sort of pretended it didn't happen. Then I'd watch some straight porn. I could have sex with a girl and it would be really fun. I was like 17. It turns out that touching your penis when you're a teenager is just good all the time. It could have been ham. It turns out it was a girl called Tracy, but it could have been ham and it still would have been fun. That's not a real name, by the way; I changed it."
4. Unsurprisingly, when you write a fictional version of yourself, a lot of it is based on true events -- including that time someone cried after sex. It turns out Josh's reunion with Geoffrey in Season 2, which ended in Geoffrey's tears, is a bit of a play on events from Thomas' life. "I kissed a boy when I was 18, which I don't count," he said. "I never count that as my first gay experience even though it really genuinely is. But then I sucked his penis and he ejaculated -- well done, me -- and then he started crying because he didn't want to be gay. It just wasn't a very fun experience. And then I just sort of thought, 'Oh, I don't think that's for me.' I hadn't sort of taken into account that it was because he started crying and not because he had a penis, you know what I mean? I just thought, 'No, I didn't like that.'"
5. Joan Rivers hosted a Montreal comedy festival in which Thomas participated. "I loved her," he said. "I gave her a little hug and we had a fun little chat."
6. While in Los Angeles to attend Entertainment Weekly's Emmys party in August, Thomas crashed Kristen Wiig's birthday party. Thomas went at his friend's behest, and immediately upon arrival he knew he didn't belong. Held at a private bar, Thomas suddenly found himself in a room with Wiig, Amy Poehler, Judd Apatow, "the girl from 'Bridesmaids'" and Andy Samberg. He didn't speak to anyone and he didn't take any photos. He felt so out of place that he hid in a booth while all the real guests hit the dance floor. "That's the most Hollywood thing I've done, and I shouldn't have done it," he said. "I'm really sorry to Kristen Wiig for crashing her birthday party. I'm really sorry. I really didn't mean to. It wasn't planned. Someone said, 'Let's go,' and then we're in the taxi and then before I knew it I was just standing next to Amy Poehler. I didn't mean to."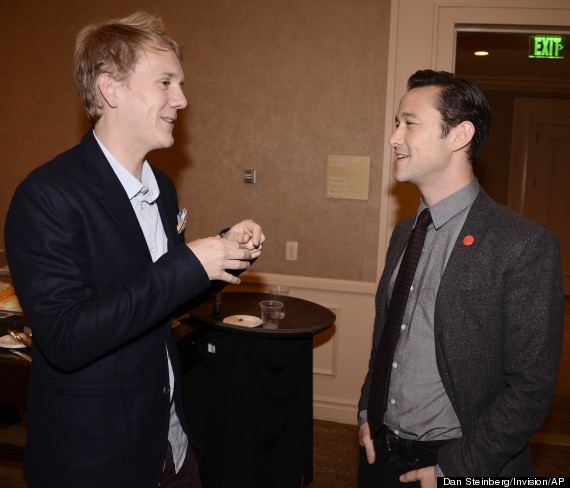 Josh Thomas chats with Joseph Gordon-Levitt following the Television Critics Association's Pivot press panel on July 26, 2013.
7. He knows there's an NFL player with the same name. Thomas shares his name with a New York Jets cornerback and another sports figure: "There's an Australian Football League player called Josh Thomas as well," he said. "He's really beautiful. He's doing very well. I know because I keep getting tweeted, 'Good match, Josh! Great job today!' There's also a fighter. I got a tweet a while back about me, wishing me luck in my fight that night. I was like, either you've made a mistake or my agent has made a mistake. Someone has made a mistake."
8. Thomas' real-life BFF, Thomas Ward, plays his fictional BFF -- but only after a rigorous audition process. Thomas wrote a character based on Ward. He wasn't sure his longtime pal could act, so he auditioned almost 50 actors for the part. Knowing he and the producers couldn't have Ward test-read first and then not give him the part after a score of others audition, Ward was the last to read for the role. Lucky for him, everyone was subpar. "The problem with actors, I find, is that they look like actors," Thomas said. "Because we asked all the agents in Australia -- and Australia's small, so there's not that many people to choose from -- we asked them to send this character who's sort of not unattractive but not attractive, and sort of has lower standards than Josh. Which is sort of hard to have lower standards than Josh. And they were just sending in these muscly dudes, like [Wade Briggs, who plays Josh's flame Geoffrey] was sent in to audition for Tom. [Charles Cottier, who plays roommate Patrick] was sent to audition for Arnold. They just have no idea. And then the guys they send in to play the hot boys are, like, huge, waxed, ridiculous -- they don't look like they exist. So we ended up going with Tom because no one was as Tom as Tom."
9. One "Please Like Me" hat Thomas doesn't want to wear is that of director Matthew Saville, but he still finds himself blocking the show's sex scenes. Thomas says he doesn't understand anything about the more technical aspects of filmmaking, but he steps up sometimes because Saville is "quite shy" about sex scenes. That was fine during Season 1, Thomas says, when his rendezvous were stripped of the pretenses that come with recurring characters. But when he wrote a reunion scene with hunky Geoffrey in Season 2, Thomas knew he'd have to inform Briggs he wrote another awkward sexual encounter for him. "I don't want to know about someone's positive sexual experience," Thomas said. "If my friend has a positive sexual experience, that's not an anecdote I'm interested in. If they, like, vomited or bled or cried, then I want to know. If the person tried to choke them or something, then I want to know that story. I want to know how they felt about that, but I don't want to know, 'Oh, we had sex and it was fun.'"
10. The only concert Thomas has paid money to attend is Beyoncé's. "When I was in D.C., the limo driver told me he drove Beyoncé to the White House and when he dropped her off, Barack Obama came out and said, 'Let's get this party started.' Isn't that just a dream? To sit there and watch Barack Obama come out and say to Beyoncé, 'Let's get this party started.' I mean, I'd pay $10,000 to see that. It was Michelle Obama's birthday party."
11. Thomas is quite taken with the Westboro Baptist Church. The day of our lunch, WBC staged a scheduled protest outside of the HuffPost offices in Greenwich Village as part of its "God Hates the Media Tour." We drove by after the meal in hopes of seeing the action, but they'd already come and gone. "I used to chat to them on Twitter all the time," Thomas, an atheist, said. "I chatted to Megan Phelps, who left. I felt like I kind of liked her, even though she's insane. I started this thing where I'd send them an insult a day. And they're really stupid insults. And they would respond and then we would just chit-chat all the time about the Bible -- me and Megan Phelps."
12. One American pastime that's amused him is the ready consumption of alcohol at brunch. What, there are no cocktails during Australian brunch? How primitive. "We have brunch, but usually with coffee or tea," he said. "Not with bottomless mimosas. I mean, I admire your commitment to just getting drunk in the morning."
13. He doesn't watch "Girls," no matter how much it parallels "Please Like Me." Thomas doesn't tune in to Lena Dunham's HBO series because he doesn't want it to influence his own show. "Girls" does come up in the "Please Like Me" writers' room, though, and sometimes they have to nix certain plots because they're too similar to what happened on "Girls."
14. Thomas would love to cast Ryan Gosling as an American love interest, but he wants "Notebook"-era Gosling. He'd also take Harry Styles in his present form.
15. Sometimes people approach him about "Please Like Me," and other times it's just because they recognize him from his Grindr profile. A fan at a cupcake shop in New York's SoHo neighborhood spotted him, which hit Thomas' two target audience members: "homosexuals and people who work in cupcake stores." "But I didn't get a free cupcake, so that lets you know how well the show is doing," he joked.
REAL LIFE. REAL NEWS. REAL VOICES.
Help us tell more of the stories that matter from voices that too often remain unheard.