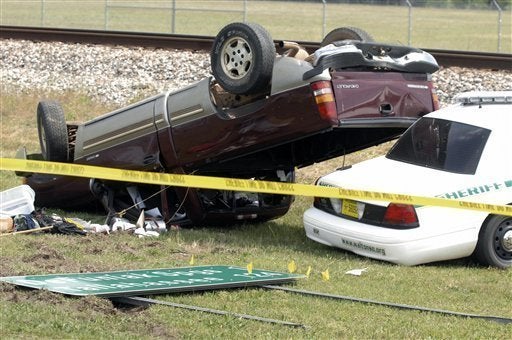 Elizabeth Cartwright woke up at 9:30 in the morning on Saturday when her husband couldn't find the Clearasil.
Her husband Joshua "started an argument because he insisted that it was in her purse," according to the police report. She "told him that it was in the bathroom but her husband became increasingly upset."
The couple started brawling in their Florida apartment. Elizabeth managed to escape and get herself to a hospital and call the police, but Joshua didn't stop raging until after he had killed two sheriff's deputies at a gun range, and police officers shot him dead.
According to the police report, Elizabeth Cartwright said her husband "believed that the US Government was conspiring against him. She said he had been severely disturbed that Barack Obama had been elected President."
It isn't the first shooting incident in recent weeks after which a crazed gunman's political ravings have made headlines. On April 4, after Richard Poplawski killed three police officers, several of Poplawski's friends told the Associated Press that Poplawski "feared the Obama administration was poised to ban guns."
"None of it's logical, none of it makes sense," said interim Sheriff Ed Spooner on Sunday. "He'd obviously just got something else in his mind."
"When that Taser released after five seconds, he came up shooting," Interim Okaloosa County Sheriff Edward Spooner said.

"He went from just being disagreeable to using deadly force in a matter of seconds. It was a very aggressive move with a concealed weapon on his part."

Spooner said that between 30 and 40 rounds were exchanged between Cartwright and the two deputies.
Popular in the Community