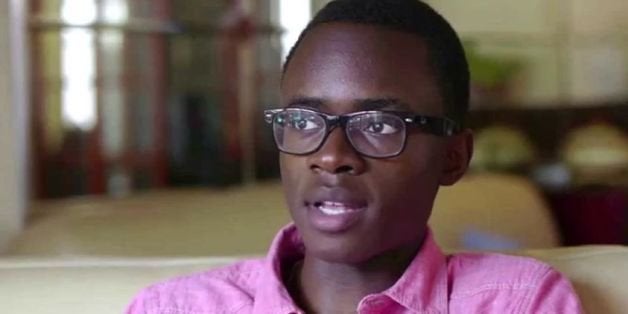 There were plenty of signs that 16-year-old Joshua Colas was a chess prodigy.
"He told me one day, 'Daddy, I can play you blindfolded,'" his father Guy Colas recounted to The Huffington Post. "And I said, 'You sure? I've never seen you practice.'"
Joshua was right; he could not only match his dad but beat him, with his eyes closed.
At age 12, Joshua became the youngest African American chess master in history. This past weekend, he won the national chess championship for the second consecutive year.
Now a high school junior, Joshua's goal is to attain the highest rank in chess, grandmaster. His family is running an Indiegogo campaign to cover the requisite tournament fees and travel costs. So far, they have raised just over $4,000 -- but they only have until next week to raise a lot more.
"He wants to be the role model for all these other kids from poor neighborhoods everywhere, to understand that chess is not only for the rich kids and for the smartest kids," his father said. "He wants to show, if you work hard enough, you can reach the top level."
The Colas family lives just north of New York City, but both of Joshua's parents were born in Haiti. Joshua grew up watching his dad play chess, and at age seven he asked to be taught the rules.
Within months, Guy said, "I was giving him puzzles that people who'd been playing chess for years couldn't solve, and he was able to solve them instantly."
Joshua's college expenses won't be a problem. He's already been offered full rides to two universities, although he's still holding out for his top pick, the Massachusetts Institute of Technology.
But to be a grandmaster, he'll need to compete in a series of professional tournaments, including spending weeks playing in Europe.
"You have to pay a month's hotel fees, and travel, and the entrance fee," Colas said. "It's just to a point now -- that's why I'm asking for people to help me, because he's just too talented to let it go to waste. He really wants it, and he has the ability. So I'm hoping by some luck, someone sees him and says, you know what, let me spring for this kid."
Only one African American, Maurice Ashley, has attained grandmaster ranking. He was 34 at the time. But Joshua is one of three black New York City-area boys who in recent years reached the master rank when they were 12 years old. "To have three young players do what they have done is something of an amazing curiosity," Ashley told The New York Times. "You normally wouldn't get something like that in any city of any race."
The competition schedule can be grueling. Matches last up to six hours and Joshua has played over 100 of them around the country this year. Amongst nearly 57,000 players of all ages registered with the U.S. Chess Federation, he currently ranks #239.
But he takes his success in stride. "Every time you find out he's able to do something unusual, to him, it's nothing," Colas said. "I get so happy, my wife is so happy, but to him it's no big deal. That's one thing that makes him a good chess player. He is not too high, he is not too low, he's always even-keeled."
Guy feels his most important responsibility is to be there when Joshua falters. "I'm just as happy when he loses a game as when he wins a game," he said. "I understand the game. I know how difficult it is. So when he loses, I try to make him realize that that's part of it. That's the road. Chess is a life-long lesson."
He added, "That's the approach that parents should take if they want their kids to do well in just about anything. When they do well, you're so happy. When they don't do well, you have to comfort them, rebuild their confidence, and let them know that's how life is. You have to work all the time to get better."
Below, video of Joshua playing 'blindfolded' chess. Joshua's website is here.