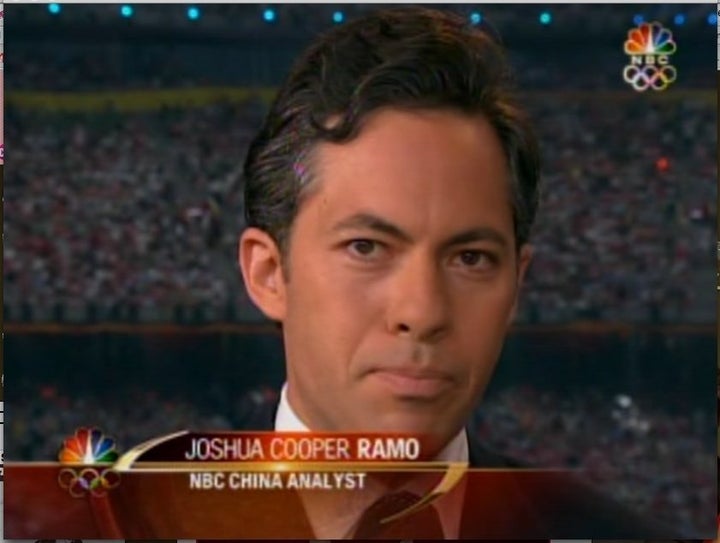 So who is Ramos-Cooper [sic] ? According to a recent piece in the Albuquerque Journal, he "works as a managing director and partner at the Beijing office of Kissinger Associates." Which explains a lot.

Shouldn't NBC identify Cooper-Ramos [sic] as an employee of former Secretary of State Henry Kissinger, who is one of the Americans closest to the Chinese leadership and whose business involves opening doors for Western companies seeking to do business in China?
A bit of internet research reveals more about Cooper Ramo. The Albuquerque Journal article Silverstein cites (subscription required) describes Cooper Ramo's educational and professional background as well as how he became interested in China:
The World Economic Forum in 2005 called him "one of China's leading foreign-born scholars." Ramo speaks Mandarin Chinese and works as a managing director and partner at the Beijing office of Kissinger Associates.

"Think of us as a boutique investment bank that advises large corporations and investors," he said.

He also wrote two widely circulated scholarly papers, "The Beijing Consensus" and "Brand China," and has written a book on international affairs that will be released next year by Little, Brown and Co.

Less political in nature is his 2004 book "No Visible Horizon," in which Ramo, an aerobatic pilot with two national airspeed records, chronicled his experiences as well as the accomplishments of other aerobatic pilots....


Ramo graduated from Albuquerque Academy and briefly attended Brandeis University before leaving for Pakistan and Afghanistan to file stories for Scripps Howard about the Soviet Union's abandonment of its war in Afghanistan.

He later finished his undergraduate degree in Latin American economics at the University of Chicago and worked summer jobs as a newspaper reporter.

After graduating with a master's degree in economics from New York University in 1993, Ramo became a fact checker at Newsweek and later helped launch the magazine's online version. He subsequently worked at Time magazine and became the youngest ever senior editor, foreign editor and assistant managing editor there.

His interest in China was honed while working as Time's foreign editor.
Interestingly, Cooper Ramo's mother, Roberta, is a past president of the American Bar Association and a member of the independent panels that investigated the internal chaos within the US Olympic Committee and the 1999 bribery scandal that plagued the Salt Lake City Olympics. Mrs. Cooper Ramo was joined on the USOC investigatory panel by DIck Ebersol, NBC's Olympics mastermind.
COOPER/RAMO FAMILY, Albuquerque. Here's a one-family conglomerate. David Cooper, 79, is chairman of Western Warehouse, a rapidly growing clothing chain based in Albuquerque. Daughter Roberta Cooper Ramo is president of the American Bar Association and a shareholder in Modrall Sperling Roehl Harris and Sisk, the state's largest law firm. Her husband, Barry Ramo, is a cardiologist and KOAT-TV Channel 7's resident medical expert. (His out-of-state uncle, Simon Ramo, who developed the U.S. ballistic missile system, is the R in corporate giant TRW.) However, despite public perception the family owns well less than half of Western Warehouse, Roberta's previous law firm went bust and David has given a lot over the years to charity and religious causes. ``No way,'' David says. Estimated combined wealth maybe $8 million.
Watch Cooper Ramo's Olympics debut, from Friday's Opening Ceremony, below:
Related
Popular in the Community