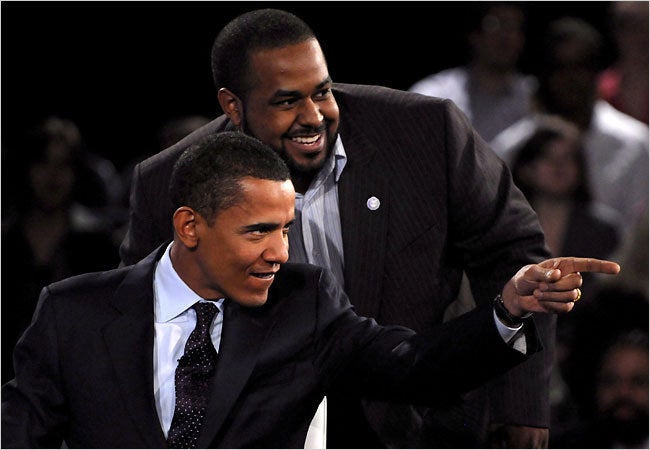 UPDATE (2/09): Joshua DuBois has officially been appointed to lead President Obama's Office of Faith-Based and Neighborhood Partnerships. From the press release:
President Obama appointed Joshua DuBois, a former associate pastor and advisor to the President in his U.S. Senate office and campaign Director of Religious Affairs, to lead this office. "Joshua understands the issues at stake, knows the people involved, and will be able to bring everyone together - from both the secular and faith-based communities, from academia and politics - around our common goals," said President Obama.
In a speech Thursday at the National Prayer Breakfast, President Obama outlined how the new faith-based office under DuBois will be a departure from that of the Bush administration. From the Washington Post:
Speaking at the National Prayer Breakfast at the Capital Hilton in Washington this morning, Obama said the goal of the initiative "will not be to favor one religious group over another -- or even religious groups over secular groups. It will simply be to work on behalf of those organizations that want to work on behalf of our communities, and to do so without blurring the line our founders wisely drew between church and state."

The office's new director, Joshua Dubois, said today that Obama will sign an executive order requiring his office to seek guidance from the attorney general on constitutional issues, including religious hiring.
The New York Times reported earlier on DuBois' qualifications--even though he is only 26 years-old:
Mr. DuBois received a master's degree from the Woodrow Wilson School of Public and International Affairs at Princeton University, and was enrolled in law school when he left to work for Mr. Obama, then a senator.

...

On Capitol Hill, Mr. DuBois was part of a Democratic working group focused on building relationships with religious leaders, especially evangelical Christians alienated by the Republican record on economic inequality, foreign policy and environmental matters. Mr. DuBois expanded that outreach during the presidential campaign by convening house parties of religious voters across the country to present Mr. Obama as a man motivated by his faith.
The Wall Street Journal published a profile of DuBois last August, just a week before candidates Obama and McCain met with Pastor Rick Warren for the Saddleback Church Forum. Here is an excerpt of the WSJ bio:
Mr. DuBois grew up in Nashville, Tenn., and Xenia, Ohio, the stepson of a minister at an African Methodist Episcopal church, a branch of Christianity born in protest against slavery in 1816. His grandmother participated in the 1960 Nashville sit-ins and used to tell her grandson stories about being spat on.

His conservative parents would listen to Mr. Dobson's "Focus on the Family" radio show. Mr. DuBois says he remembers his mother being moved to tears by some of Mr. Dobson's broadcasts.
Popular in the Community