A gay teacher who was fired from an Indiana Catholic high school for getting married has filed a lawsuit against the Archdiocese of Indianapolis.
Payne-Elliott, who worked at Cathedral for 13 years, is seeking unspecified damages for lost wages, benefits, emotional distress, and damage to his reputation, according to a lawsuit filed on Wednesday.
Joshua Payne-Elliott is married to Layton Payne-Elliott, a teacher who works at the nearby Brebeuf Jesuit Preparatory School. The pair were married in 2017. Both men have been at the center of a debate in the Indianapolis archdiocese over whether Catholic schools can employ gay, married teachers. The Payne-Elliotts had refrained from publicly identifying themselves before the lawsuit was filed on Wednesday.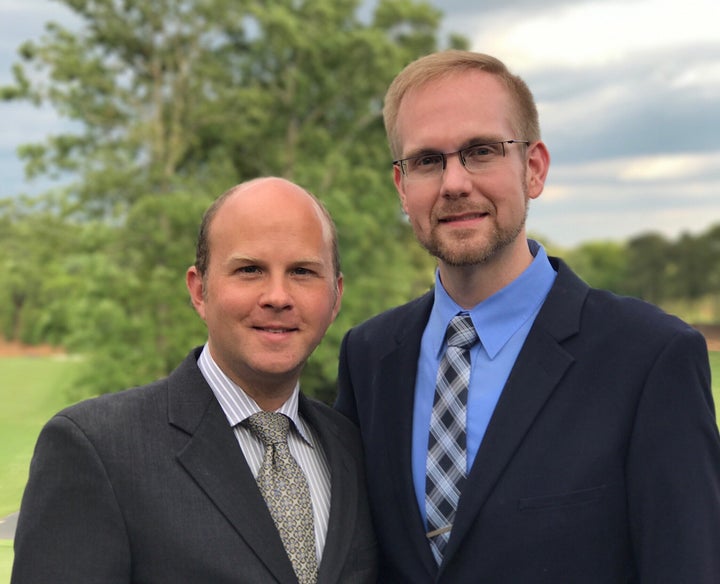 The Archdiocese of Indianapolis gave Brebeuf the same ultimatum about employing Layton Payne-Elliott ― threatening to cut ties with the school if it didn't fire the gay teacher. Last month, Brebeuf announced that it was standing its ground, claiming that firing the "highly capable and qualified teacher" math teacher would violate its "informed conscience on this particular matter." The Jesuit school, part of the global religious order's Midwest province, also resented that a local archdiocese was interfering in an employment decision.
As a result of Brebeuf's stance, Indianapolis archbishop Archbishop Charles Thompson has kicked the school out of his archdiocese and is refusing to recognize it as Catholic.
Cathedral's leaders say that its situation was different. The school relies heavily on its local archdiocese, according to leaders, and risked losing its nonprofit status, its diocesan priests and its ability to offer the Eucharist, a key Christian rite, if it disobeyed the archbishop.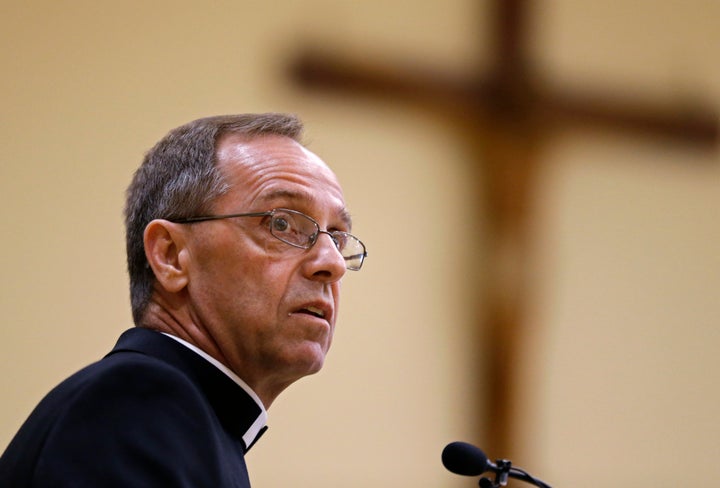 Joshua Payne-Elliott, a social studies and world language teacher, worked at Cathedral from August 2006 to June 23, 2019, according to the lawsuit. In May, Cathedral allegedly offered to renew his teaching contract for the 2019-2020 school year. But a month later, the school told him it was terminating his employment "at the direction of the Archdiocese."
Cathedral's president, Robert Bridges, told Joshua Payne-Elliott that he was a "very good teacher" and that there was no performance-based reason for the termination, the lawsuit states. Bridges allegedly asserted that Payne-Elliott was only getting fired because the Archbishop mandated that the school couldn't employ a teacher in a "public same-sex marriage here and remain Catholic." Bridges apparently told the teacher that he felt like the school was making the decision "with a gun to our head."
Joshua Payne-Elliott's lawyer announced Tuesday that the teacher had reached a settlement with Cathedral High School. In it, the teacher reportedly expressed that he did not wish Cathedral any harm. The archdiocese was not part of that settlement, according to the Indianapolis Star.
Joshua Payne-Elliott has also reportedly filed a complaint with the U.S. Equal Employment Opportunity Commission, claiming he was discriminated against because of his sexual orientation.
The archdiocese has said that Catholic school teachers are "ministers" who are required to uphold church teachings, which prohibit same-sex marriages. The archdiocese maintains that, because of its right to religious liberty, it should have the ability to decide what conduct is appropriate for employees.
In a Q&A on the issue published in a diocesan newspaper earlier this month, Archbishop Charles Thompson suggested that society "has pushed the Church to the margins and peripheries."
"We must continue to engage the world, engage society and engage culture with our message, with that Good News, with those teachings, and what we believe the word of God and the tradition of the Church has revealed and brought to us—and calls us to take to others," Thompson said.