 Those of us lucky to have caught a production of Adding Machine (I saw the off-Broadway production in 2008) or have at least listened to the soundtrack know how gorgeous and haunting Joshua Schmidt's music is. His next musical, The Minister's Wife, dazzled once again and received glowing reviews at Lincoln Center Theater last year. With Schmidt's track record, I was excited to hear that he has recently been hard at work on a new piece, although it's not a musical. His choral piece "Grass Roots American Melancholy," based on three excerpts from Walt Whitman's Leaves of Grass, is receiving its premiere this Thursday, May 31, as part of New York's Essential Voices USA's The Composer Speaks program.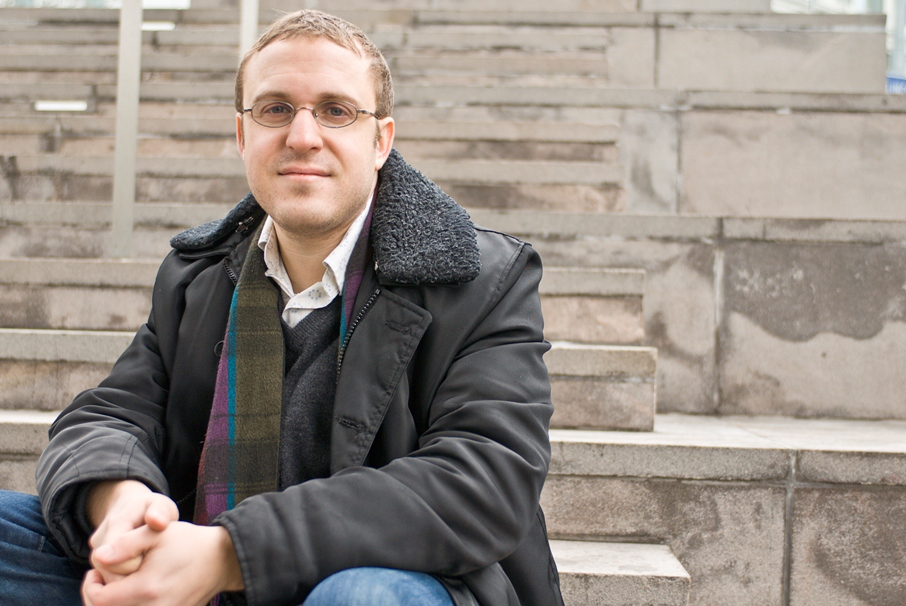 Joshua Schmidt ©2010 Michael Mahoney
Many may only know Schmidt's theater work (I'll confess to only having known his two musicals), but he has also composed extensively for the concert hall, studio, dance, and film and has found full-time work in sound design for theater and dance for many years. "I have always hoped that my skills would allow me to work in many mediums," he said in a recent e-mail, making it clear that he prefers to call himself simply a composer by trade and avoid any narrower definitions. He has, however, always aspired to write for the concert hall. "I trained for this in school, I have dreamed of these opportunities," he said.
These opportunities, however, don't come around every day, so when Judith Clurman, the conductor of Essential Voices USA, reached out to Schmidt after the New York production of Adding Machine, he said he jumped to take advantage of it.
The Composer Speaks is a series of concert workshops during which the composer discusses musical choices and compositional techniques with the conductor and audience, turning the concert into a dialogue. They presented the work of composers Larry Hochman, Bruce L. Ruben, and Paul Schoenfield this month as well.
Schmidt chose to base the 20-minute "Grass Roots American Melancholy" on three excerpts from Walt Whitman's Leaves of Grass: "To a Certain Cantatrice," "Sometimes with One I love," and "To the East and to the West." Schmidt recalled, "I remember Judy [Judith Clurman] specifically saying, 'Josh, you should check out Whitman! Whitman is hip!'"
But it was his connection to his father-in-law, Orlando Martinez-Miller, a Cuban refugee and self-made man, that finally sold Schmidt on Whitman: "With Orlando, a man finally naturalized as an American in his forties in exile from Cuba, I know of no one else who so cherished and ultimately thrived within paradigm of the American Experience." Orlando Martinez-Miller passed away May 3rd, 2012 after a long illness. The piece is dedicated to him.
"Of all great American literary figures, perhaps there is no one more peculiar an individual than Walt Whitman. Unabashed in expressing his own identity, his sexuality, his rejection of traditional poetic structure, Whitman seems to embody the quintessential image of the counterculture of his day. Yet, read his poems. Is there anyone who actually celebrated more passionately the idea of being American than he? In fact, much of what Whitman aspired to in his embrace of the American ideal echoed the very same sentiments held sacred by my father-in-law, an individual in complete contrast to Whitman more than 100 years later."
Schmidt also felt a connection to Whitman in terms of music. "Whitman's text word for word is full of the vibrancy, color, variety and explosive activity akin to fireworks... Taking these three poems in succession, I feel the music moves from a place of action to expansion."
Whatever the outcome of the workshop, Schmidt is happy to explore his voice as a composer in whatever medium -- dance, theater, musicals, choral work -- he finds himself. "The act of finding one's voice never gets dull, never gets old. I am just starting out, and I can report that it is all worth it."
It's great to hear that an accomplished composer still feels he is finding his voice. I'm excited to hear what that voice sounds like in this new piece.
Related
Popular in the Community