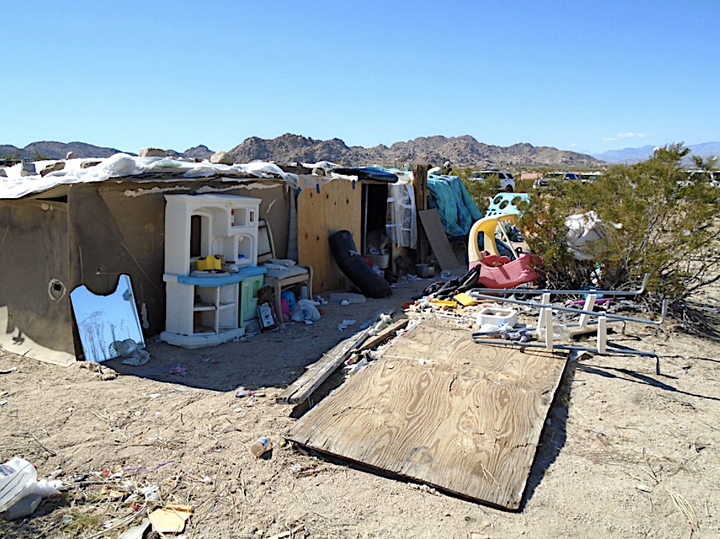 San Bernardino County Sheriff's Department deputies arrested a Southern California couple on Wednesday after discovering that they and their three kids had been living in a large plywood box for four years.
Deputies said that while conducting an "area check" Wednesday on the property in Joshua Tree, California, they not only discovered the box, but also an abandoned trailer housing 30 to 40 cats, and holes filled with trash and human feces throughout the property.
The box measured 20 feet long, four feet high and 10 feet wide, and had no running water, heat or electricity.
Captain Trevis Newport pointed out on Thursday that the parents weren't holding their kids captive in the makeshift home and that they were all living there together. 
Deputies said that the children "were found to have an inadequate amount of food and were living in an unsuitable and unsafe environment."
A Google Maps search of the location listed by police reveals that the property was located in a rural area. Joshua Tree has a population of 7,414, according to the latest data provided by the U.S. Census Bureau in 2010. While Joshua Tree is a hot spot for nature-loving tourists, the unincorporated area's residents suffer from high rates of poverty. The Census Bureau reports that 29 percent of the population lives in poverty, while the national poverty rates in the U.S. are at 12 percent.
Children and Family Services took custody of the kids, while Kirk and Panico were booked at the Morongo Basin Jail.
Both adults are being held on $100,000 bail.
REAL LIFE. REAL NEWS. REAL VOICES.
Help us tell more of the stories that matter from voices that too often remain unheard.