Michael and I moved to Joshua Tree in the late summer, the morning after I tried to kill myself. The city was too expensive. Working every day all day was not enough to cover rent and debt. I just suffered a miscarriage. We lived with roommates who terrorized us over trivialities. I was tired of the traffic forcing me in a tight, long hold from one destination to another. The worry, the failure, and the agitation consumed me.
When we arrived to our key lime green house, I was still hallucinating from the over-the-counter pills I swallowed. It was a miracle they discharged me from the hospital. Michael and I drove out and over together. He tucked me into bed and I slept for three days to rainfall.
Autumn in Joshua Tree brings the rainstorms rolling through with earth shaking thunder. They flood the streets for an hour each time. The sand smells like cinnamon and sandalwood. When you open your front door in the morning, the smell of snuffed campfires curl under the threshold.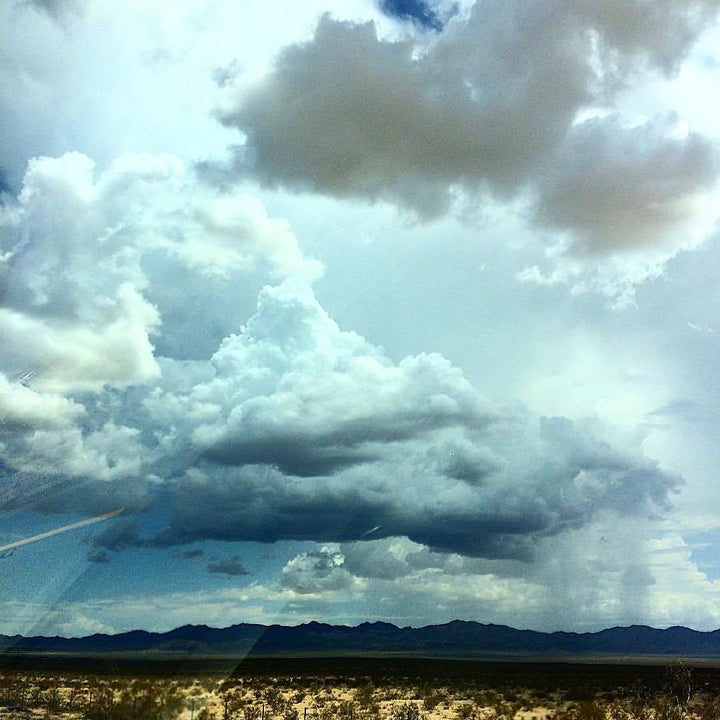 The futon in the living room became an oasis of dogs, warmth and meditation as I spent every day for a month watching every single episode of Cheers on Netflix. It was only then, after 13 years of struggling to make it in Los Angeles, that I began to heal.
The Mojave Natives believed that dreams were a method of acquiring knowledge and supernatural powers. When they awoke, they would record their memories through song. This could very well be why my dreams are so much more vibrant and transmundane than everywhere else I've lived. In fact, Joshua Tree is the first time in my life where I've loved sleep.
"The people who come here are called here," one old woman said to me. The Joshua Trees are not just a part of the landscape. They are like human beings, ambassadors of this sacred sand. They watch you. There is a legend Joshua Trees stand at the gates of heaven and hell. Many say it only grows at two ends of the Earth, in the Mojave desert and in Israel, this is untrue. The Joshua Tree only grows in the high Mojave desert and low Colorado desert. The legend probably leads back to the genesis of the name. When Mormons settled here for sanctuary, they named the tree Joshua because it resembled the outstretched arms of Joshua leading Israelites to glory in battle against Ai (who was consequently hung from a tree after assassination). Another reason could be that Joshua is Greek for Jesus and the trees resemble Christ's outstretched arms on the cross.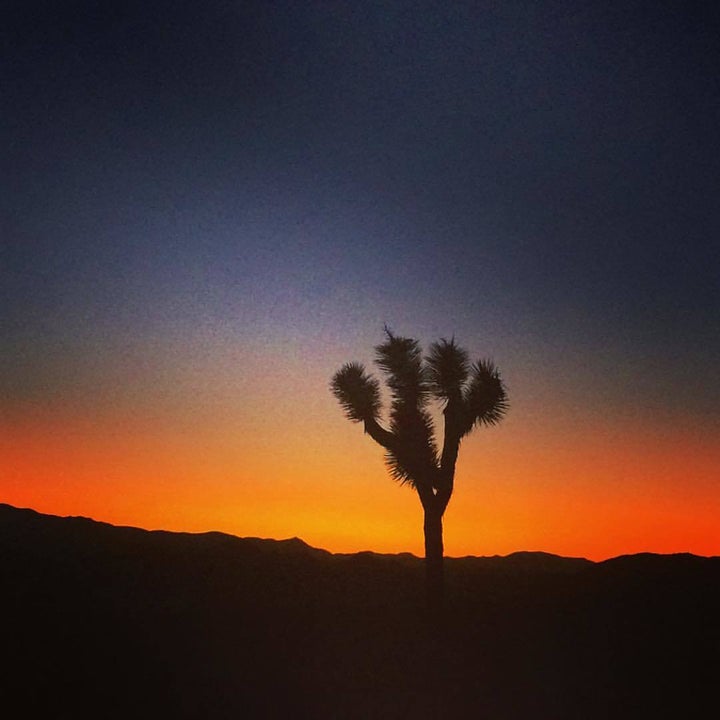 From my kitchen, I watch the sun rise over the desert. It looks like a large, burning host offered during communion. I was hired at a local pizza shop only a ten minute walk from the house that first autumn in the desert. Some days, I walked to work and could smell the pizza ovens lighting up for the morning. The manager was a single mother with four daughters who moved from New Orleans the summer before also seeking sanctuary. She spoke with authority and in the occasional Southern twang. The young men who worked in the kitchen were recruited from coast to coast. Each one responded to a Craigslist ad and moved across the country to sleep in a trailer on the vast property where the pizza shop owner lived with a small pack of dogs. They lived off dirt roads under rusty street signs. It was a family.
I loved working in the pizza shop. The smell of roasting vegetables, fresh pineapple and boiling tomato sauce filled every corridor on the block. We listened to classic rock and alternated smoke breaks. The boys made a special vegan pizza whenever I had a shift. When shoving a pie in the oven, they blew a gust of wind underneath the crust creating a swell that gently rolled across the doughy horizon so their masterpiece could slide in with more ease. The only times the pizza shop was not absolute paradise was when the tourists from Los Angeles shuffled in. They were demanding, condescending and rude. They never cleaned up after themselves, something I got used to the locals doing. Los Angeles tourists often dangled Yelp reviews in our faces to threaten or reward our work performance. They never realized we already lived and died. This was our resurrection.
After cleaning the front of the shop, I sat outside to smoke with the pizza shop owner and one of his dogs or Royce, who started his own coffee shop in the same courtyard. Sometimes we shared a bottle of whisky. The stars were everywhere like someone accidentally kicked over a bucket of tinsel across a black canvas. The homeless or struggling would stop by knowing the owner would give them any leftover pizza for the day. And I walked home to a fire pit, a glass of wine, and my aging dogs leaping over each other around a huge yard.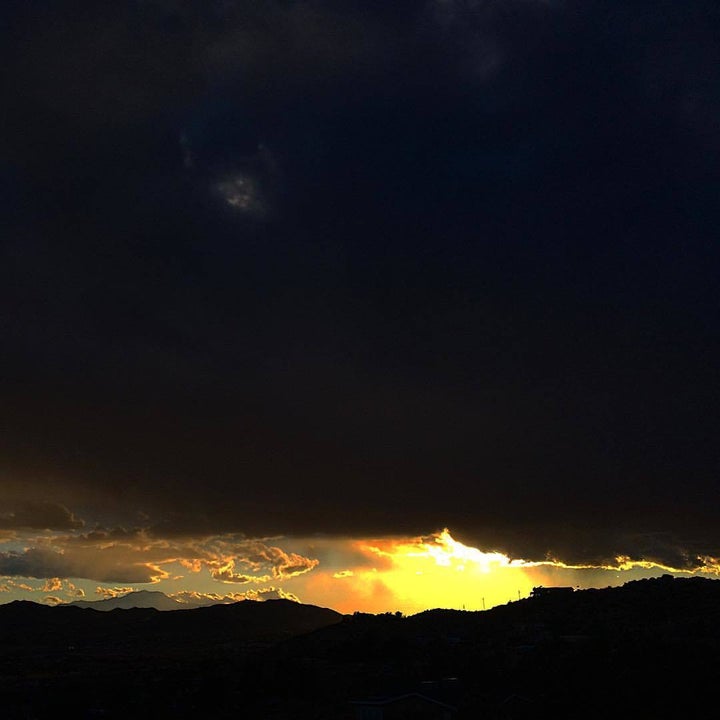 When winter comes, we enjoy the sprinkle of snow. Customers sit outside under heat lamps, sip beer and hover over the steam of a fresh pizza as perfect, white snowflakes shower them from the sky.
Now I am a new mom and a teacher's assistant at the local elementary school. Every day I work with kids of struggling families and shiny spirits. On Facebook, I call myself a "professional shoe-tier". I run into them all over town: at the grocery store, at the gym, at the local parade. The Lights Parade stretches through upper Yucca Valley in early December. The firefighters, convalescent home and local septic pumping service will wrap their trucks in lights, wave at the cold families and throw them tiny candy canes. Children will try to give my six month old infant a piece of candy and stand in front of her for several seconds with their offering before one of us accepts the gift on her behalf. Santa will have so many children to talk to, the line will wrap around the Hi-Desert Water District office (where he sits on his throne) as they wait to whisper wishes even their own mothers may not know.
Children don't shake hands. They embrace all of you. They run to you, bury their faces in your coat, lift their faces to yours and scream hello.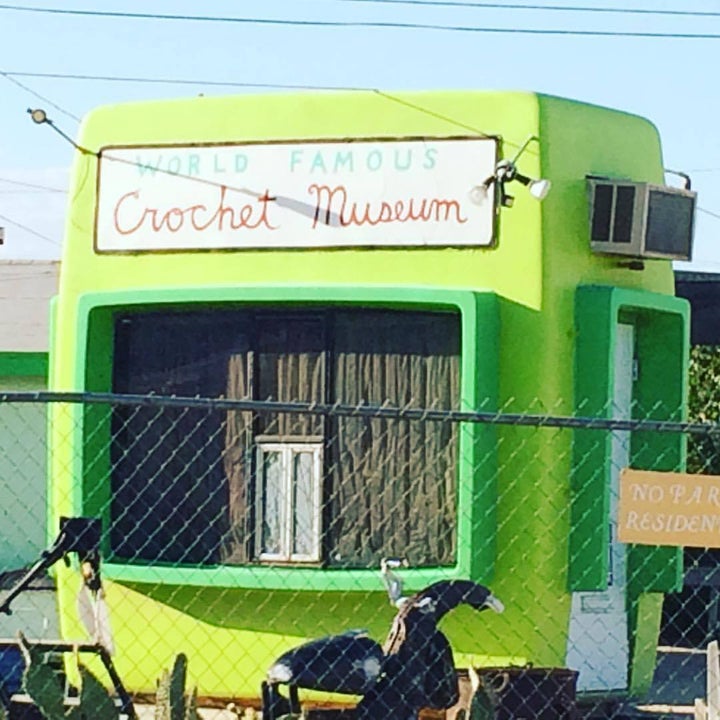 In Joshua Tree, there are more art galleries than gas stations. If you crave a Starbuck's latte or Del Taco burrito you must drive down the highway to the next town as corporations are not welcome. One mural painted on the side of a small parking lot showcases a psychedelic tortoise under the banner "Enjoy Your Trip".
In spring, the winds blow through the desert like it is a jealous god: Zepharyus knocking down Hyacinth. Flowers bloom like sleepy eyes opening at your feet. The earth begins again from dust and solitude to effacement and dilation. Colors draw out the residents who might pull off the freeway to collect a few desert bluebells.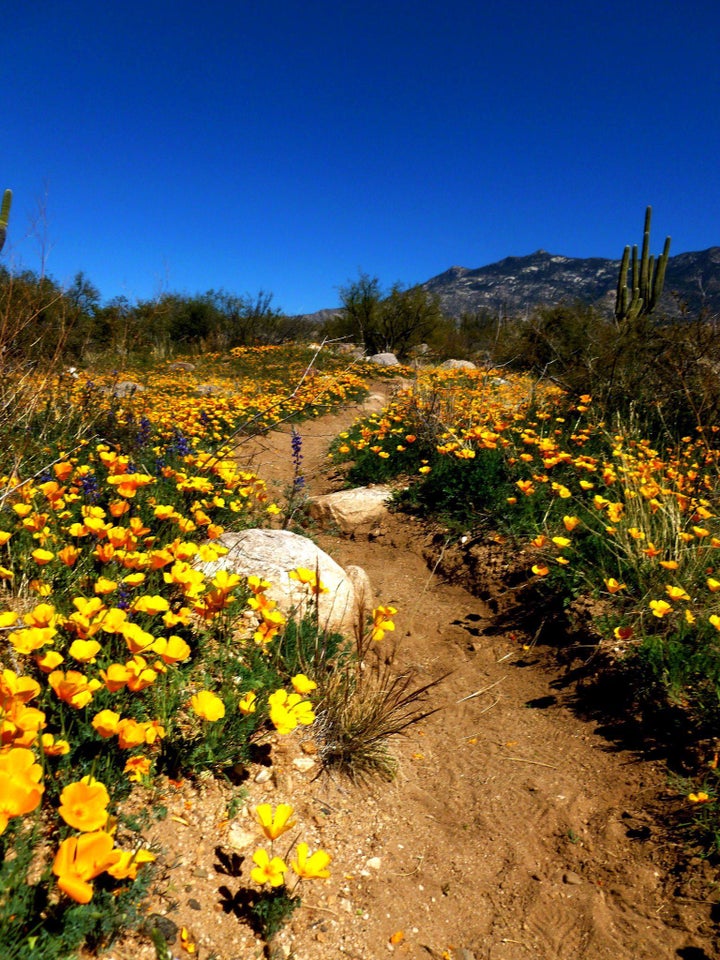 Michael works at the saloon where a number of local musical artists will surprise you with a song that might crinkle your soul like a broken chocolate wrapper.
A local named "Dirtbag Dennis" often strolls in. "I was walking around downtown Joshua Tree," he said. "I pretended to gun down some homeless people with my skateboard. I saw the cops roll up on me and froze. Then I remembered somethin' I heard. If the cops roll up, you should just keep doing what you're doing. So I kept shootin'. And they rolled on by."
In summer, the heat bears down on you like a hot car revving over pavement on melting tires. You can taste the rubber. We walk from room to room completely naked unless we have to leave the house. My oldest dog of 15 still loves spreading out on the sand in spite of it, springing to life at night with a sacred breath of new energy. Not many can survive the summer. Each one is a landmark; a concentric ring in our wood to remind us of our resilience and strength.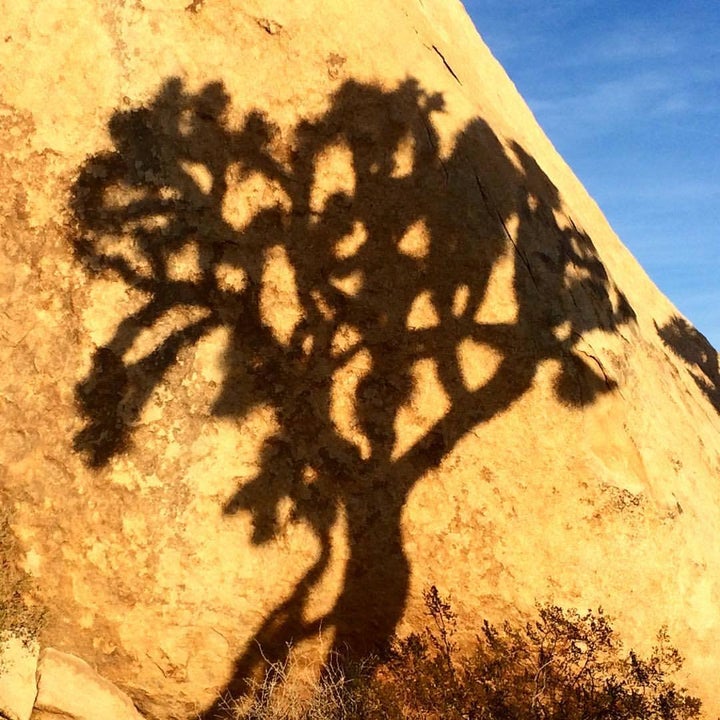 Last week, a friend from Los Angeles told me they want to make Joshua Tree the "new Venice". Venice, California is a neighborhood in Los Angeles that priced out small businesses and a dominantly black neighborhood—whitewashing a once artistic community into a narrow stream of elitist consumers. (Consequently, Venice was where my journey began. It was the first neighborhood I moved into out of Grad school in 2002.)
In 2014, houses in Joshua Tree were running around $50-60k to own. Now houses are $150-300,000. If I had not noticed the spike in property costs before, I could tell demand was up by the newfound harassment from "a neighbor" repetitively calling Animal Control about my dogs. Even Animal Control finds it excessive and unnecessary. So here is the push: the same push from Pasadena to Glendale to Van Nuys to here. Push the poor/working class people out.
Locals complain about traffic now. It used to be an empty highway connecting one end of desert to the other. Now sports cars and luxury vehicles ride your ass like cattle dogs on an open prairie, nipping at your heels like they own you. Guest concerts held at the Institute of Mental Physics are increasing with popular demand. Donald Glover announced a three day concert on national television swamping the town with "Childish Gambino" fans. That concert series alone was responsible for clearing a good portion of the desert for a larger parking lot. Joshua trees were spared but may die without the surrounding foliage.
Sidenote: While Metaphysics is a philosophy of Shamanism that dates back to the stone age, Mental Physics is a mystical wisdom attributed to Edwin John Dingle (a journalist from the late 1800s). In Google search, the Joshua Tree Retreat Center and Mental Physics Institute is the only thing to turn up under the practice of Mental Physics.
Zillow says my neighborhood is a "hot property" with houses picked up quickly and "often above property value". How can a school teacher and a waiter compete with that?
We could go down the hill and spend just as much in Palm Springs or Cathedral City when buying a house. In that case, I could leave the students I have grown to love in the community for $30k more a year as a salaried teacher-- but that wouldn't be the community I selected for my family. I want safe and small for my baby. I want quiet and slow. I like the bank teller knowing my account number by heart, pulling up my information before I fumble for my wallet. I like running into friends of Michael's who never met me before but want to shake my hand because they can tell he loves me so much.
While some debate on whether or not to buy up properties in Joshua Tree and fix them up for Air BnB, we wonder if our children will go to school there. Will my daughter grow up with my friend's baby where we let the sun sink over sparkling water in tiny plastic tea cups? Will I be able to show pictures of the two of them falling asleep in a double stroller and tease them in high school? Should I bother to measure my daughter's height on our kitchen wall? On any kitchen wall?
I acknowledge that I am a product of Los Angeles backwash, but I came to Joshua Tree as a refugee, not an entrepreneur.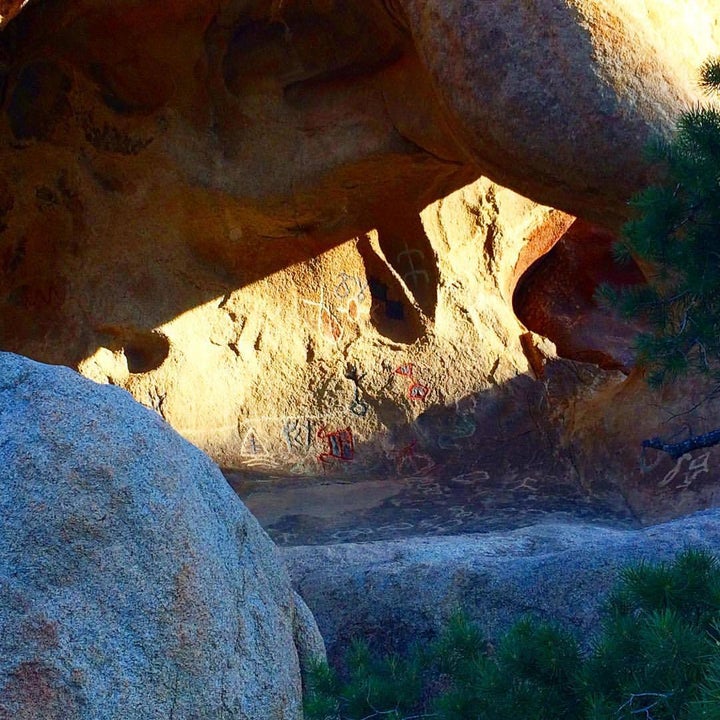 How far out in the desert do I have to go to escape the greed of gentrification? If I go out much further, there will be no community. No job. No neighbors to check in on my dogs when I am out of town. No dear friend to watch my baby on a date night. When will this bubble burst so the rest of us can plan for our families?
Recently, the Mojave Desert Land Trust saved a 640 acre parcel of land from death by corporate development. These are the morals I want my children to grow up with. When I visit Los Angeles, she can see what "profit at any cost" does to a neighborhood, but not here. At least, not yet.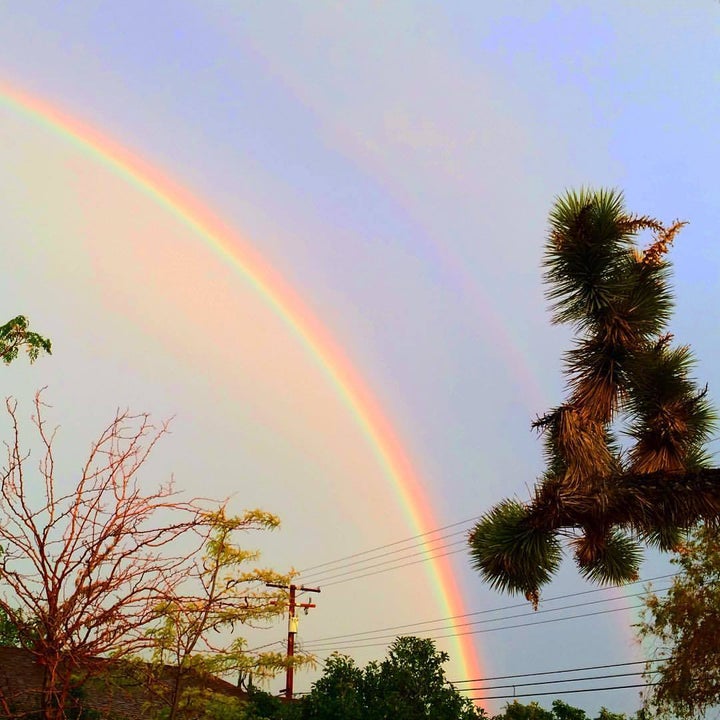 Related
Popular in the Community