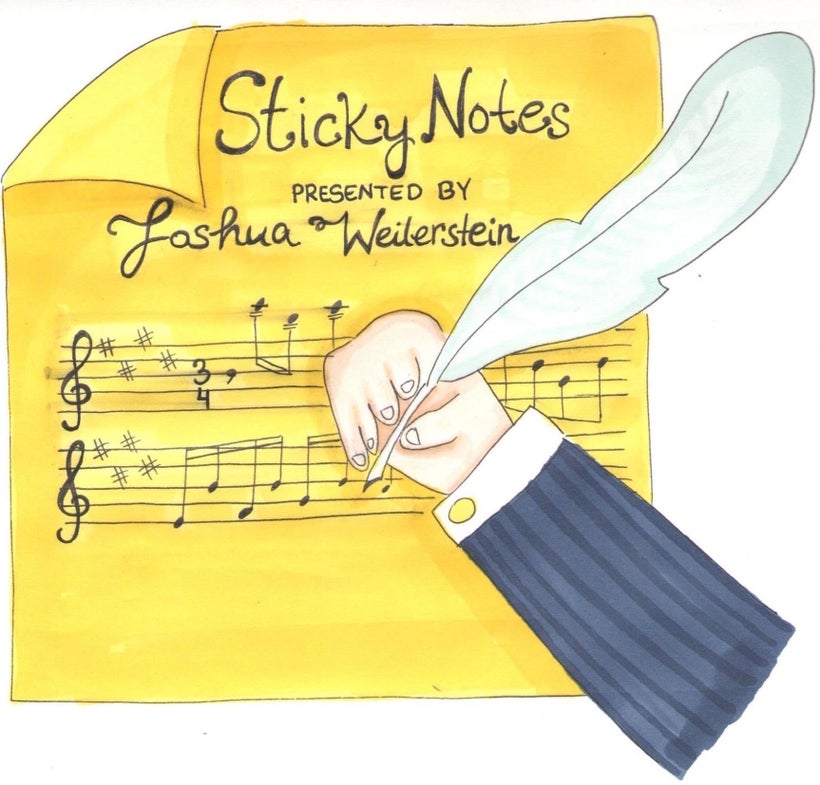 I met Joshua Weilerstein backstage at the New York Philharmonic a number of years ago. He was Assistant Conductor of the orchestra from 2011-2014 and worked closely with Alan Gilbert, the orchestra's music director [and client of my company, 21C Media Group, Inc.], and I often chatted with him backstage [full disclosure: my company also represents his sister, cellist Alisa Weilerstein). A few weeks ago he posted something on FaceBook about Sticky Notes, his new podcast about classical music, and I quickly found myself finishing the first three episodes. A fourth, about Tchaikovsky's "Pathétique" Symphony, posted earlier this week and I quickly listened to that one as well. Feeling grateful that he had finally shown me why people are all listening to podcasts these days, I asked him if he would make time to chat about it. My Q & A with Josh, who is currently the Artistic Director of the Orchestre de Chambre de Lausanne, follows.
AI: First, Josh, a little confession: I don't listen to a lot of podcasts! Yours is probably only the third I've subscribed to, and I no longer listen to the other ones. But after listening to first four episodes of Sticky Notes, I might finally be hooked. Do you listen to a lot of podcasts yourself?
Joshua Weilerstein: Yes, there's a couple that I listen to. Bill Simmons, the sportswriter, has one, and, like every New York liberal in the world, I listen to This American Life. And I listen to Wait Wait…Don't Tell Me. That last one is an NPR radio show, but they make it into a podcast.
AI: Was your fondness for these podcasts what inspired to do your own?
JW: Well, on This American Life, they always find something fascinating that you would never know anything about. And they talk about it for an hour, and you feel like at the end that you've really learned something – about a story, a topic, anything that they are interested in. And I started asking myself lately what would my idol, Leonard Bernstein, my hero, be doing to bring classical music to the masses – to people who don't have any experience with it. So I embraced this idea of "WWBD," that is, What Would Bernstein Do? And I feel that he would have been the first guy out there with a podcast.
AI: I think I've told you before that I got into the music business thirty years ago because of Leonard Bernstein. It was a truly epic and unforgettable performance of Mahler's Second Symphony with the New York Philharmonic that he conducted at Lincoln Center back in the late 80's that made me send my resume to Deutsche Grammophon. I got a job with them a year later, and had the extraordinary privilege of working with him in the last years of his life and career. How did you discover Lenny? I assume you are too young to have heard him conduct in person, but you call him your hero!
JW: Sadly, he died [in 1990] when I was four. But my parents are musicians and they have all of these Bernstein recordings and videos everywhere. I watched some of the Young Person's Concerts, which was one of the reasons my mother became a musician. As I started conducting more, YouTube became like the Bernstein channel to me. I got everything that he did, and was in awe of the all-consuming love he had for what he was doing. It didn't matter if he was conducting, playing the piano, composing, talking about music – it was all there and it was all totally compelling.
AI: Technically speaking, did you have someone show you how to make a podcast, or did you figure it all out on your own?
JW: I have a friend who is really good with computers, and he helped me out with Garage Band, which is the program I use to record them. I just Googled "microphones for podcasting," and the ones I bought were the highest quality I could get without spending a ridiculous amount of money. Yes, it's totally self-produced. If you subscribe to it, you'll see that each one gets slightly better in terms of the sound quality, and having fewer technical glitches and awkward cuts. I'm starting to really know my way around it.
AI: I was really struck by how relaxed and natural you are talking. Did you work at a college radio station before, or do you naturally just enjoy talking into a microphone?
JW: When I was a kid, I realized that being a five-foot nine Jewish white guy that I wasn't likely to be a professional athlete, so I would play huge elaborate games playing all the positions and announcing the games at the same time. I would watch Marv Albert and copy what he did.
AI: So you have broadcasting in your blood! What I love about your podcasts—and I've listened to all the ones you've posted so far—is that you focused on a piece of music that is one of my all-time favorites, Shostakovich's Tenth Symphony, for your debut installment! Probably one of my top-five symphonies, or possibly number one if I'm having one of those days where the bullshit going on in the world is really churning my stomach. Why did you start with this symphony?
JW: I was conducting that piece the week I recorded it. What I love about recording these podcasts – and I have ten of them already recorded for future release – is that it really focuses your mind on what's really important with a particular piece. And for me, Shostakovich is the podcasters dream because his backstory about his life in the Soviet Union is so fascinating. Each symphony has a story, each piece has this incredible historical background that gives people such an in for his music.
AI: Another thing I enjoyed about this podcast is that I learned so much about a piece that I actually know quite well from having heard it so many times and having read so much about it. But I also loved that you gave really generous excerpts. It was great that you gave us the entire second movement, the supposed musical portrait of Stalin, in its insane, ferocious entirety.
JW: I've been experimenting with the clips. With the just released Tchaikovsky's Sixth I used shorter clips, partially because people are more familiar with his music. I really struggle with getting the right balance between talk and music. In general, podcasts last between 40 minutes and an hour, but I don't want to wear out my welcome and I want people to listen to them to the end.
AI: The second installment addresses the question, What does a conductor do? As a passionate music lover who has worked in the music business for three decades, I've always been self-conscious about the fact that I never studied music formally. I'm so obsessive about listening to it and reading about it, so I'm confident that I have learned quite a bit on my own, and in this episode I both confirmed some of my own intuition and answered a few questions that I had in the back of my mind. I love that you've pitched this podcast both to classical music fans, but also to someone who is coming to it for the first time. It's a real gift to be able to talk to people in depth about something regardless of how much preparation they've had. Is part of developing the future audience for classical music learning how to talk about it in an approachable way?
JW: Definitely. You walk the line between keeping the people who know every term that you're talking about interested, as well as somebody who isn't familiar at all. When you read program notes for a concert, every word that's esoteric can be off-putting. Even with a basic Italian word like allegro – if you walk down the street and ask people if they know what that word means, I bet many people wouldn't know. Every time you do that, you turn them off a little bit. Little by little their resistance to the music will build.
AI: It took me thirty years to ask a conductor what a fermata was! At first I thought it was some kind of Italian breakfast dish.
JW: It probably is! People shouldn't feel embarrassed. Sometimes I read program notes and don't actually know what the writer is talking about. And I've been trained in music for three decades and have a musical family and background! Obviously if something like that is happening to me, it's definitely happening to plenty of people in the audience. So that's a huge thing for me – to try to communicate with depth but with a terminology that someone who had never heard a note of classical music can still understand.
AI: Getting back to your second podcast, thanks for turning me on to the "Mahler Enthusiasm" video on YouTube. I'm a Mahler fanatic, but I had never seen it. Totally cracked me up! Where are you on the Mahler enthusiasm scale? Have you ever conducted the "Resurrection" Symphony?
JW: I've never done it, but of course I really want to. I've done his First Symphony. I'm probably somewhere between "a lot of enthusiasm" and "extreme enthusiasm."
AI: Besides Leonard Bernstein, who are some other musicians or composers who are no longer with us that you would have loved to interview for a podcast?
JW: Well, he would have never done it, because he never gave interviews, but of course I would love to interview Carlos Kleiber. He'd be my first, second, third, fourth and fifth choice!
AI: In your third podcast, your parents both pick Kleiber as the conductor they most loved. Not to make you jealous, but I heard him conduct twice, two operas at the Met: La bohème and Der Rosenkavalier!
JW: When people tell me that I get furious! My manager actually walked him around New York as a sort of tour guide! Did you know he was half American? His mother was from Iowa!
AI: I had no idea! Who else?
JW: I would have loved to talk to many of the big composers, and would have loved to have hung around with Haydn. It seems like he was a great guy, with a wonderful sense of humor. A very warm-hearted person!
AI: Poor guy, though. He had a really terrible marriage and made horrible jokes about how awful his wife was! But I'm a Haydn fanatic, too. I start most mornings listening to a Haydn string quartet over breakfast.
JW: He's one of those very underrated composers! It's hard to really appreciate his music, particularly his symphonies, when you hear them in a large, modern hall. They were written, mostly, for very small spaces.
AI: I love that in the third episode of Sticky Notes, your mom [Vivian Hornik Weilerstein] picks Janáček as her favorite composer. Nothing traditional about that choice!
JW: She's a pianist, and she loves his keyboard music. She really loves the opera Jenufa. She loves the intensity and overwhelming passion of his music, and its neurotic energy. Of course that's what makes it compelling to a lot of other people, too.
AI: What can we look forward to in future episodes?
JW: I've done interviews with Hugh Wolff, Renaud Capuçon, Jonathan Biss and Austrian composer HK Gruber. I'm very excited about an hour-long show that I really enjoyed doing, a time-line of musical history from the medieval to the contemporary. It starts with Kassiani, who I had never heard of, in 850 AD and goes to Christopher Rouse, someone living and writing today. I'm also very excited about the two-part show I'm doing about black composers, some of whom have been ignored for a century or longer!
AI: I just happened to listen to Samuel Coleridge-Taylor's Hiawatha yesterday!
JW: There you go – amazing! He was pejoratively called the African Mahler instead of just being called Samuel Coleridge-Taylor, great composer.
AI: Okay, one last question: how are things going with your orchestra in Lausanne?
JW: It's great! They are wonderful. We're doing more contemporary music, shaking things up. They are a really fantastic orchestra and I'm loving working with them.
AI: I just read a great review of your recent Stravinsky recording with them, and I've already ordered it from amazon.
JW: Sure hope you won't be disappointed!
NB: Joshua Weilerstein's all-Stravinsky recording with the Orchestre de Chambre de Lausanne was released in December and is available here: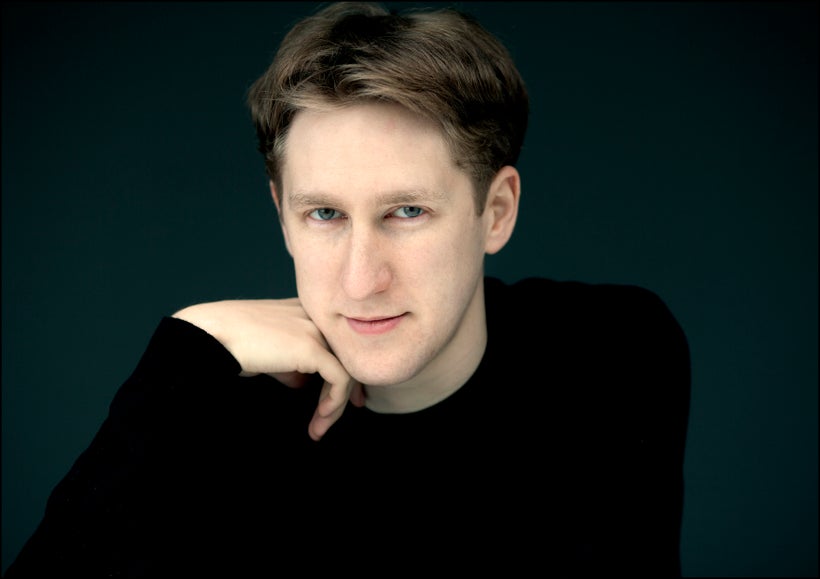 REAL LIFE. REAL NEWS. REAL VOICES.
Help us tell more of the stories that matter from voices that too often remain unheard.
This post was published on the now-closed HuffPost Contributor platform. Contributors control their own work and posted freely to our site. If you need to flag this entry as abusive,
send us an email
.