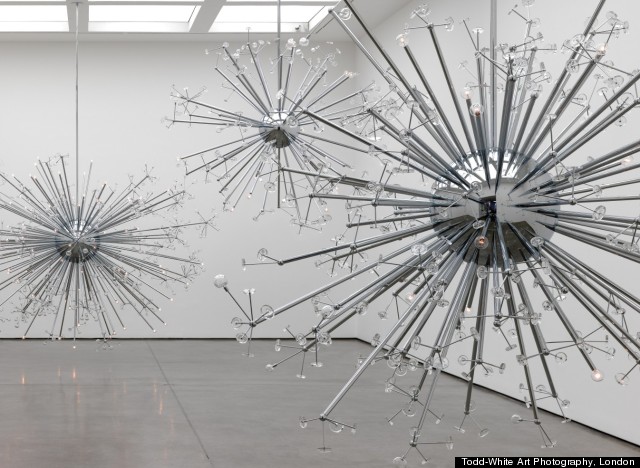 "Island Universe", 2008. Handblown and press-molded glass, chrome-plated aluminum, electric lighting, rigging. Dimensions variable; largest element: approx. 12 feet in diameter, smallest element: approx. 7 feet in diameter. Courtesy of the artist and Andrea Rosen Gallery, New York; Donal Young Gallery, Chicago; and White Cube. Photo: Todd-White Art Photography, London.
At first glance, many of the metallic pieces look like glossy interior design elements for a status-obsessed homeowner. But the objects have more significance, rooted in McElheny's interest in cosmology and utopian fantasies. For example, "The Center is Everywhere," the dazzling brass installation that looks like a gigantic chandelier, is actually a representation of a minuscule portion of the sky, each of the crystals or light bulbs corresponding to an existing star or galaxy. Accompanying the piece is the first English translation, commissioned and edited by the artist, of a prison novel by French socialist Auguste Blanqui; it's a treatise of sorts on the anarchic origins of our universe. You won't find that in CB2, will you?
The chandelier-esque installation is accompanied by other familiar items, like beakers, bottles and plates that serve as the canvases for McElheny's space explorations. The incorporation of ordinary objects may just point to the extent of his obsession, as he is endlessly haunted by the thought of eternal repetition, even in the most basic of places.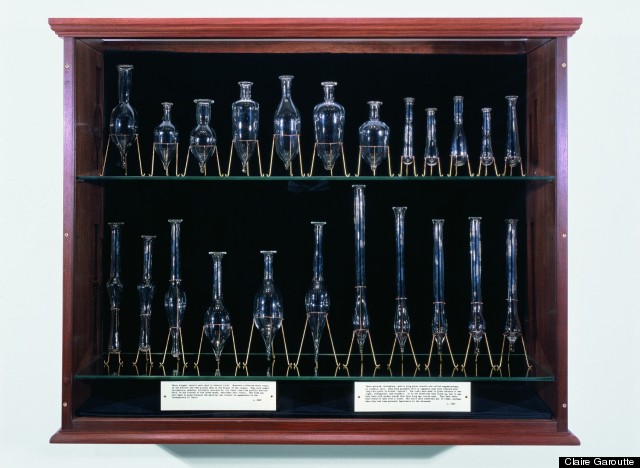 "The Theory of Tears", 1995. Handblown glass, velvet panel, typewriter ink on paper, brass mounting hardware, sheet glass, stained wood. 29 x 36 x 10 1/2 in. Private collection. Photo: Claire Garoutte.
The RISD grad and Brooklyn resident is well known for his reflective surfaces and glass creations, and this exhibit is certainly not a deviation from that trend. His "Island Universe" is an expansive sculpture with protruding glass and chrome arms that is meant to illustrate the dynamism of the Big Bang theory. In "Czech Modernism Mirrored and Reflected Infinitely" and "Scale Model for a Totally Reflective Landscape", individually-blown glass sculptures are arranged in front of mirrored backgrounds, creating tiny dioramas of ever-repeating forms. A repetition that the artist sees as terrifying rather than beautiful. "A bunch of things repeated endlessly?" he recently mused to the New York Times. "That's a nightmare to me, an image of the horrible implications of modernism, that you never need to make another bottle design again. Isn't that the worst? What makes life interesting is change."
McElheny's work will be on display at the ICA starting June 22nd until October 14th.
Check out more images of "Some Pictures of the Infinite" below, and let us know your thoughts in the comments section.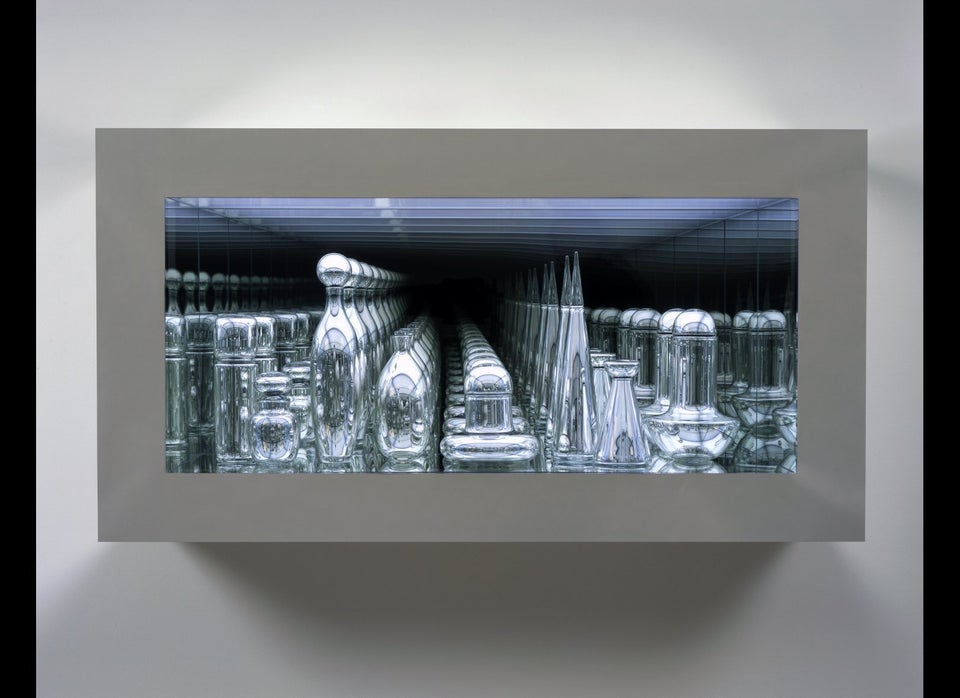 Josiah McElheny's 'Some Pictures of the Infinite'
Support HuffPost
The Stakes Have Never Been Higher
Related
Popular in the Community