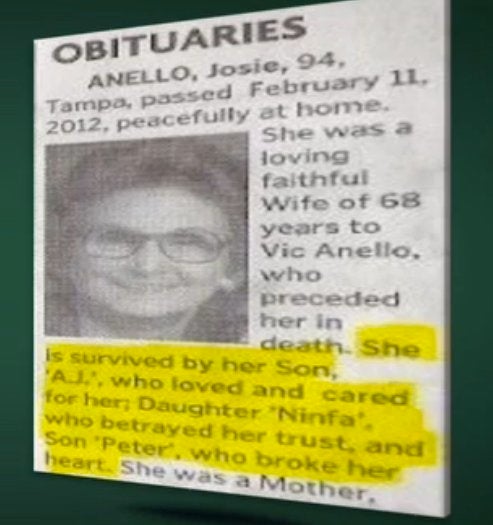 One of my first assignments in my first real job in journalism was writing obituaries for The Milwaukee Journal. I found it a little daunting at first, this job of writing about the dead. But that changed after a phone call with a woman whose daughter had died in a car crash overseas with her husband and toddler.

It was my job to call the family for the story, and I assumed the mother would hang up on me. Instead she spoke for an hour, sobbing, telling me stories about her extraordinary daughter and son-in-law, and the grandchild she had barely gotten to know. At the end of the call she said, "Thank you, my husband won't talk with me about this."

In every call I made after that I had a different attitude. I realized that the obituary is a place where ordinary people have the opportunity to honor the people they love in a very public way.

That is, unless the survivor is self-centered enough to believe the obituary is about him, as appears to be the case with Angelo "A.J." Anello of Florida. Anello placed an obituary for his mother Josie, who died on February 11, taking the opportunity to insult his siblings Ninfa and Peter with the following line:
"She is survived by her Son, 'A.J.', who loved and cared for her; Daughter 'Ninfa', who betrayed her trust, and Son 'Peter', who broke her heart."
The source of this rivalry between these post 50 siblings? Money. Ninfa Simpson told the Tampa Bay Times that her brother A.J. became more controlling over their mother once their father died, which A.J. denied. The two told the paper that the third sibling, Peter, has been estranged from the family for more than 25 years. The Tampa Bay Times also reported that:
Simpson says Anello drained the mother's savings and maxed out her credit cards. Anello says Simpson and her husband used their mother's Social Security checks to go on vacations to Branson, Mo., and Alaska.

Both siblings deny the other's allegations.
What do you think about Josie Anello's obituary? Let us know in the comments, and watch the below video to hear more about this unbelievable family rift.
Related
Popular in the Community