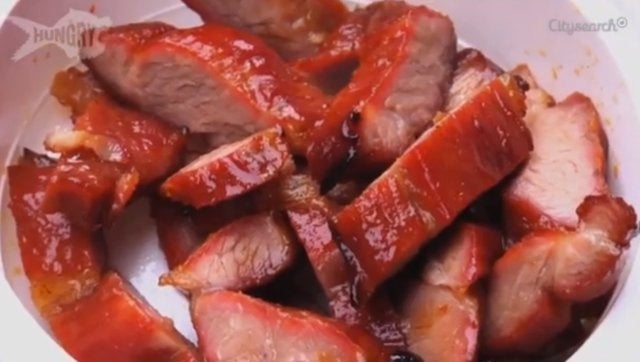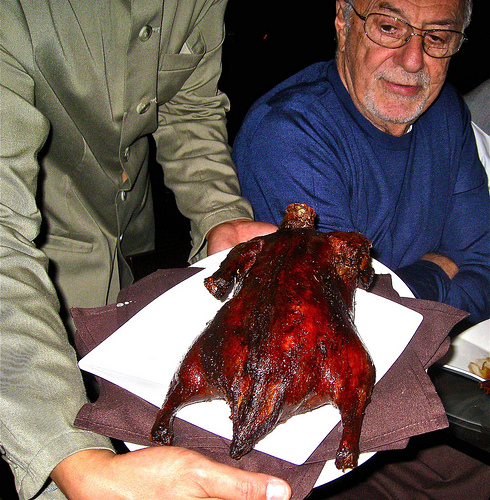 The Roasted Peking Duck is viewed by CAA's Fred Specktor before its carving.
My passion for authentic Chinese food is well-known to my Huffington readers. Yes, I will go anywhere in the world for a great Chinese meal, and did fly to Hong Kong for dinner at a new restaurant on Victoria's Peak by an American chef, Jeremiah Tower, being audacious. (It was mediocre, and closed shortly.) I eat once or twice a week at my little storefront strip mall, Hop Woo, southwest corner of Olympic and Sepulveda, where the veteran chef knows my taste for spicy food from the various regions of China and obliges me. I occasionally go for dim sum upstairs at the Palace on Wilshire and Barrington 'cause they have the rolling carts and serve chicken feet, jook (porridge) and the like. (And it's more convenient than the massive Empress Pavilion downtown.)
WP 24 is Wolfgang Puck's stunning place atop the Ritz-Carleton Hotel when I am at Staples Center, where Klaus Puck serve me a great Austrian white wine as I consumer vast quantities of Peking duck and whole steamed fish with black beans and green onions. And I even frequent Vicky Mense's Xi'An in Beverly Hills for her healthy Chinese-American take on food, although the chef knows I like real Chinese seasoning and can oblige. Yes, I am mad about authentic, delicious Chinese food... and now have rediscovered one of the original gems in my culinary repertoire.
For 25 years I have been dining at Joss, first when Cecile T'ang opened it on Sunset Blvd. and I had a birthday party for Arnold Kopelson there the night before opening. Named for the Chinese word for 'luck' popularized in the novels of my friend, James Clavell, I ate their Hong Kong-style banquet food over the years, and the night before she closed (after a landlord dispute), I attended a Goose party because she had found a source for those birds. A few years ago she reopened JOSS at 9919 Little Santa Monica Blvd. (310) 277-3888, diagonally across and one block west of the Peninsula Hotel, with lots of street parking.
I attended the opening, realized that she still had the superb food cooked by her brilliant young chef, 'Golo' Kwokson Yu. This shy genius came here in '88 as a dim sum apprentice to legendary chef Lao Ying Chieh before the latter retired. She passed on to him special recipes and her unsurpassed methods, and he gradually demonstrated to Cecile that he could masterfully cook some of her favorite dishes from the greatest restaurants in Hong Kong. The new Joss began serving food from the rich heritage of fine traditional Chinese. I wrote a rave review... and then it fell off the map for me. For some reason, I got busy and have not been there for two years... until last week. Cecile (Chinese name is She Shuen) had written I, CHING, a musical 'comedy' about the rise and fall of Madam Mao in China. An unlikely subject for a musical comedy, but somehow Cecile pulled it off, creating 16 musical numbers and a fascinating book about how a struggling Shanghai actress metamorphosed into a revolutionary and the most powerful woman in China. I recently saw it at the Broad Stage and thought it showed great promise. Ms. Tang had a dinner party at Joss for some of the participants, and thus I was back at this stunning restaurant within walking distance of my home.
Little is the appropriate word here, for there are only 30 seats on the attractive premises, with a private room upstairs seating 12. Edith Piaf is the background music of choice. Chef Golo is there every night turning out some of the most extraordinary and authentic Chinese dishes in memory (and I have a long memory.) Ginger Fish Broth ($6.50) is a Joss classic, a delicate fish broth made with thin slices of fresh sole, julienned ginger and cilantro. I prefer the Cantonese standard Shrimp Wonton Soup ($7.50) or the classic Hong Kong West Lake Peppery Chowder ($6.50) minced beef and chopped cilantro in tofu chowder. Followed by their Joss Chicken Salad ($12.50), which puts all others to shame. My friends C.C. Vajna and hubby Steve Solton recently returned from Beijing and told me at dinner that the Joss' Golden Roasted Peking Duck ($46) left all of the birds they ate in that city in its wake, being crisp of skin and berefit of fat.
The bronzed duck comes with crepes, to be filled with cucumber and scallions and dressed with plum sauce atop the duck slices. Yum. I am not a fan of most sweet-and-sour dishes but the Siu Lum Boneless Ribs ($16), crisp boneless tidbits in a sauce with lychees are excellent. As is the Tangerine Spiced Beef ($18), sliced, marinated beef wok-tossed with tangerine liqueur and that fruit peel, unusual and tasty. So many magificent choices... Clay Pot Alaskan King Crab Aberdeen ($26), the sizzling crab twirled with vermicelli, shallots, ginger and chile, somewhat spicy and addictive. I've eaten Lobster Cantonese all over the world (including Canton), and this one is among the best ever, Maine Lobster Cantonese (M.P.), the lobster chunks tossed with ginger and scallions, served with home-made noodles drizzled with lobster jus. White Snow Bass on Black Sauce ($25) is another wonder, the fresh snow bass steamed and served with Shanghainese darl lemon-ginger vinegar with chrysanthemum petals. But my favorite fish dish is the Whole Crispy Fish with Lychees ($28, unbelievable price), enough for a table of three or four. Calvin and Wayne Mah ably man the front of the house, and I was pleased to see that Fiji was the bottled water of choice.
Lovers of lamb (I among them) have always favored the Mongolian Lamb ($18.50), a robust Northern dish with tender sliced lamb sizzled with Chinese wine, leeks and peppers. Many rice and noodle dishes augment the menu of classic traditional dishes; there's a Singapore Curried Rice Noodle dish ($12.50) which is astonishing, rice noodles tossed with baby shrimp, bbq pork, bean sprouts (my favorite vegetable) and a touch of curry. Even the vegetables are totally unique. I love the Szechuan eggplant ($13), organic julienned slices wok-tossed with garlic and chiles in a spicy brown sauce, as well as the West Lake Chop Sui of sauteed veggies. Even the desserts are unique for a Chinese restaurant, with a delectable chocolate cake which was famous in the original restaurant. Lunch is served Monday to Friday, and they offer two daily specials, a crepe and dim sum plate for $11 and a Dim Sim Quintet for $15. Probably the best lunch buy in our city. Dinner every night of the week. I have noticed with some astonishment the lower prices now featured... a sensational feat for the amazing quality of this food. Cecile has always been a connoisseur of fine wine, and she has some startling boutique selections, although I do enjoy a Chinese beer with my food.
Joss is a small, exclusive and elegant restaurant which is a reflection of the subtle, unusual and surprising woman who has kept it alive all of these years. And I am now walking over there for a light dim sum lunch!
To subscribe to Jay Weston's Restaurant Newsletter ($70 for 12 monthly issues) email him at jayweston@sbcglobal.net.
Calling all HuffPost superfans!
Sign up for membership to become a founding member and help shape HuffPost's next chapter