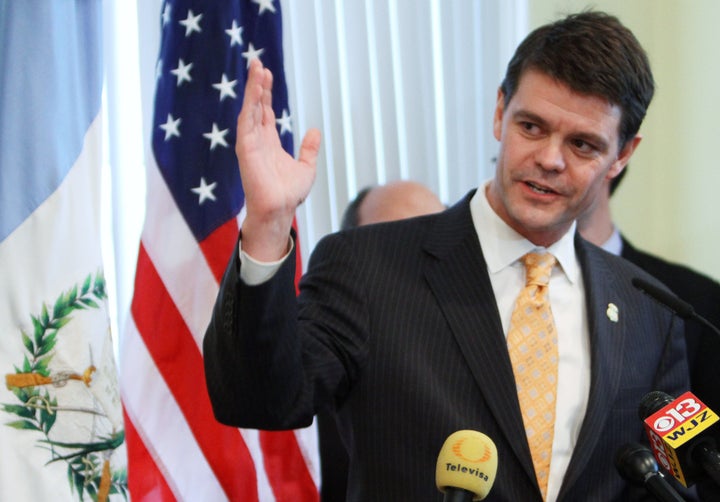 A Louisiana immigration court rebuffed the government's efforts this week to deport an undocumented immigrant who came to the attention of authorities after raising questions about workplace safety issues.
On Tuesday, attorneys representing U.S. Immigration and Customs Enforcement (ICE) asked a New Orleans immigration court to begin proceedings against Josue Diaz, a Mexican-born undocumented immigrant, and three of his former coworkers. Instead, after hearing arguments from the government and attorneys representing Diaz and his former colleagues, the judge rescheduled the matter for March 2013 and ordered ICE to reconsider its position.
Diaz, part of the so-called "Southern 32," received national attention when immigration authorities noticed him and the other men after they exposed possible civil rights violations and workplace wrongdoing -- including safety violations and problems receiving pay.
Diaz's attorney Jennifer Rosenbaum, who is also legal director at the New Orleans Workers' Center for Racial Justice, argued in court that he should be considered a low-priority case, based on a new immigration policy that protects whistleblowers from deportation.
Last year, President Barack Obama's administration announced plans to focus ICE's limited deportation resources on, "high-priority" cases. Those cases involve people previously deported from the United States, those convicted of serious crimes, and those with criminal records.
Low-priority cases involve the parents of young U.S. citizens, those who have lived in the United States for an extended period, the elderly, and those without criminal records who have alerted authorities to crimes, violations of workplace law or civil rights abuses. Under the policy announced last year, ICE can put low-priority cases on indefinite hold and reactivate them if the office deems it necessary.
ICE could not provide by deadline an explanation of why Diaz's request for review under the Obama administration's prosecutorial discretion policy has been declined.
"Giving whistleblowers low-priority status really helps to protect thousands of workers and every person who happens to live in a town where law enforcement authorities have made a habit of abusing people's civil rights," said Jacinta Gonzalez, the lead organizer behind the "Stand Up 2012: Make Justice Real Campaign."
The campaign is part of the New Orleans workers center, which also coined the term "Southern 32." The name is a reference to the 32 individuals, including Diaz, brought to the attention of ICE after alleging civil rights or workplace problems in seven different cases that originated in Southern states.
Otherwise employers and even local law enforcement can use ICE as a threat to keep people silent or deport witnesses of alleged crimes, abuses and civil violations of the law, said Gonzalez.
Diaz and his former coworkers were hired in 2008 to help gut homes in the Texas disaster zone left behind by Hurricanes Ike and Gustav. When the workers requested the same pay and safety gear given to American-born laborers doing the same work, police were called, and Diaz and his coworkers were accused of stealing items from the homes they helped gut, Diaz said.
Company's representatives deny that they called police, and insist that Diaz and other immigrant workers were paid what they were promised, and given the same living conditions and safety equipment assigned to American workers.
Theft charges were later dropped against Diaz and his coworkers, according to ICE. The National Labor Relations board also ordered the company that brought the workers to Texas, Metairie, La.-based All Dry Water Damage Experts, to pay them about $5,400 in unpaid wages. A civil rights complaint filed against ICE agents with the Department of Homeland Security in connection with the case is pending.
"I knew it was wrong when we were treated so unfairly," Diaz, 21, said in a statement after the Tuesday hearing, "and that I had to stand up. I wasn't scared then, standing up against discrimination on the work site and I'm not scared to stand up now."
In June 2011, ICE director John Morton issued a memo affirming the agency's new high and low priority approach to deportation cases. However, the union that represents ICE field agents refuses to allow related training for members, The New York Times reported.
Instead, deportations from the United States hit a record-high last year. And while 17 percent of those deported in the first quarter of 2010 had criminal records, that figure dropped to 14 percent during the same period this year, according to ICE data analyzed by the Transactional Records Clearinghouse at Syracuse University.
A review of about 300,000 pending deportation cases initiated this year ended in 2,609 men and women being allowed to stay in the U.S. because the government considers them low priority, according to a second ICE data analysis by the Transactional Records Clearinghouse.
"The continued attempts by the Southern ICE office to push for the deportation of these grassroots labor leaders confirms they are not only failing to implement the Obama Administration's directive, but that they are actually hostile to this policy and the workers they should be protecting," Rosenbaum said in a statement,
Diaz and his coworkers will have to report to a New Orleans-area ICE office regularly until their March hearing.
Popular in the Community