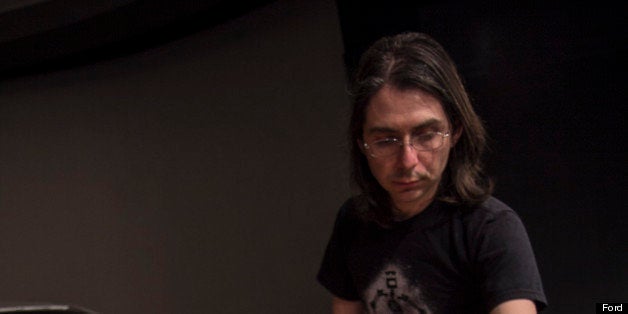 Welcome to My Detroit, a sporadic feature in which HuffPost Detroit asks some of the interesting people with ties to the city what they love about it and where they go for grub, drinking, dates and more.
From Josue Maldonado's workplace, you might not guess he's an artist. And similarly, you might not know that a sculptor could find himself at home at a car company. But the College for Creatives Studies Industrial Design graduate and Ford employee practices his craft during work and after hours -- that's the life of an automotive sculptor. And while he's out of his Livonia home he's converted into a studio, Maldonado builds robots, playful, creative creatures meant to excite children and adults alike.
Keep reading to find out what goes on behind the scenes of car design, why an artist starts making robots, just what's so inspiring about the Muppets and a Maldonado's surprising recommendation for a Detroit date spot.
HuffPost Detroit: Tell me about the day-in-the-life of a clay modeler at Ford's design studio.

Josue Maldonado: Being an automotive sculptor is a dream come true for me. I get paid to sculpt and when I am finished with my traditional work day, I go home and work on my own sculptures. My day begins with taking a look at notes that have been left on the car that I am working on -- this consists of knife and tape lines as well as drawings that show me what changes a designer would like to make. Modelers usually come in early in the morning to work on the car so that when the designer gets there, they can see the changes that have been made. The designers stay later than most modelers so that they can tape and draw on the car. I work with all types of creative people -- for example, one designer that I work with used to design toys and another had his own photo studio in LA. Modelers are modelers because we like to work with our hands. Many of the modelers here at Ford Motor Company create things outside of work -- this can range from motorcycles to life-sized figures carved out of wood.

What's something about your job that would surprise an outsider?

People seem to forget that everything around them was, at some point, made by someone. A vehicle is a great example of this -- people are taken aback when they discover that every inch of the car, from the dashboard to the bottom of the rear bumper, was sculpted out of clay by someone like me.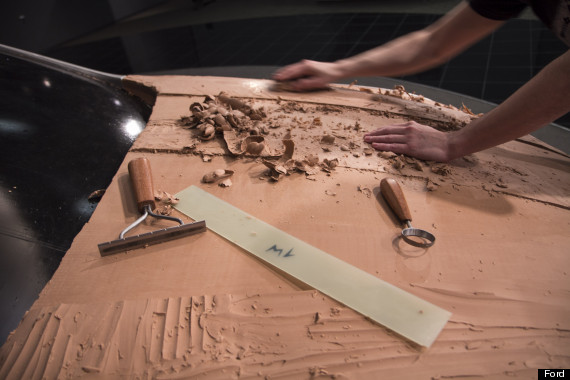 What did you want to be when you grew up when you were a kid?

I wanted to be an airplane mechanic. I loved planes and I wanted to be a mechanic like my dad.

Did your father's job as a mechanic give you an interest in cars?

Yes but not in the traditional way of liking cars. My dad would take me to his shop when I was eight years old during the summer. I would play all day in the junk yard with my cousin and smash windshields with spark plugs, climb over old rusty cars, kill scorpions and collect interesting parts. Years later I started making art out of the junk that I collected then.

Has your art work changed since you started working at Ford?

A little bit, my work has become more detail-oriented.

So you make robots -- how do you create them and why are you compelled to? Are they meant to be played with?

Yes! They are definitely meant to be played with. Since I was young, I've always loved robots. I think it came from watching "Star Wars" growing up; I made robots out of Legos and tried to figure out how to make them move. As a sculptor, I always wanted to touch sculptures out in public, but that is obviously not acceptable since that will damage the work. My smaller work is meant to be picked up and played with. I have always made little pieces that look like they can move so I have started to incorporate action in to the piece. This has started to make the robots more toy-like. When I have made bigger public installations, I have always kept in mind that I wanted kids to be able to run around it and under it. I don't want my little robots to sit on a pedestal and be admired from afar. I want them to live on a desk or a coffee table so that people can play and interact with them.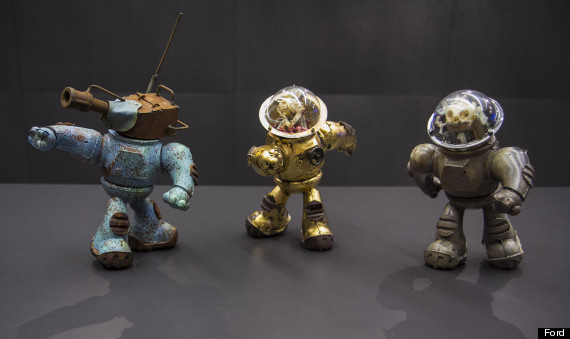 What are you working on right now?

I am working on making my robots faster and more durable so they are more accessible to kids.

What's one of your biggest inspirations for your work?

The Muppets -- everything about them was real and could be touched by someone. Growing up, I wanted to be one of the people making the Muppets. My favorite Muppets were the Doozers because they were always building stuff and they drove around in tiny cars.
How does your creative work influence your work at Ford, and vice versa?

I keep my job and my artwork separate. What I do is mix techniques from figure sculpting, car sculpting, metal working, watercolor and even sewing to create certain things, either for work or for myself.
What do you do when you need to take a break?

I read a lot. I have been really into short stories lately and lots of hard sci-fi.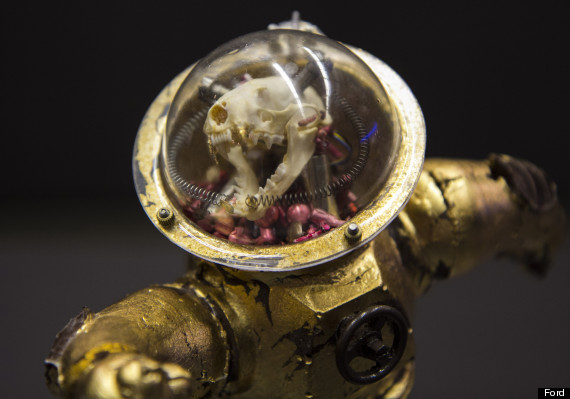 Who are a few of your favorite artists?

Local artists would be Glen Barr, Dick Cruger, Gilda Snowden, James Viste and John Dunivant. Then there is Ashley Wood, Kris Kuksi, Jason Freeny and Beth Stichter.

Best cultural event you've attended lately?

Odditorium Detroit. I have been in the last two Odditorium shows and they don't just have work hanging up -- they show science specimens in jars and things you never get to see mixed with an environmental collage that they created. I haven't been entertained visually in a gallery like that in a long time.

What do you like about the Detroit art scene? Does anything get on your nerves?

The local artists are extremely skilled and such amazing work happens here in Detroit. I think that this is because so many artists volunteer to make ideas happen -- not just for their own art but for community projects as well. The one frustrating thing about the Detroit art scene, however, is that sometimes there are too many good shows happening on the same night! I sometimes have three events to go to but can usually only make it to two.

Where do you live?

I live in Livonia. It's close to my job and I have turned my entire rented house in to studio space.

Favorite bar in Detroit?

Green Dot Stables.

Favorite place to eat?

Union Street, I love their dragon eggs.

Spot where you'd take a visitor from out of town?

The Detroit Institute of Arts.

Best date spot?

An abandoned building.
Favorite thing about Detroit?

Theatre Bizarre.

Least favorite thing?

All of the big, ugly advertisements on the sides of buildings downtown trying to compete with the David Broderick whale mural.
Related
Before You Go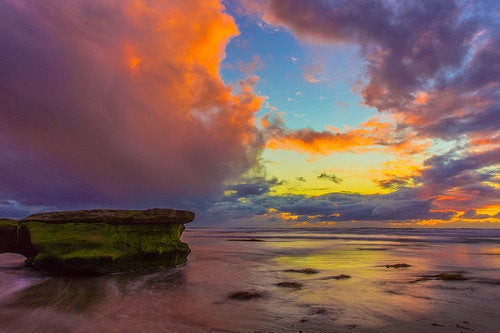 27 Mind-Blowing Photos
Popular in the Community