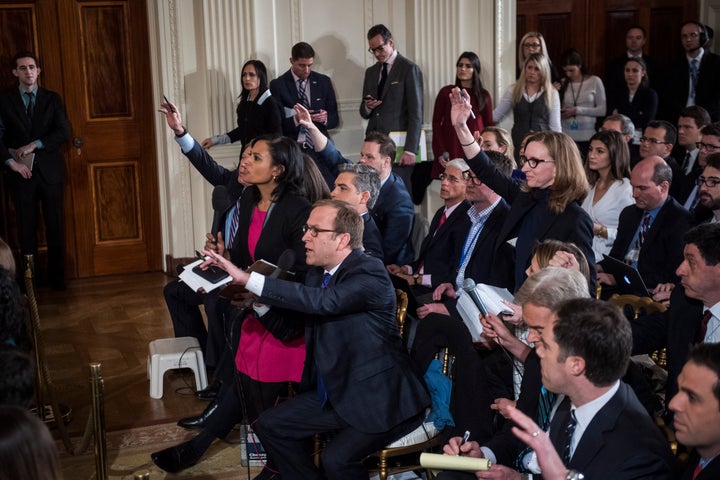 Like many journalists of my generation, I was inspired to enter the profession by Bob Woodward and Carl Bernstein, the famed Washington Post reporters whose investigation into the Watergate scandal led to the eventual resignation of President Richard Nixon. Their work taught me, and many Americans, how important and powerful journalism can be. And it drew many young people to choose journalism as a career.
But journalism has faltered. As Columbia Journalism Review's Kyle Pope wrote on the day after the election, the failure of journalists to fully understand and accurately cover Donald Trump's rise to power was our "anti-Watergate" moment. The watchdog, as it were, was sleeping on the job.
Yet I think we now find ourselves in a place ripe for redemption. Another Watergate moment – when students turn to journalism as a career where they can make a difference — may be at hand.
Much has been made of President Donald Trump's so-called "war on the media," but the real war being waged by the president and his cohorts is a war on truth. And truth — seeking it, sharing it, repeating it, championing it — is at the heart of good journalism. In a war on truth, journalists are truth's greatest ally. That's why Mr. Trump, whose campaign and presidency have been marked by a series of outright lies (or "alternative facts"), may feel so threatened by journalists. And that's why the watchdog role remains so vital to our democracy — and why this is our time to prove it again.
The Founding Fathers ensured that journalism was the only profession protected by the Constitution. They saw it as an important check on power, exercised on behalf of citizens of a free nation. As Thomas Jefferson wrote, "Our liberty cannot be guarded but by the freedom of the press, nor that be limited without danger of losing it."
Most Americans, regardless of political affiliation, value our democracy and the freedom that comes with it. But many do not realize that a free press is an indispensable part of that freedom. When Trump calls journalists "liars" and "scum," when he threatens to "open up the libel laws," when he accuses a mainstream media outlet of being "fake news," many of his supporters agree with him. And that's dangerous — not just for journalists, but for all Americans.
Journalism matters. It's time to remind people of that. The stakes are as high now as they have ever been in the history of our country — perhaps higher.
As dean of a communications school that graduates dozens of journalists every year, I believe the effort should start with the students. I put out this call to my fellow journalism educators:
Continue to espouse the time-tested values of journalism, even as the profession changes. Sourcing, fact checking, transparency, holding government accountable and following the truth—these things must remain central, even with new media and new business models for "old" (traditional) media.
Differentiate journalism from "the media." The terms have become interchangeable, and that's part of the problem, because media includes everyone—the pollsters, the pundits, the spin-doctors. They are not journalists, but they help create the avalanche of information in which true journalism often gets lost.
In a divided nation, teach students to find ways to speak to, and for, people on all sides of the divide. One thing the results of this election taught us is that whole groups of Americans felt ignored or dismissed by the media. Newsrooms need diverse perspectives. That starts with recruitment of students from different racial, ethnic, religious and socioeconomic backgrounds.
Revitalize the role of the watchdog journalist. Investigative reporting should be the cornerstone of any good journalism program. We need to teach students how to report and verify. We need to remind them that their job, above all else, is to inform the citizenry about how its government works and how its leaders govern.
Teach students to pursue the truth, wherever it takes them. There are no sacred cows. We have to give people the cold, unvarnished truth even when they sometimes don't want to hear it. We have to lay out the facts as we know them, explain how we got them—and also tell the public what we don't know. Truth takes dogged pursuit. It comes in the face of adversity and intimidation, and we must teach our young journalists that it takes good, old-fashioned shoe leather journalism (using 21st century tools, of course) to uncover the truth.
In this "post-truth era," we must fight to ensure that journalism lives to speak truth to power another day. Not because we think it should, but because we know it must.
Lorraine Branham is dean of the S.I. Newhouse School of Public Communications at Syracuse University. She spent 25 years as a working journalist.
Related
Popular in the Community