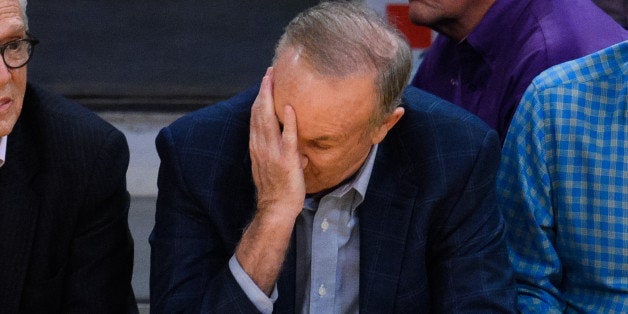 Investigative journalist Edward Jay Epstein says he can prove that Bill O'Reilly was not present at the 1977 suicide of a JFK-related figure that the host said he witnessed.
He can prove it, because he was there.
"O'Reilly's insertion suffers from a reality deficiency disorder," he wrote. "I was the actual -- and only -- reporter interviewing de Mohrenschildt on the last day of his life."
Read Epstein's full account here.
O'Reilly has claimed on numerous occasions that he was present for the death of George de Mohrenschildt, a friend of alleged John F. Kennedy assassin Lee Harvey Oswald who took his own life on March 29, 1977.
During an appearance on "Fox & Friends" to promote his 2012 book, Killing Kennedy, O'Reilly said that he was just about to knock on the door of Mohrenschildt's daughter's house when he heard the gunshot go off. His former colleague, however, told Media Matters in February that O'Reilly was in Dallas at the time, nowhere near the site of the suicide.
The allegations against the host came as several of his war reporting experiences are under scrutiny, as some say O'Reilly embellished events or claimed to be places he may not have been.
A series of tape recordings released by CNN last week purportedly showed that O'Reilly was in fact in Dallas at the time the gunshot went off, and was only told about suicide over the phone while working as a reporter for a local station.
In his account, Epstein provided even more evidence that O'Reilly may have lied about his whereabouts that day, adding that no one at the scene ever reported seeing a man at the doorstep, or on the property for that matter.
"O'Reilly's story does not fit the facts," Epstein said. "For one thing, O'Reilly put himself at the wrong house. He writes he was on the steps of the home of de Mohrenschildt's daughter when he heard the shot. But de Mohrenschildt was not at his daughter's home (158 Villa Longine in Mexico City); he was at [Nancy] Tilton's home in Florida."
Another problem, Epstein noted, is that O'Reilly claimed to have actually heard the gunshot go off. But no one else, in the house or around the house, recalls hearing the sound, most likely a result of the bullet being absorbed by whatever it hit.
"O'Reilly's depiction of his phantom-like presence at the crime scene is odd for another reason," Epstein went on. He argued that if O'Reilly did hear the gunshot, as he says he did, then that would have made him one of the few witnesses to the death of a prominent figure in one of nation's biggest assassination stories.
"It would stretch credibility to believe that a reporter as earnest as O'Reilly would flee the crime scene without reporting what he had witnessed to anyone for 35 years," he concluded.
Former WFAA-TV colleague Bob Sirkin, who says he accompanied O'Reilly on his trip to Florida, responded to the claims on Monday, calling it "preposterous" for anyone to challenge that they were not present for Mohrenschildt's death.
Read the full statement here.
Fox News Channel issued the following statement regarding all of the allegations against O'Reilly:
"Bill O'Reilly has already addressed several claims leveled against him. This is nothing more than an orchestrated campaign by far left advocates Mother Jones and Media Matters. Responding to the unproven accusation du jour has become an exercise in futility. Fox News maintains its staunch support of O'Reilly, who is no stranger to calculated onslaughts."
Calling all HuffPost superfans!
Sign up for membership to become a founding member and help shape HuffPost's next chapter