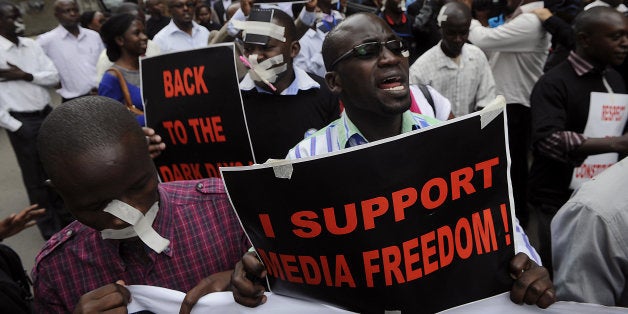 Two new press freedom reports released Wednesday paint a grim picture of the dangers journalists face around the world.
Reporters Without Borders and the Committee to Protect Journalists both unveiled their annual studies of how many journalists had been killed and jailed in 2013, respectively. While the reports say that both numbers are down slightly since 2012, they are sobering nonetheless.
RWB estimated that 71 journalists were killed across the globe in 2013. That's down 20 percent from 2012, but RWB called it "very high." Syria, India and the Philippines were the deadliest countries.
In a troubling trend, the number of journalist kidnappings skyrocketed to 87 — a 129 percent increase from 2012. Over half—49—of the kidnappings occurred in Syria.
In its report, the CPJ called 2013 the second-worst year in history for jailed journalists, after 2012. The organization said that 211 journalists are in prison for their work, down from 232 in 2012. Over half of those journalists are in Turkey, China and Iran.
The CPJ noted that "the single journalist behind bars in the Americas" was an American, blogger Roger Shuler, who was "being held on contempt of court for refusing to comply with an injunction regarding content ruled defamatory."
Related
Popular in the Community