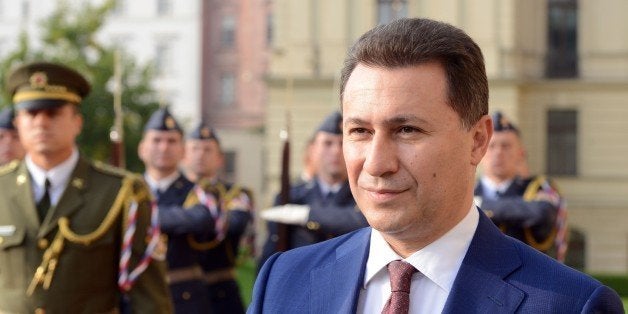 * Concern over deteriorating media freedom in Macedonia
* Ex-Yugoslav republic locked in political crisis
* Journalist receives funeral wreath reading "Final Regards" (Updates with OSCE, wire-taps)
SKOPJE, April 22 (Reuters) - Journalists in Macedonia protested on Wednesday after a prominent news anchor received a death threat in the form of a funeral wreath, against a backdrop of deepening political crisis in the ex-Yugoslav republic.
The wreath was received by the wife of Borjan Jovanovski, a journalist with the Macedonian Internet portal Nova TV and a well-known critic of the conservative government of Prime Minister Nikola Gruevski, at their home in Skopje on Tuesday.
It read "Final Regards" and the unidentified man who delivered it named the sender as Todor Aleksandrov, an apparent reference to a controversial member of the VMRO nationalist movement against Ottoman Turkish rule in the region in the early 20th century.
The threat comes at a time when Gruevski's ruling VMRO-DPMNE party - which claims roots in the VMRO movement - is facing accusations of illegal surveillance and abuse of power.
The government, opposition and Macedonia's journalism association condemned the death threat. Dozens of journalists gathered in front of the government building, where they left their own wreath in symbolic protest.
"Of all the threats that Borjan received, that I and other critical colleagues have received, this threat has shaken us the most," said his sister Svetlana, also a journalist.
The Organization for Security and Cooperation in Europe (OSCE), a human rights watchdog, said the wreath sent to Jovanovski amounted to "yet another message that critical voices are to be silenced."
On Tuesday the European Union expressed "grave concern" over what it said was deterioration in the rule of law, fundamental rights and freedom of media in Macedonia, a candidate for membership of the bloc.
Since January, opposition leader Zoran Zaev has been publishing wire-taps he says were conducted by the government and which critics say provide evidence of extensive state control over the media, judges and the conduct of elections.
The EU and the United States have urged authorities to investigate the content of the tapes, but police have instead charged Zaev with trying to topple the government. Gruevski says the wire-taps were the work of a foreign spy service and has dismissed his critics' accusations of widespread abuse of power.
On Wednesday, Zaev released new tapes in which voices purported to be those of senior government officials are heard discussing hiring journalists at the state broadcaster and agreeing editorial policy with the owners and editors of two private television stations.
Reporters Without Borders ranks Macedonia 117th out of 180 countries on its World Press Freedom Index, down from 45th in 2006 when Gruevski came to power. (Writing by Matt Robinson; Editing by Gareth Jones)
Calling all HuffPost superfans!
Sign up for membership to become a founding member and help shape HuffPost's next chapter