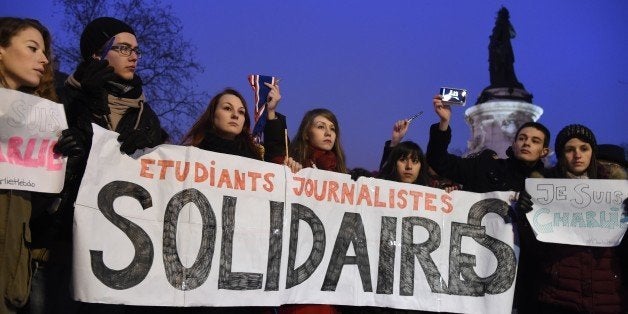 NEW YORK -- Journalists worldwide condemned Wednesday's terrorist attack on the offices of the French satirical newspaper Charlie Hebdo, with some expressing solidarity through original artwork or by republishing the paper's cartoons that have angered Islamic extremists in the past.
John Avlon, editor-in-chief of The Daily Beast, tweeted the words "in solidarity" alongside a link to his site's gallery of 16 "shocking" Charlie Hebdo covers.
The Huffington Post, along with a number of other news sites, also published past covers and illustrations from Charlie Hebdo in the hours after the attack, in which gunmen reportedly killed 12 people. Other outlets, however, have censored some of the controversial covers.
The international media response was similar to that seen in 2006, when a number of publications around the world, including Charlie Hebdo, reprinted controversial cartoons depicting the Prophet Muhammad that had appeared in the Danish newspaper Jyllands-Posten the year before. But this time, the immediacy of the Web and the ubiquity of social media allowed for a swifter and more pronounced expression of solidarity.
The #CharlieHebdo attack represents possibly the most direct attack by Islamists on Western ideals to date.

— Jeffrey Goldberg (@JeffreyGoldberg) January 7, 2015
The Committee to Protect Journalists condemned the attack and and urged journalists to "stand together to send the message that such murderous attempts to silence us will not stand."
"A newsroom attack with machine guns is a type of violence we witness in Iraq, Somalia or Pakistan," said Christophe Deloire, secretary general of Reporters Without Borders. "Could we expect such horror in France? A nightmare that became reality. This terrorist attack marks a black day in the history of France."
Journalists with the wire service Agence France-Presse held a worldwide moment of silence on Wednesday, and staff members at La Libre Belgique, a newspaper in Belgium, posed with signs reading "Je Suis Charlie."
Several editorial cartoonists, including Pulitzer Prize winner Ann Telnaes, have also offered their support through original artwork.
Journalist Simon Jenkins wrote in The Guardian that the people reportedly killed on Wednesday "cannot go unremarked."
"Those journalists who confront violent intolerance, even in the supposed security of a city office, need every support," Jenkins wrote. "When, very rarely, they die in that cause, they must be lauded and mourned."
Novelist Salman Rushdie, who faced death threats in response to his 1988 book The Satanic Verses, including a fatwa issued by Iranian leader Ayatollah Khomeini, said Wednesday that he stood with Charlie Hebdo and urged all to "defend the art of satire, which has always been a force for liberty and against tyranny, dishonesty and stupidity."
Jackson Connor contributed reporting.
Related
Popular in the Community