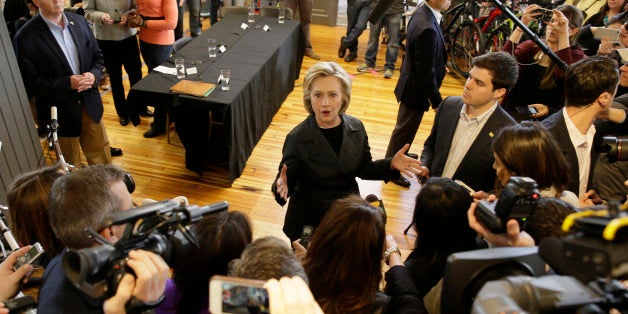 NEW YORK -- Two top communications officials with Hillary Clinton's presidential campaign met Monday in Washington with representatives from the traveling press corps to discuss journalists' frustrations over access.
The journalist-campaign détente followed a nearly two-hour meeting last week in which about 17 reporters covering the campaign, from outlets including The New York Times, The Washington Post and Politico, privately aired grievances.
As The Huffington Post reported last week, journalists expressed concerns over issues including not receiving enough advanced notice about public events, being kept too far from Clinton at campaign stops, and not being permitted inside to cover fundraisers. Journalists also have taken issue with the campaign reflexively providing information "on background," or on a not-for-attribution basis, even when it may not appear particularly sensitive.
Clinton Communications Director Jennifer Palmieri and press secretary Brian Fallon represented the campaign at the meeting, which included three journalists: McClatchy's Anita Kumar, The Washington Post's Anne Gearan and Politico's Gabriel Debenedetti.
In emails to The Huffington Post, Gearan and Kumar confirmed the meeting happened, but both declined to get into specifics.
"Our conversations are ongoing -- a work in progress -- so I don't feel comfortable sharing the details right now," Kumar wrote.
Fallon declined to comment on behalf of the campaign.
The group appeared to make progress Monday on some issues. For instance, the campaign seemed amenable to providing more advance notice for events, perhaps a week ahead, according to a source familiar with the discussions who was not authorized to comment. Still, the two sides aren't completely on the same page. The campaign still expects to keep fundraisers closed to the press for now.
There was also talk during Monday's breakfast about eliminating background briefings like one that recently took place at the campaign's Brooklyn headquarters. CNBC's John Harwood, an attendee, later mocked the campaign's request that top officials not be named in reports or even quoted blindly. A later tour of the headquarters, he noted, was off the record.
On Friday, Palmieri and campaign manager Robby Mook will be speaking on the record at a Politico-sponsored function in Manhattan, a day before Clinton holds her first campaign rally on Roosevelt Island.
As Clinton ramps up her campaign this weekend, she's expected to begin engaging more with the press. Though Clinton has answered some questions at campaign events, she has still not given an interview during her two months as a presidential candidate. The campaign has yet to announce any scheduled interviews as Clinton heads in the coming weeks to Iowa, New Hampshire, South Carolina and Nevada.
Support HuffPost
The Stakes Have Never Been Higher
Related
Popular in the Community