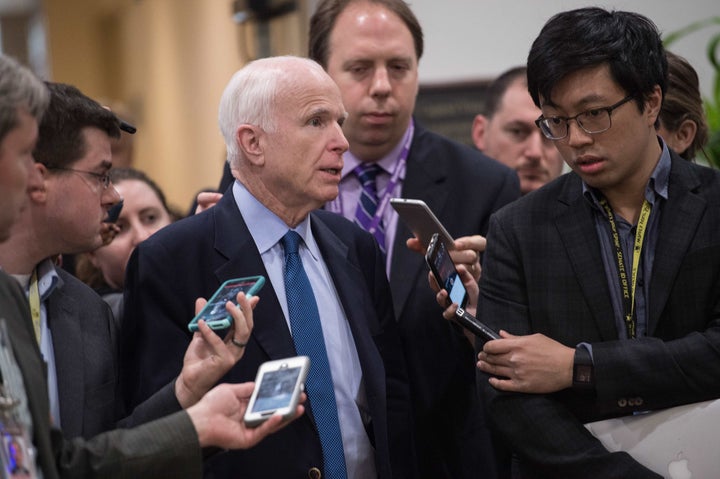 Reporters on Capitol Hill faced alarming new restrictions Tuesday morning when trying to interview senators, journalists from multiple media outlets said.
NBC News reporter Kasie Hunt tweeted that "reporters at Capitol have been told they are not allow [sic] to film interviews with senators in hallways." And Bloomberg News' Kevin Cirilli tweeted that he was told he couldn't "stand outside of the Budget Committee hearing room to interview lawmakers."
The tweets sent shockwaves around Washington, with reporters and senators trying to understand how access was suddenly being curtailed. Hours after the media frenzy began, a Republican senator initially reported to be behind the directive said his committee was not changing access rules and suggested there was a miscommunication among his staff.
Reporters have traditionally been able to wait outside meetings and hearings and approach senators with question as they come and go. But reporters were told they need permission from the specific senator and the Senate Rules Committee.
Though the Capitol has been particularly crowded lately with reporters, the sudden directive raised serious concerns about the ability of the press to hold elected officials accountable. It also comes as Republican politicians around the country have appeared emboldened by President Donald Trump's persistent attacks on the press.
Sen. Richard Shelby (R-Ala.), who chairs the Senate Rules Committee, which was reported to be behind the directive, said that his committee "made no changes to the existing rules governing press coverage on the Senate side of the Capitol complex."
"The Committee has been working with the various galleries to ensure compliance with existing rules in an effort to help provide a safe environment for Members of Congress, the press corps, staff, and constituents as they travel from Senate offices to the Capitol. Once again, no additional restrictions have been put in place by the Rules Committee."
Shelby later told reporters that his staff had been talking to representatives from the congressional press galleries and Senate Sergeant at Arms Office about how they could interpret the current rules in response to complaints about overcrowding. He suggested there was a miscommunication around those discussions that led to new restrictions being relayed to reporters.
"I said, 'What the heck?' I mean, are you aggressive?" Shelby told reporters. "Well heck yeah, everybody is. But so are we."
"As of now, the Rules Committee is simply examining what the rules are and how the press galleries are operating," a Shelby spokesman told HuffPost. "Reporters should continue to operate as they were operating yesterday."
According to the Radio & Television Correspondents Gallery, "videotaping and audio recording are permitted in the public areas of the House and Senate office buildings." There is no existing rule that reporters need permission from both a senator and the committee to conduct an interview.
Senate Radio & Television Correspondents Gallery Director Mike Mastrian informed some reporters there was a change Tuesday and directed them to the Rules Committee. Mastrian did not respond to HuffPost's request for comment.
Several Democratic senators quickly spoke out against what appeared to be a significant shift in reporters' access.
"I think it's just a huge mistake and I was not consulted," Sen. Amy Klobucher (D-Minn.), the ranking member of the Senate Rules Committee, said Tuesday.
"It is curious timing that this was announced the same day as we have Attorney General Sessions coming before an open hearing, in the Intelligence Committee, and while we have this health care bill that's allegedly out there, drafted in secrecy, that we haven't seen," she added. "So I'm sure reporters have been asking a number of questions."
Restricting access in the Capitol, Klobuchar said, is "just another assault on the First Amendment."
Others Democrats questioned the move and timing on Twitter.
But not all Republicans were immediately on board with the new rules.
Sen. Lindsey Graham (R-S.C.) told HuffPost that while reporters "are kind of a pain in the ass," he didn't mind them hanging around to ask questions.
"You just gotta watch it. I can't answer questions all day long," Graham said. "These stakeout things need to be better regulated. Of all the problems in America right now, y'all are pretty down the list."
Sen. Tim Scott (R-S.C.) told reporters they "deserve the access necessary to do your jobs so the American people are informed," though mentioned two personal safety concerns among colleagues.
Scott said senators are wary of cameras covering them while they're at the ATM out of fear their PIN might be recorded. And, he said, "If you're tripping over reporters as you're walking out, that's a problem."
A senior Republican House aide questioned clamping down on access.
"I understand the frustration from lawmakers because of the increased media presence on the Hill, but this seems like an overreaction from the Senate," the aide said. "I think there are ways to address the issue without shutting down press access. Plus, don't senators want to be on TV?"
Igor Bobic, Laura Barron-Lopez, Michael McAuliff and Eliot Nelson contributed reporting. This article has been updated with additional information about the situation.
Popular in the Community