The Israeli army is making journalists who enter Gaza sign waivers that absolve it of responsibility for their injury or death.
The Israel Defense Force launched a ground offensive in Gaza on Thursday, and reporters tweeted on Friday that they had to sign the waivers to cross the border. The Huffington Post's Middle East correspondent Sophia Jones tweeted:
The waiver reads: "I am aware that neither the MOD nor the IDF shall bear any liability whatsoever for damage or injury resulting from military operations in and around Gaza or otherwise caused to my person or property during, or as a result of, my presence in or entrance to Gaza." Here is the document in its entirety, via Sophia Jones: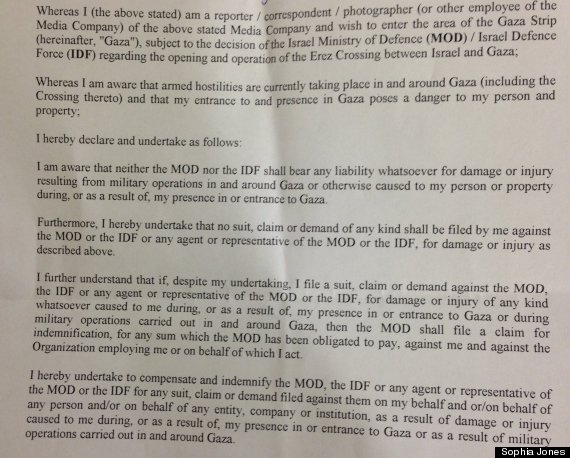 Journalists who reported on conflicts in the region had to sign similar documents in the past — for example, in 2012 and 2003. As Mashable noted, Israel is not alone in requiring journalists to sign such a document. The United States had a similar waiver for journalists in Iraq.
REAL LIFE. REAL NEWS. REAL VOICES.
Help us tell more of the stories that matter from voices that too often remain unheard.