The U.S. attorney's office in Washington, D.C. has dropped charges against four of six journalists arrested while covering protests against President Donald Trump's inauguration earlier this month.
Evan Engel of Vocativ, Alexander Rubinstein of RT America, documentary producer Jack Keller, freelancer Aaron Cantu and independent journalists Shay Horse and Matt Hopard had been charged with felony rioting, an accusation one of their employers called an "affront to the First Amendment."
The nonprofit Committee to Protect Journalists condemned rioting charges against "at least three" of the journalists in a release on Jan. 24. CPJ referred to the arrests of Engel, Rubinstein and Cantu, though the organization noted it was still reviewing the other arrest reports.
"These charges are clearly inappropriate, and we are concerned that they could send a chilling message to journalists covering future protests," CPJ's Carlos Lauría said in the statement at the time. "We call on authorities in Washington to drop these charges immediately."
However, none of the arrest reports for the journalists included any allegations of individual wrongdoing, according to The Guardian. Instead, the documents simply referred to large numbers of people being arrested for destroying property or violating rioting laws. Keller, Hopard, Cantu and Horse all told The Guardian they were innocent of any criminal wrongdoing.
Similarly, probable cause documents for Engel and Rubinstein obtained by The Huffington Post described a large group vandalizing property and starting fires, with some people throwing objects at officers. Both documents were identical, and each stated that the defendant was "arrested as part of this group."
Rubinstein tweeted numerous photos and videos from the protests. After the arrest, he tweeted that cops threw a flash grenade that temporarily left him unable to see. "Cops encircled crowd when I couldn't see; arresting everyone," he wrote.
RT said in a post about the incident that Rubinstein showed police his media credentials but was arrested anyway.
Engel tweeted that he and Vocativ were fighting the charges, which Engel's company slammed as a threat to constitutional rights.
"The arrest, detainment and rioting charge against journalist Evan Engel who was covering the protests for Vocativ are an affront to the First Amendment and journalistic freedom," a Vocativ spokesperson said in a statement sent to HuffPost. "Vocativ will vigorously contest this unfounded and outrageous charge.
On Friday, after learning that the charges against him had been dropped, Engel tweeted:
Willa Frej contributed reporting.
Before You Go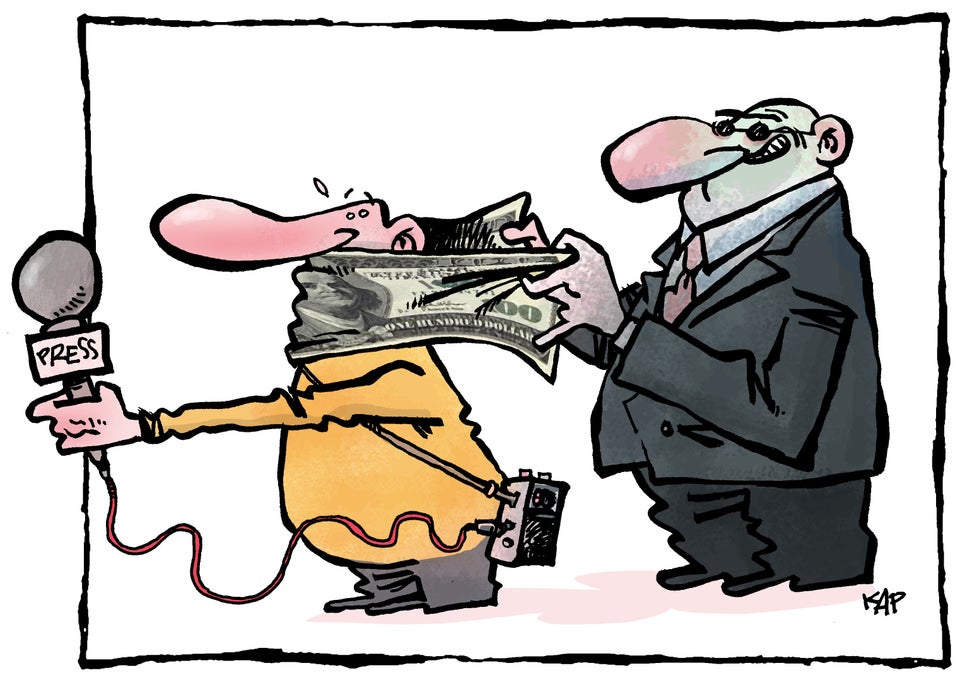 100 Vignettes for Press Freedom
Popular in the Community