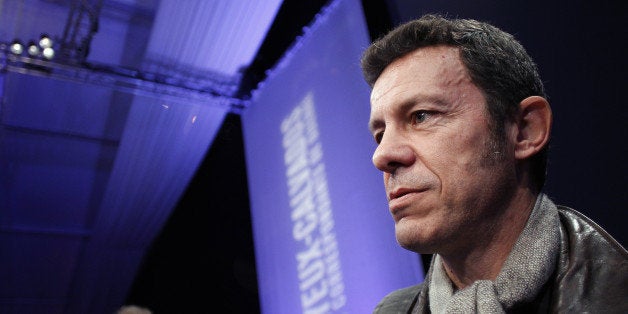 GAZIANTEP, Turkey -- A Spanish newspaper has publicly announced that its reporter and a freelance photographer are currently being held captive after being kidnapped while inside Syria earlier this year.
The two reporters are Javier Espinosa, who is a correspondent for the paper, El Mundo, and freelance photographer Ricardo Garcia Vilanova. They disappeared on Sept. 16, while traveling in the country's northern Raqqa province, the paper said.
Both Espinosa and Garcia Vilanova are longtime Middle East correspondents, with experience in conflict zones. In early 2012, Espinosa survived a round of devastating bombing in the Syrian city of Homs that killed an estimated 700 people, including two western journalists, American reporter Marie Colvin and French photographer Remi Ochlik.
Garcia Vilanova has covered the uprisings in Syria and Libya, with photographs appearing in The New York Times, The Washington Post, and other major publications.
The reporters were stopped at a checkpoint manned by a brigade of fighters aligned with Al Qaeda in Iraq, soon after crossing the Turkish border into Syria, El Mundo said. The paper added that the militants suspected of being involved, known as the Islamic State of Iraq and al-Sham, or greater Syria (ISIS), have taken control of checkpoints along a number of essential corridors in northern Syria, particularly to the northwest, in recent months.
ISIS is believed to be behind the kidnapping of dozens of foreign journalists, including many who have not been publicly identified. The Syrian government itself is also believed to be holding some foreign journalists.
During a press conference held on Tuesday in Beirut, Monica Preito, the wife of Espinosa and herself a journalist who has covered the war in Syria, said that the families decided to go public after negotiations with the captors went nowhere.
"We have reached an impasse with the captors after many weeks of attempted mediation," Preito said, according to Reuters. "Today we appeal to the Syrian people and all armed groups to help release Javier and Ricardo, who have always been committed to show the human face and suffering of the Syrian people during these very difficult times."
The Committee to Protect Journalists currently calls the Syria crisis the "most dangerous conflict in the world for reporter."
International journalism advocacy group Reporters Without Borders (RSF) said recently that at least 16 foreign journalists were being held inside Syria, by militant groups or the regime. More than 50 media employees have been killed covering the conflict, according to the group.
Some news organizations have chosen to keep the detention of an abducted employee a secret, in the hopes of quietly facilitating the employee's release from their captors. Some observers noticed back in late September that Espinosa had not tweeted since Sept. 15, amid a flurry of dispatches from northeastern city of Deir Ezzor. Word was quietly circulated among other journalists that he was suspected detained, but they were urged to avoid mention of his sudden silence.
ISIS has been notable for making very few public demands of the news organizations or countries of journalists they have taken, and little is known about what the group's ultimate intent is with those they still hold.
Other families of detained journalists have also chosen to go public with their plight in recent months, particularly when they suspected that the missing reporter was being held by the regime.
The parents of Austin Tice, an American freelancer who worked for The Washington Post and McClatchy inside Syria, have frequently appeared in the media calling for the Syrian government to help secure the release of their son, who has been missing for more than a year.
And in May, GlobalPost, an online news outlet, publicly announced that its correspondent James Foley, who disappeared in Idlib province in May, was "likely" being held by the Syrian government. Foley's 40th birthday was in October.
Calling all HuffPost superfans!
Sign up for membership to become a founding member and help shape HuffPost's next chapter