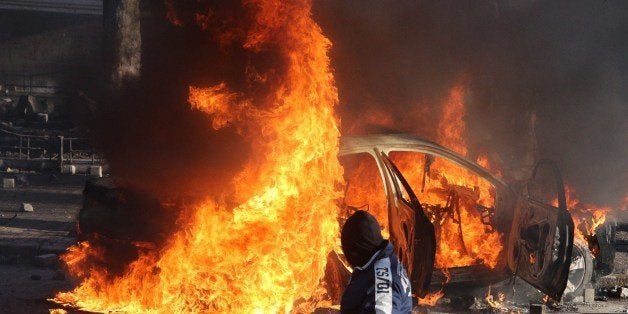 The Ukranian capital of Kiev has exploded in violence and, as so often happens, journalists are getting caught in the crossfire.
For weeks, press freedom groups and Ukranian NGO's have been highlighting the dangers members of the media are facing as the clash between the Ukranian government and protesters intensifies. On Tuesday, the battle between the two sides reached another peak of bloodiness, with at least 14 people being killed.
Inevitably, the situation was dangerous for the press as well:
The Institute of Mass Information, a Ukranian press freedom group, compiled an ever-increasing list of journalists it said had been attacked on Tuesday. An excerpt:
1. On Shovkovychna Street, the news photographer of the Reuters Agency Glib Garanych was injured. A flash bang grenade hit him in the chest and tore his clothes.

2. On Lypska Street, near the central office of the Party of Regions the security attacked Maksym Trebukhov, a news photographer. There were six of them and they were punching him in the face and in the head. The news photographer sustained a broken nose.

3. On Lypska Street, unidentified young athletic-looking thugs attacked the filming crew of Channel 5 — journalist Yevhenia Taganovych and operator Leonid Taranenko. The thugs broke the video camera. The operator sustained a hand injury and probably a broken finger.

4. On Lavrska Street, police officers attacked Yevhen Kotenko, a news photographer of the radio station "Holos Stolytsi". When they saw his with his camera in his hands, they attacked him, put armlocks on him, took away his camera and ID, and threatened his life. They checked his camera and found no photos on it yet. After that they let him go.
Related
Popular in the Community