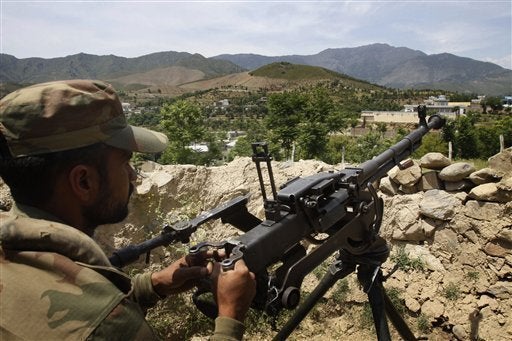 In May 2012 alone, at least four journalists have been killed in Pakistan, increasing to six the total number of slain reporters for this year. Pakistan, which remained the world's deadliest place for correspondents in 2010 and 2011, once again stands among Somalia and Syria with the highest number of reporters who have lost their lives in the line of duty.
Two journalists, Tariq Kamal, a correspondent of a Sindhi language newspaper and Aurangzeb Tunio, a television reporter for Kawaish Television Network, were both killed in Sindh province on May 9th and 10th respectively. The authorities seem totally clueless about the elements responsible for these killings.
On May 30th, the International Federation of Journalists (IFJ) "strongly condemned" the killing of Abdul Qadir Hajizai, a correspondent with the Karachi-based Balochi-language news channel Vsh News for the last two years. Mr. Hajizai was gunned down on May 28th in the southwestern Balochistan province. According to the Pakistan Federal Union of Journalists (PFUJ), the largest representative organization of reporters in the country and an affiliate of IFJ, Mr. Hajizai was heading home when armed men ridding on a motorcycle opened fire on him in the Basima area of Washuk district.
"He was taken to a local hospital where he died," the PFUJ confirmed.
According to the Reporters Without Borders (RSF), a Paris-based advocacy organization, the Baloch Liberation Front (BLF), an underground separatist armed group, claimed responsibility for Mr. Hajizai's killing, calling him a "government informer." This unsubstantiated charge of "informer" is very characteristic of insurgent groups as well as the Pakistani government's secret service units that coerce journalists in Balochistan, Pakistan's largest province bordering Iran and Afghanistan, to represent their particular points of views. In case of noncompliance, reporters are dubbed as "spies" or "agents" of rival groups and eventually killed.
Within Pakistan, Balochistan has experienced an upsurge in attaks on journalist in the recent years due to an ongoing conflict that results in a highly insecure environment for reporters.
Mr. Hajizai, according to the PFUJ, was the 22nd journalist killed in Balochistan in the past three years. The IFJ has noted that "the situation... is worsening each day" and has called upon the authorities in Pakistan to take "immediate action" to ensure that journalists are kept safe and their killers are apprehended and charged. The IFJ also supports PFUJ's countrywide protests against the government's failure to protect journalists from extrajudicial killings in unstable regions. The Committee to Protect Journalists (CPJ) also emphasizes the need for more cooperation among organizations committed to the freedom of expression. Bob Dietz, CPJ's Asia Program coordinator, says "journalists' organizations must act much more proactively to confront the violence themselves." However, his sad prediction is that "the situation [in Balochistan] does not look likely to improve in the coming years."
On the same day that Mr. Hajizai was killed, the house of Irshad Akhtar, the president of the Press Club in Turbat district of Balochistan (also known as Kech), was attacked by unknown assailants. Though the journalist and his family members remained safe, Mr. Akhtar said that the assailants intended to intimidate him because of his reporting critical of the government policies.
Mr. Akhtar says that the government authorities had assaulted him on two occasions earlier. On September 4, 2009, he was working with Daily Asaap newspaper when personnel of the Frontier Corps (FC),a paramilitary force, beat him up and snatched his video camera in Turbat district when Akhtar was covering a protest rally. Prior to that, Akhtar had received gunshot injuries on 26 August 2008 while another person was killed when the FC opened fire at a political rally. On May 18, ten days before the attack on Mr. Akhtar's house, Razaq Gul, a correspondent for the Express News, was kidnapped in Turbat district and found dead the next day. RSF says Gul had been "shot in the forehead and chest after apparently being tortured."
Gul's killing triggered widespread protests within the journalist community across Balochistan. On May 20th around a hundred editors and reporters protested in Quetta, the capital of Pakistan's largest province of Balochistan's capital, urging the government to arrest and punish those responsible for the killing.
Anwar Sajidi, the editor of Daily Intekhab, a popular Urdu-language newspaper, rightly pointed out that more journalists had been killed in Balochistan than in neighboring Afghanistan, which has remained in the grip of a decade-long full-fledged war. "Balochistan is a war-zone while journalists are not trained and equipped with necessary safety tools needed in a war-zone," he said.
The International Press Institute (IPI) quoted Owais Aslam Ali, its board member and the secretary general of the Pakistan Press International (PPI) as saying that the situation of journalists in Balochistan has reached "a point where it is virtually becoming impossible to report independently." None of the killings of journalists, Mr. Aslam added, has been seriously investigated nor anyone arrested and punished for "these heinous crimes."
The 2002 commercial liberalization of Pakistan's broadcast media opened up several improved avenues for professional and economic opportunities to journalists. As long as newspapers dominated the scene, the illiterate population considered journalism as the exclusive domain of educated people.
The dramatic advent of 24/7 news channels changed the news culture. It introduced the attractive world of news media to the people at the grassroots level. The presence of correspondents across the nation raised expectations among various actors to ask for "adequate coverage." State and non-state actors endeavored to influence editorial policies In rural areas, the journalists say they are pressured to provide more airtime to the government, opposition parties and armed groups. This situation simply makes it impossible for journalists to work freely without irking any of the power centers. But the opening up of the media landscape has also resulted in a series of problems in baggage of serious problems, especially for reporters working in rural areas. In rural Pakistan, such as Balochistan. For example, media owners are known to exploit the passion of young journalists by offering them unpaid reporting positions. In order to mitigate address the issues of economic exploitation and personal safety, journalists end up taking part-time government jobs or covert membership of certain political and religious organizations.
Having limited influence on the editorial policies of their organizations, some of the rural journalists often get kidnapped, tortured or even killed for their failure to report in favor of a certain powerbroker. Thus, such look at their a strategy is implemented as a protective shield, these practices increase the likelihood of assaults and an end to one's professional reliability. Local journalists' unions say they cannot dissuade reporters from taking part-time jobs from the government until media organizations pay them a reasonable salary in return for their services.
As violence against journalists with unadulterated impunity skyrockets, the honeymoon period of a relatively free press in Pakistan seems to come to an depressing end. Media at risk simply means democracy at risk. The government in Pakistan should tighten measures to ensure the freedom of expression and punish those responsible for attacks on journalists.
The views expressed in his article are personal and do not reflect the policy of the National Endowment for Democracy (NED) where the writer is currently a Regan-Fascell Democracy Fellow.
Related
Popular in the Community