Rawan Shamayleh (Twitter handle: @yasmeeneh) from Amman, Jordan, urged conferees at the Salzburg Global Seminar (@salzburgglobal): "Please stop tweeting her picture its (sic) humiliating respect that she's Veiled and wnt 2 remain anonymous."
Aysha Taryam (@ayshataryam), editor of the Sharjah, United Arab Emirates newspaper The Gulf Today, tweeted: "Im not sure what to make of news agencies use of the (#TahrirWoman) photo. I am torn between its importance & its infringement on privacy."
She's #TahrirGirl or #TahrirWoman, an unidentified female in a YouTube video that has gone viral showing her being dragged, brutally beaten, and undressed by Egyptian army forces.
"To those defending the Supreme Council of the Armed Forces (SCAF), to those who are absent and believe the people and the army are one hand, to (Prime Minister Kamal) El Ganzouri, is what you said recently true that 'those are the best soldiers on earth?'" was the introduction to the video clip.
The credits read: "Young people who love Egypt" and was signed "Mina Fawzi, Mohamad Gamal Zaidan, Hussein Mohamad, and Islam Gamal."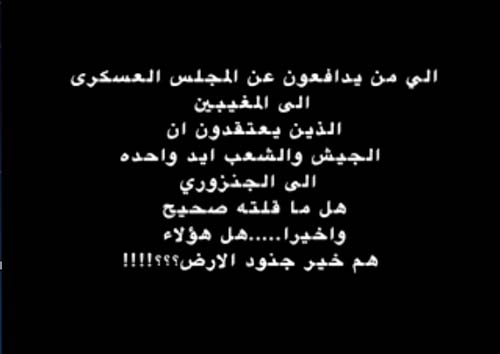 Screen shot of introduction to Tahrir Woman video clip
Wael Qandil slammed El Ganzouri as a tame pussycat in Al Shourouq newspaper, saying the premier had an historic opportunity, which he blew, to end his career honorably, but that the media stepped in to uncover the detailed crimes and insane and unprecedented brutality against demonstrators and rebels, which El Ganzouri denied.
The twitpic of the woman semi-undressed lying on the ground in Cairo's Tahrir (Liberation) Square, where the Egyptian revolution gathered steam almost a year ago, was also seen around the world and raised anew issues of media ethics and safety of journalists, following the military junta's recent media crackdown.
Nesrine Abdallah pitched in with an illustration showing naked devils representing soldiers, with their genitals blacked out, dragging and abusing a helpless woman draped in the Egyptian flag.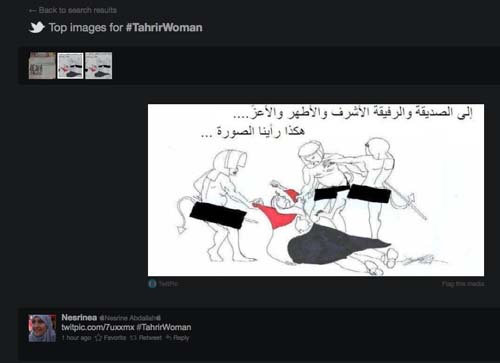 Screen shot of Egyptian devils-troops abusing Tahrir Woman
Another powerful punch came from Brazilian cartoonist Carlos Latuff whose "Aborting Democracy" illustration spoke volumes. He's been a major critic of the SCAF.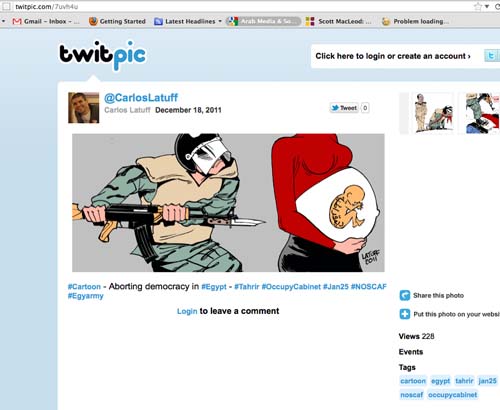 Screen shot of Carlos Latuff's "Aborting Democracy"
The incident Saturday and the killing of protesters in the square, including a noted senior Muslim cleric, brought to the fore questions about whether journalists and social media were stirring the revolutionary pot.
To discourage them from doing their jobs, soldiers have been arresting and harassing local and foreign reporters in Egypt with varying degrees of severity.
The Associated Press reported that Egyptian troops were using brutal force against women and had "swept into buildings where television crews were filming and briefly detained journalists. They tossed the camera and equipment of an Al-Jazeera TV crew off the balcony of a building."
Julia Simon, writing for American Public Media, said she had been detained and interrogated for 12 hours first by the police then the military who had confiscated her laptop, recorder, notebooks and all other possessions.
One can't keep track of violations or abuses against journalists as Arab revolts snowball in the Middle East/North Africa region.
The latest crackdown in Egypt, the ongoing obfuscation in Syria, the security whip being cracked in Bahrain, social media blackouts here and there, are all examples of regimes fearing exposure of their repressive actions.

Back full circle to Jordan where the Center for Defending Freedom of Journalists (CDFJ) organized a conference earlier this month during which key media participants squarely rejected charges they were contributing to the ongoing revolts with their coverage.
"Media did not foment Arab revolutions," headlined the English-language Jordan Times quoting former Al Jazeera director general Wadah Khanfar at the CDFJ's Media Freedom Defenders in the Arab World Forum (#MFD2011), who added that "creating the revolutions would be an honor."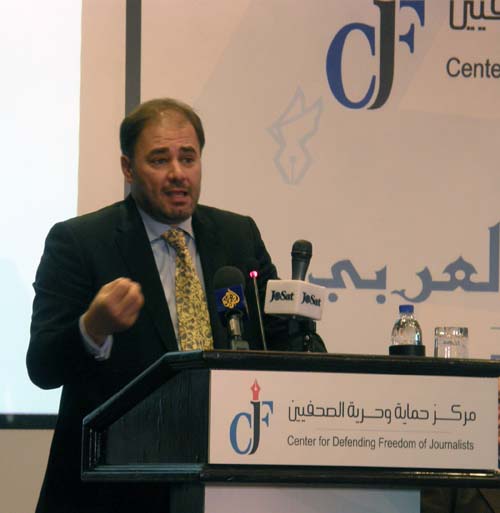 Wadah Khanfar (Abu-Fadil)
Participants agreed that freedom of expression isn't a luxury, it's a right, with CDFJ head Nidal Mansour insisting that "the era of oppression is over."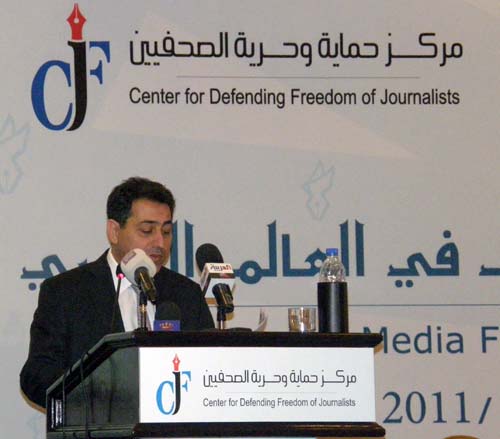 CDFJ's Nidal Mansour (Abu-Fadil)
A major challenge facing the forum was the inability of Syrian blogger Razan Ghazzawi to attend because she was stopped at the Syrian-Jordanian border and arrested for her opposition to the regime of President Bashar Al Assad.
Mansour drew heated applause when he saluted those who were absent and barred from attending.
A Syrian activist who made it to the conference told me that if a blogger or journalist traveling with a colleague is nabbed by security forces or border police crossing into a neighboring country like Jordan, the other person pretends not to know the detainee so that at least one of them can report the incident to the outside world and bear witness.
So are online activists and citizen journalists setting the media agenda?
Said Emna Bin Joum'a from Tunisia, where the first spark of the so-called "Arab Spring" began: "I've become a blogger to whom journalists listen, although I'm a journalist."
Meanwhile, veteran Egyptian journalist-turned-activist Hedayat Abdel Nabi promoted the need for better protective measures for journalists in conflict zones.
She has been very involved with the Geneva-based Press Emblem Campaign (PEC) , an NGO with U.N. consultative status dedicated to combatting impunity, bringing perpetrators of crimes against journalists to trial and providing better protection.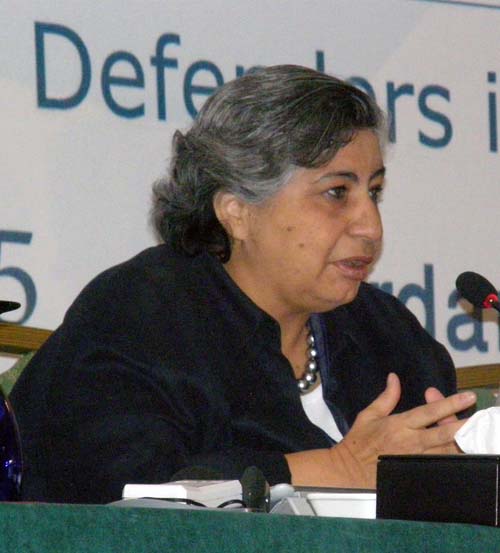 PEC's Hedayat Abdel Nabi (Abu-Fadil)
The campaign began following the U.S. invasion of Iraq when Reuters cameraman Mazen Dana was killed by American troops while on assignment there, she said.
Abdel Nabi called for an end to targeting journalists, the investigation of recent anti-media crimes, and asked that the CDFJ monitor violations.
"International laws don't protect journalists," she said. "We need an international convention to protect them and must join forces with other organizations to do so."
The three-day event (two in Amman and one at the Dead Sea) ended with a workshop that drafted recommendations including creating an Arab network to monitor press freedom violations, an annual report, a training manual on journalists' rights, establishing a legal team to pursue media freedom violators, and a unified model for documenting violations.