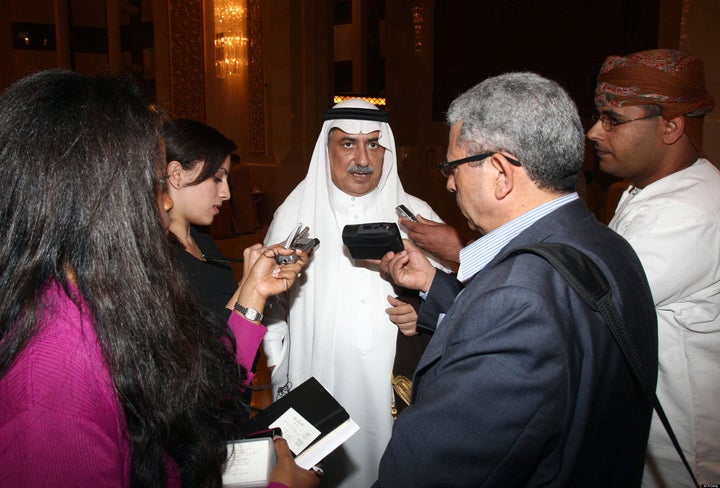 UPDATE: A Saudi government spokesman tells Ben Smith that the White House warning about journalist restrictions in Saudi Arabia is "inaccurate."
"Journalists are free to go wherever and report on whatever they want," emails Karen Hanretty of Qorvis Communications, the American PR firm that the Saudi government uses.
TIME's Michael Scherer, who will be accompanying President Obama on his trip to Saudi Arabia Tuesday, reports that he has been warned by the U.S. State Department that, while in Saudi Arabia, he is not to report on anything except the President's visit lest he "risk arrest and detention by Saudi authorities."
Scherer writes that "by agreement between the Obama Administration and the Saudi government, the White House press corps will be severely restricted while in the country," and he shared with readers the instructions sent to him by the State Department:
The Saudi government is permitting journalists accompanying President Obama entry into the country without a visa or the usual customs procedures. While in Saudi Arabia, therefore, journalists are expressly prohibited from leaving the hotel or engaging in any journalistic activities outside of coverage of the POTUS visit. Those who do so risk arrest and detention by Saudi authorities.
The Basic Law does not provide for freedom of speech or the press, and the government generally did not respect these rights in practice. Several major media outlets were owned by members of the royal family, and individuals were not permitted to criticize the royal family publicly. The government actively impeded criticism and monitored citizens' political activity. In rare cases, individuals criticized specific government bodies or actions publicly without repercussions.

According to the Basic Law, the media's role is to educate the masses and promote national unity. Media outlets can legally be banned or publication temporarily halted if they are deemed to promote "mischief and discord, compromise the security of the state and its public image," or if it "offends a man's dignity and rights." The government continued to restrict freedom of speech and press by interrupting publication and dissemination of news sources critical of the royal family or of Islam. Authorities prevented or delayed distribution of foreign print media, effectively censoring these media and publications. During the year media discussions took place that tested the boundaries of permissible topics for media coverage, including political and social reforms, actions of government ministries, domestic and child abuse, rights of women and human rights, corruption, drug and alcohol abuse, crime rates and violence, trafficking in persons, HIV/AIDS, and the religious police.
Related
Popular in the Community