Journey for Body and Soul: The St. Jacques de Compostelle Pilgrimage Trail
-- Lloyd I Sederer and Rosanne Haggerty
Today's pilgrim is not fleeing the black plague, seeking atonement, or pursuing a fertility rite along the way of St. Jacques. Instead, a cross between a spiritual journey and the Appalachian Trail awaits the pèlerin,, or pilgrim, who sets off on the 1,600 kilometer trail from Le Puy in South central France to the Pyrenees and then on to Santiago de Compostelle at the western shore of Spain. This favored ancient trail dates back 1000 years to when the Bishop of Le Puy initiated a Christian pilgrimage route that now attracts some 15,000 hikers each year. Many other trails derive from northern France (including Paris), Italy, Germany, Belgium and Eastern Europe. We began our journey in Le Puy and have a story to tell about the path in France.
Some take le chemin, the road, in a fell swoop which can last up to three months depending on your pace. Others walk it in stages, as we have -- with each summer notching another 150 to 200 kilometers. The first 10 days out of Le Puy are among the most grueling as the pèlerin not only adjusts to hiking six or eight hours a day but breaks in boots, however worn, and body, however in shape, that are not quite used to the steep hilly paths, rocky surfaces and endless hours that lay ahead. Some will carry their sac-a-dos, backpack, and some will send it ahead using one of the now reliable van services that for a handful of Euros will transport your belongings from lodging to lodging.
Pèlerins don't go by car, though a few go by bike taking some alternate paths by necessity. There are neither suitcases nor roller-boards to be seen. Most of us sleep in simple, quaint guest houses, or gîtes, occasionally in an abbey, convent or modest hotel. Some carry a tent but these seem few in number, maybe to be spared the extra weight and a hard night under the stars or maybe because the journey itself is also about gathering with other pilgrims by day and night wherever you finally rest your pack. The path, the GR65, is very well marked with a red and white blaze so no guide is needed. While speaking French adds to the adventure it is by no means necessary.
Walking many hours in a day, day after day, often without seeing others than your spouse, friend or family, means being with yourself. The ramblings of your mind become your company. Here is where the body journey gives way to that of the soul. Trekking is like that too but usually without treading upon paths fashioned to take the traveler closer to his or her creator and spirit, or lined with crosses and medieval churches. The road, though, is non-denominational and pèlerins are on it for many a reason.
We have met families from throughout Europe, and occasionally other North Americans or Australians. Families take the journey to unite or reunite and for parents to inspire their children with the experience of labor and love. We have met many saddened souls fresh from the loss of a child, or spouse, or loved one. There are artists, like the opera singer from Germany who was searching for his voice, young professionals feeling that their work is missing a sense of purpose and value, people with depression or cancer and other illnesses who pursue le chemin to lead them out of their emotional pain and build strength and hope. From time to time we run into a gaggle of boy scouts or girl scouts or a group of friends gathering after years of distance and different destinies. There was a priest on a bicycle, a young man with an ailing horse and a family that had build a cart that looked like chariot to transport their child whose disabilities made walking impossible. The road is a tapestry of souls. Encounters are enlivened and deepened by the state of mind that prompts people to undertake a journey of discovery.
Some stories from le chemin will be with you forever. We know a businesswoman from Canada who left her corporate job to walk the pilgrimage trail and never returned, having met her future husband on the journey and then settled into a village in France. We met an impoverished young man lost in his life who set off with hardly a euro but knew he would find shelter because on le chemin no one goes without lodging or food. There was a woman who had been told her cancer was no longer treatable who wanted to take the pilgrimage while she could still feel its beauty and power. There is a family we met and still correspond with whose children had come of age and were on the Compostelle trail together as their rite of passage.
The path itself is a varied as you can imagine. On foot you mostly can avoid roads, even two lane country roads, but not always. There are sections across steep hills, Roman paths, shaded woods, and open country fields that meander down France to the Pyrenees where you cross into Spain. Some stretches are glorious and some just have to be walked. Heat and rain are not uncommon partners on your walk and hats, raingear, SPF 50, and multiple water bottles are your friends. Don't start the trip with new boots since you may not get very far. If you know how to knead your tendons and muscles after a long day your chances of not developing shin-splints, really tendonitis, are vastly improved. Just like the pilgrims of old, this walk is not a stroll, it is meant to push you body and soul.
The nights are special. Not only can you be rid of carrying weight on your shoulders and slip into sandals that don't rub your blisters but you take your meals with others who like you are recovering from the day - and their lives. Your hosts are as much a part of the theater of the journey as your fellow pilgrims. There was Henri who prepared a meal of aligot, a mixture of cheese, potatoes and heavily seasoned with garlic served with homemade sausage, whose artistry of preparation embellished our already ravenous appetite. And there was Esther who supplied the food a group of 10 of us would cook while staying in her guesthouse; she was having such a good time that she kept coming back -- bringing her accordion, singing and dragging her adolescent son along for the occasion. There are the priests and nuns at the abbeys and convents that take in pilgrims who have made the art of welcoming part of their calling for centuries. There are cranky hotel keepers too; they exist around the world, but not too many of them seem to populate le chemin. Local hearty wines, served in abundance, and often drawn from casks, help the camaraderie and soothe some of the aches of the day. An ad-hoc community of pilgrims and hosts creates the genial ambiance that makes the evenings as much a part of the journey as the long days.
Some of the villages along the way are magical and many memorable. On the path from Le Puy a few will engrave themselves into your heart. One of the most special, about an eight days walk southwest of Le Puy, is Conques, its name describing its conch-like shape set into a small mountain and bordered by rivers below.. An 11th century Romanesque Abbey is the centerpiece of Conques and it provides abode and comfort to over 100 pilgrims a night during the high season of the pilgrimage, from May to September; the village has concerts and street markets and a spirit of faith drawn from its patron saint, a fourth century adolescent martyr, Sainte Foy. A wonderful, posthumous memoir and study of the town was written by a New Yorker, Hannah Green, called "Little Saint." Farther Southwest is the equally memorable Cahors, a small city at the bend in the beautiful River Lot. Cahors is famous for its wines, has secret gardens not to be missed (a town map will reveal their hidden locations) and a rare fortified bridge. A highlight of the next section of the trail are several hilltop villages, including Lectoure. In Lectoure, be sure to bring a bathing suit and pay the modest admission to the public "spa" featuring indoor pools of every centigrade and waterfalls that will undo any knot your muscles may have.
What happens when you finish the entire path? Though we are still working our way there, friends who have finished the route tell us their lives have changed, enriched by the lessons of le chemin: that the path of our lives is dur (tough), delivers the unexpected, merits ongoing reflection, is nurtured by the fellowship of others and is a great blessing to be able to pursue. Maybe that is why after reaching Compostelle, some start the journey all over again.
...............................
For maps of the chemin and guest houses enroute check out:
- http://chemindecompostelle.com/ -- especially the section called "Hebergements et services sur le GR 65" (French not needed to view the route and the services)
- http://www.csj.org.uk/routes.htm - the Confraternity of St. James (in English with a link to their English publications)

Lloyd Sederer is Medical Director of the NYS Office of Mental Health and writes a regular column for the Huffington Post (www.askdrlloyd.com). Rosanne Haggerty is President of Common Ground Communities. Both are pilgrims
...............................
Pilgrimage trails through Europe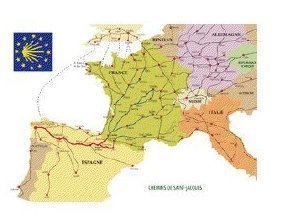 Conques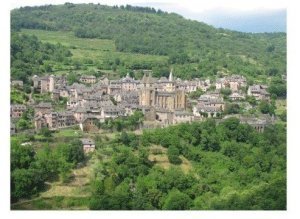 Pilgrims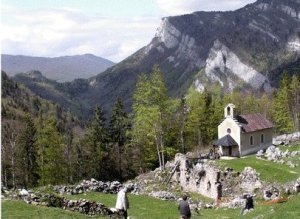 Aligot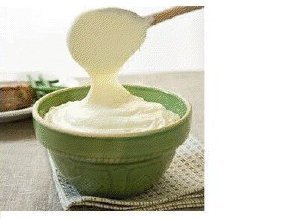 Popular in the Community