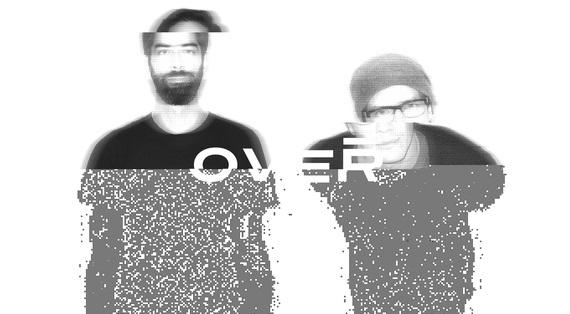 Made popular by English rock groups in the 1980s, the musical genre creatively dubbed shoegaze has evolved and returned. Loosely defined by its dreamy reverberations and eerie soundscapes, digital shoegaze transports the listener into a dark dream that is rich in rhythm and viscous with vibration. Hailing from Toronto, electro duo, Brett Paulin and Dan Workman who go by the moniker, OVER, have infused their own unique flavors into the genre creating tracks that are comparable to artists such as Portishead, Andy Stott, DJ Shadow and Panda Bear. Claiming to be "inspired by broken dreams and broken appliances," OVER has truly forged a signature sound from the fire of their minds.
Piecing together elements of automated drone, sampling, futuristic folk and cold percussion, each track melts into a daydream that blurs the lines between imagination and reality. Hypnotic beats pass through the body slowly and heavily, like rippling molasses as haunting vocals entrance the mind. Though reminiscent of trip-hop and shoegaze artists of eras past, OVER utilizes a contemporary composition style that can be likened to a guided stream of consciousness.
The debut release from the duo is the track "Adult Day Program" which premiered in early 2016 on Noisy with an accompanying music video. Psychedelic and meditative, the song moves through the mind leaving fractals of color in its wake. The video features high contrast images in black and white, swirling in kaleidoscopic patterns, forgoing a narrative and focusing instead on abstract imagery. The psychedelic nature of the track combined with the avant-garde style of the video allow the mind to wander and create one's own narrative.
Having worked on various other musical projects, the duo is no stranger to producing sound. Ever-evolving and creating, OVER's music represents the future in the present tense. They are "self-reliant, self-produced and self-aware" after having dealt with the rigmarole of corporate labels time and time again. The freedom of independently creating one's own music is not only inspiring but necessary for Paulin and Workman, who were disenchanted with the mechanical methods of record labels.
"This is a pure, unadulterated art project," explains Workman. "We have an arsenal of new material and plan on a very steady release schedule of singles, videos, tricks and treats...we decided against releasing a full-length until we had enough interest in the project to make it worth while. Record campaigns are so fleeting without the breadth of infrastructure behind them."
Clearly not amateurs, OVER's production is crisp, clean, and masterful. Their tracks are thickly layered with sound allowing you to feel the weight of the music like the gravity of a lover's embrace. Humble and passionate, OVER is returning to the roots of why humans create music: because we are meant to. There is a deeply emotional, mental, spiritual and even physiological connection to music that we all share. It is universal and can often speak in a language that does not use words. OVER is definitely on to something and as their collection of tracks grows, so will their fan base.
REAL LIFE. REAL NEWS. REAL VOICES.
Help us tell more of the stories that matter from voices that too often remain unheard.