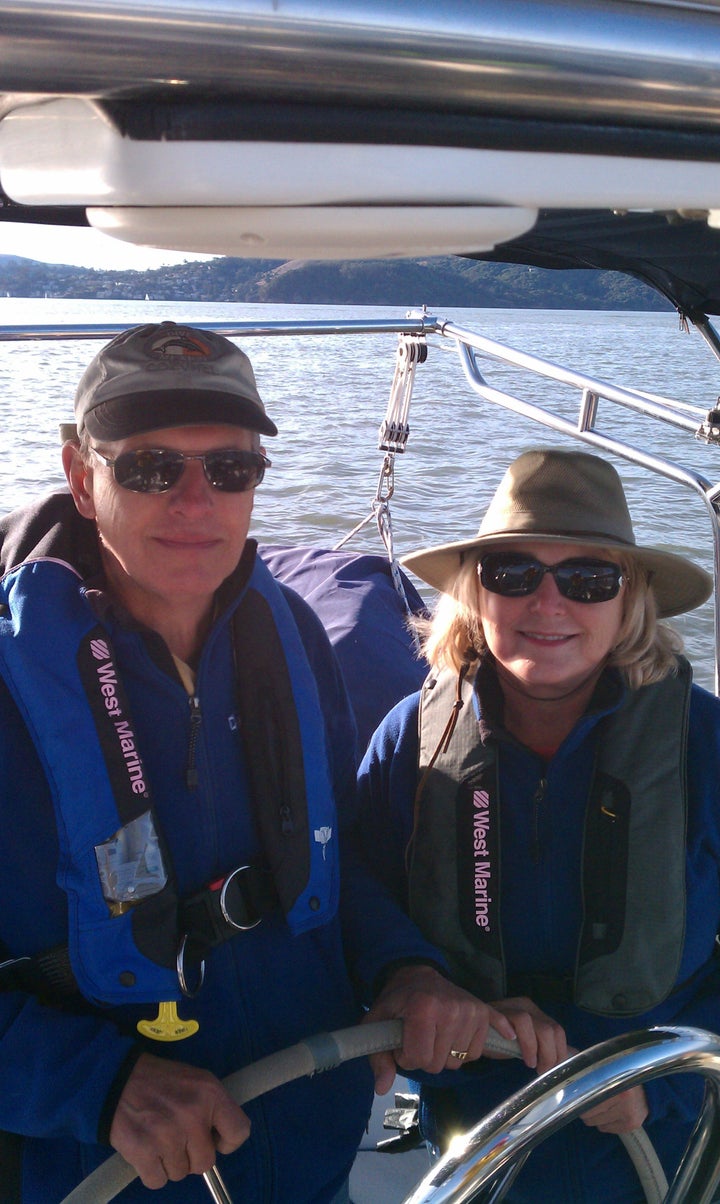 Downsizing is more than just a popular midlife slogan for Ginger and Steve Penny. Recently, the pair -- both 61 -- decided to give up their 2,700-square-foot Fairfield, Calif. home and live instead on a 52-foot yacht that they are in the process of buying. The couple hopes to move on board by early summer.
We asked Ginger Penny to share the details of the shedding process with us -- the good, the bad, the ugly.
Ginger, tell us a little about yourself.
My husband is a chemical engineer project development manager for Valero oil refinery in Benicia, and I work four days a week at a sewing-machine dealer, selling sewing machines and teaching classes there. We have two adult sons, 38 and 33. The 38-year-old lives in Texas. My husband doesn't plan to retire until he is 70, but we are ready to make this move now.
When did the idea of living aboard a boat occur to you and what do you plan to do with your house?
Well, we already have a 38-foot sailboat that we love. We will be living at the Benicia Marina. We considered this move because we love to spend the night on the sailboat and frequently do. We will head out on a Saturday, dock in Sausalito, spend the night and then sail back the next day. Sometimes we dock in San Francisco. Usually they charge for temporary docking, a fee per foot of the slip. That means we have a hotel room in San Francisco for $40.

As for our house, I'm hoping to rent it out furnished. If it is rented out unfurnished, I'll just distribute the furniture among relatives. I am sad about getting rid of furniture that I just purchased in the last two years, but I really want to just get on with this. I'll probably rent some studio space for my sewing activities.
We are going to pay off our house in the next two years. After that, we could see a rental income of $2,500 a month from it. It's a better return than if we sold the house and invested the money. We are banking on the property going up in value in the future and collecting rent in the mean time.

What do you hope to get out of this experience?
I am hoping that this experience will be a form of discipline for me to not buy a new handbag or a new pair of shoes every time I am in the mood. The smaller space, and the fact that everything has its place, will be freeing in a way. I will no longer make the elaborate meals that cover the kitchen counters with dirty pots and pans. I won't need a potato ricer or a spaetzle maker.

When I walk through my lovely home with the furniture that I could finally afford after years of saving, I do feel a pang. But that's me trying to figure out why I needed that stuff in the first place. My head is in a place now where I am no longer placing extreme value on things. Yesterday, I walked through my house and felt both exhilaration and mourning. We can put everything in storage and rent the house, and if this doesn't work out, we can return -- but that would seem like cheating. I am in this for the duration, and I will succeed.
Is there any one thing about living in such a small space that you think will be especially hard?
Yeah, scaling down to a queen bed will be really hard! It will also be hard to give up my new cooktop. I recently bought a Miele 5 burner that cooks like a dream. The flame on the range on my boat will be wimpy I am sure. It will take forever for water to boil.
Anything you are particularly worried about, living in such small quarters with your husband?
I think there are solutions to everything; you just have to find them. Our house is so huge that he hangs out in his part and I hang out in mine. We each watch our own TVs. One solution would be to have earphones on the TV. Then I will not be disturbed and I can listen to my audio books. Maybe we will take walks instead of watching TV every night. But yes, I am freaking out a little.
You say you have a lot of stuff. Tell us how that came to be.
I am not a hoarder in the true sense of the word, but as I became older and the kids were no longer our financial responsibility, we had more disposable income. I just started to buy more stuff. But awhile ago, all that stuff began to make me feel guilty and I felt overwhelmed with the responsibility of finding room for everything and keeping it in good order. I enjoy decorating and have a lot of large art pieces that will be hard to part with.
And how has the disposal process been going?
Well, I'm not looking for financial compensation, so I'm not selling stuff except some family heirlooms that no one in the family wants. It would be nice to get some money for everything, but I fear that would turn this into an even bigger hassle. I would rather see my belongings go to good homes.
For years, we rescued greyhounds -- four in all. The last one died a few months ago or we wouldn't even be considering this move. I have several greyhound paintings, figurines and even a life-size bronze of a greyhound that I may donate to a greyhound rescue group to be auctioned off at a fundraiser, or sell them outright and give the group a portion of the proceeds. One thing I have to figure out is what to do with my beloved dog's ashes. I rescued him in Scotland at a time we were living there as expats. Maybe I will send them back to Scotland and have them scattered at the park where he used to love to play. All the dog beds have gone to the animal shelter already.
For a lot of people, the hardest part of downsizing is parting with the family memorabilia. How are you handling that stuff?
I have numerous heirlooms and will ask my kids if they want any of them. If they don't want them, I will sell those. My son says he wants the Christmas china. My husband has no emotional connection to any of it except the baseball mitt he used when our son was in Little League. He'll probably move that to his office. I never kept the kids' report cards -- they weren't anything to want to see again!.
The most difficult things to give up are fragile gifts given to us by friends we made while living overseas. A crystal bagpiper from Scotland, a Moser crystal vase from Czechoslovakia, a paperweight from my dog-walking buddies in Scotland and a certificate naming me "lifetime member of Falkirk dog walkers" awarded to me for my regular attendance and contribution of gossip. These mean more to me than the Art Deco glassware and hand-painted china handed down from my husband's family.

Yeah, I get overwhelmed with the thought of going through it all.

Will this downsizing plan save you money?
Expenses will be less than $2,000 a month to live on the boat -- that includes all utilities, mortgage, maintenance and dock slip fee. We believe that property values are going to start to rise again, so we decided not to sell just yet.

Did the experience of living as an expat help prepare you for this big downsizing?
In a way, yes. We rented furnished homes, and in the beginning I missed my things. But I realized that I got along without my books and paintings for years. And even after I got home, some things remained in boxes. I plan to give my collection of magazines related to painting to the community college art department although I wonder if they will even want them. Collections and hobbies take up so much space. When we were expats, we had dorm-sized fridges. I shopped daily with my string bag.
The boat you are buying is so small compared to your house. What adjustments do you see yourself making?
Giving up my art supplies means I will never paint again, but then again, the paints that have been in my garage are probably dried. I recently purged my closet and will do so again. I plan to lose 20 pounds, throw out anything that is too big and refuse to buy a bigger size. I have decided to give away my bread-making machine. Smaller galley equals less room to hide fattening stuff. A bag of chips takes up so much room -- another advantage of living aboard!

Related
Before You Go
Downsizing
Popular in the Community