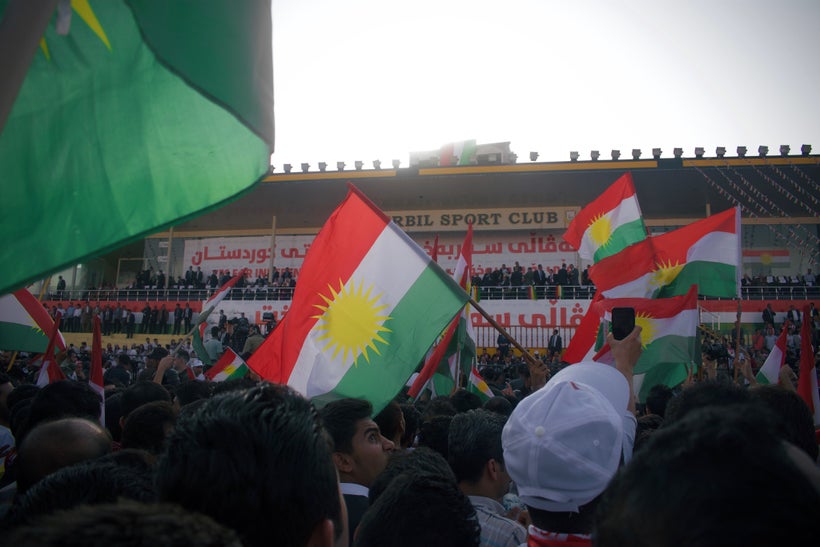 By Sumaya Almajdoub and Merve Demirel
It was not long ago when Turkish leaders welcomed Masoud Barzani, then president of the Kurdistan Regional Government (KRG), to Turkey with a Kurdish flag. At the time they were economic partners and allies, but much has changed in this relationship – and others – following the KRG's widely contested September 25 referendum, in which Iraqi Kurds overwhelmingly voted for independence. While non-binding under international law and unlikely to lead to secession in the near future, the referendum has drawn Iran, Iraq, and Turkey closer together, and it is changing the region's power dynamics.
As a distinct ethnic group with their own language, culture, and heritage, the Kurdish population scattered across modern-day Iran, Iraq, Turkey, and Syria has long dreamed of forming an independent nation-state. It is the Iraqi Kurds who have come closest to achieving this dream. While Iraqi Kurdistan is a semi-autonomous region in northern Iraq that notably has its own president, prime minister, parliament, and security forces, it has never been fully independent and is limited by the central government's constitution. For example, being one of the country's major oil producers, the KRG is required to share oil production revenues with the rest of the Iraqi state. Given this broad support for Kurdish nationalism among most Iraqi Kurds, a majority "yes" vote was easily predicted, along with the strong reactions from neighboring countries with their own Kurdish minorities.
Fearing the rise of a pan-Kurdish movement, the foreign ministers of Iran, Iraq, and Turkey issued a joint statement opposing the referendum. They also hinted that coordinated countermeasures would be taken if the vote took place – and they were not bluffing. The Iraqi government immediately imposed sanctions on the KRG, cutting off oil sales and international flights to and from major airports in Iraqi Kurdistan. Iran closed off its airspace and ordered its military to engage in maneuvers near the KRG border. Citing the 1921 Treaty of Ankara and Turkey's right to claim certain areas of Iraqi Kurdistan, the Turkish government also sent military troops to its KRG border.
Then on October 16, Iraqi forces launched a military operation in the disputed territory of Kirkuk and took full control of the city, which is claimed by both the KRG and the Iraqi government. Losing control of Kirkuk was a huge setback for the Kurds, who made significant gains in the area over the last few years. As home to 40 percent of Iraq's oil, Kirkuk is a major flashpoint and, arguably, a Kurdish – or even Iraqi – state would not be economically viable without the oil-rich territory.
While the full impact of the vote on the Iraqi Kurds' future is still unclear, the KRG referendum has fostered notably closer relations between Iran, Iraq, and Turkey – changing the region's power dynamics in ways that seemed unlikely just months ago.
First, a series of reciprocal visits between leaders in Iran and Turkey points to warming relations between the two states, which have long been on opposing sides when it comes to major issues concerning the region. The most significant was Turkish President Recep Tayyip Erdoğan's visit to Tehran on October 4, during which Iranian President Hassan Rouhani emphasized that the KRG referendum was "rejected by Tehran and Ankara," and that the two countries would not "accept a change of borders under any circumstances." Later that month, on October 19, Turkish Prime Minister Binali Yildirim and Iranian First Vice President Eshaq Jahangiri pledged to take "necessary steps" against the independence referendum. This public mutual support prompted Iran to ease restrictions on Turkish imports.
Second, Turkish-Iraqi cooperation is much stronger than it was before the referendum. Iraq has been discussing reopening an old oil pipeline into Turkey that would bypass the KRG and, in the process, weaken Erbil's hand in any negotiations with the central government concerning independence. Turkey is currently the only outlet for the KRG's oil, and any cutoff would harm its economy tremendously.
Third, Iran may emerge with even more sway in the region, as one of the few regional actors with both a strong influence in Iraq and a working relationship with the KRG. On October 15, Major General Qasem Soleimani – head of Iran's Islamic Revolutionary Guard Corps' extraterritorial operations and one of the country's most influential leaders – reportedly visited Erbil to pay his respects at the funeral of former Iraqi president Jalal Talabani. Soleimani's visit not only signals the growth of Iran's regional foothold, but it may also position Iran as a potential mediator between the KRG and the Iraqi central government.
The KRG's decision to go ahead with such a contested vote has led to significant regional shifts, further complicating the Iraqi Kurds' struggle for independence. The referendum backfired on KRG President Barzani domestically, who resigned on November 1 as his term came to an end. Regional actors will be watching closely to see who fills this leadership vacuum, and to exert influence themselves.
Additional reports that an upcoming Baghdad summit will bring together Iraqi Prime Minister Haider al-Abadi, President Erdoğan, and President Rouhani makes a tripartite alliance seem probable. While the direct consequences of this potential alliance are not yet known, the KRG's position and negotiating power would surely be weakened if and when discussions with the Iraqi central government take place. This is another sign of shifting regional power dynamics that are uniting former rivals and possibly scuttling the Kurdish independence movement.
Sumaya Almajdoub is a Middle East Fellow at Young Professionals in Foreign Policy (YPFP). She received her MA in Middle East Studies from George Washington University.
Merve Demirel is the International Law & Governance Fellow at Young Professionals in Foreign Policy (YPFP). She earned her JD from American University. Merve has a background in foreign policy and international law.
Calling all HuffPost superfans!
Sign up for membership to become a founding member and help shape HuffPost's next chapter
This post was published on the now-closed HuffPost Contributor platform. Contributors control their own work and posted freely to our site. If you need to flag this entry as abusive,
send us an email
.