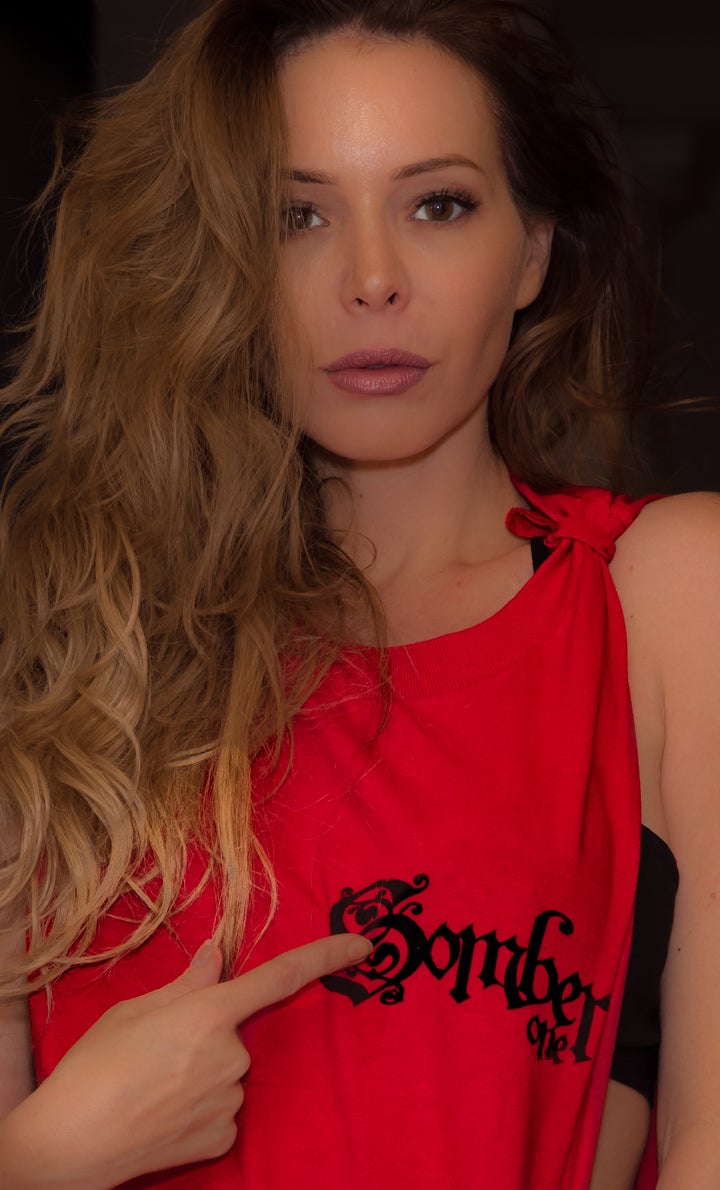 Life's a journey. As we live, we build our own story. How well this story is told is totally up to us in the making. Our victory or failure lies is in the path(s) we choose to follow.
The craving for success is one we all resonate with, but fortunes don't fall from the sky. Successes of today were dreams of yesterday. This is the story of Deven Davis, wife of rock star Jonathan Davis. It's a story of self-discovery, hard work and persistence.
She was born Deven Augustina Schuette in Findlay Ohio on April 6, 1979.
When she was 18 she changed her name from Deven Schuette to Deven Davis for modeling before she was married or even met her soon-to-be husband Jonathan Davis, lead singer of Korn one of the most successful music acts of all time. As fate would have it, Davis ended up being her married name.
From an early age Deven has always been a go-getter. She love to create in all aspects and considers herself an artist. She's the muse to her rockstar husband and they have two sons together. The Davis family moved to Malibu in 2006 and she became a partner at a boutique. After her experience with the fashion store, Davis knew she wanted to start a clothing line with her famous husband.
She asked Jonathan Davis his thoughts and he wanted something black, so she started researching "black" and came across the word 'Somber' which meant 'ash of black'. She came up with 'Somber One' and domained it to start the company. She designed the first Somber One shirt with the help of an artist inspired.
Deven and Jonathan then began working on the font and art work of the cherub which was inspired by their sons chubby cheeks and curly hair.
The first printing of their shirts sold out in about 30 minutes at a festival show where Korn was performing. They kept 10 Somber One shirts for themselves and Jonathan wore them as his personal clothing line for a decade.
Over the years, Korn fans kept asking where to buy Somber One shirts or when they were going to launch. With two little boys under the age of 3 and a husband on tour full time, her first concern was being a mother to her children. So, over the last 10 years, Jonathan Davis has worn Somber One religiously with the massive amount of Korn fans all over the world begging to get the shirts.
Here are 4 lessons to learn from her story. Let's call them the 4 Ds.
1. Discover your potentials
The journey to self fulfillment begins with identifying your potentials for with that comes the clarity about your purpose of existence. The Oxford Dictionaries defines potentials as "Latent qualities or abilities that may be developed and lead to future success or usefulness." It's suffice to say that potentials are diamonds in a rough.
"Do I really have potentials?" You aren't the only one in doubt. Most people ask the same question when they are trying to find themselves.
Like an orange with seeds, everyone has potentials inherent in them. Sometimes, it may take looking deeper to find it. Your potentials lie in the little things that make you happy and the seemingly difficult tasks you accomplish with ease. "Growing up, being fashionable came naturally to me – one of my dreams was to become a Model." – Deven Davis
It's okay to create mental pictures of the future you desire; after all, success begins in the mind. But don't just think it; you need to do it. You need one thing to close the gap between where you are and where you want to be – action.
You don't have to start doing big things. A new born doesn't begin to walk immediately after birth; he/she follows the growth pattern. It's about taking those baby steps no matter how little they might seem to you. "The good thing about taking baby steps is that every single one of those steps takes you closer to where you want to be." – Deven Davis
The fear you are experiencing isn't out of place; not knowing what's on the other side is enough reason to be afraid. Nobody has it all figured it in the beginning. Even the people you admire and look up to were once confused about what they were doing. You have a thousand and one questions hanging without answers. Perhaps this isn't the time to ask questions you don't have answers but a time to work with what you have at hand.
It takes stepping out of your comfort zone to understand that you create your comfort zone and not the other way round. It's okay to practice your way to perfection. You'll never know how strong you are until you push yourself; you'll be surprised how much strength lies in you.
4. Discover your connector(s)
We are often caught up in our quest for success that we forget the simple but salient things. Goal-getting isn't a one man affair; you inevitably need someone or some people to help hold up the ladder as you climb your way up.
There's the tendency to want to do everything by yourself. For some reason, you are convinced that no one sees the vision as well as you do or wishes you well. That's not true. More people are willing to help than you think especially when they see that you are committed to the course. The right input from the right person could be the clue to your puzzle.
We live in a world of endless opportunities. If only we realize that there's so much we can make out of it. The world is missing something – your input of greatness. As she prepares for the official launch of her clothing line Somber One, Deven makes true the saying "If you believe, you can achieve."
Popular in the Community