The National Fund for Workforce Solutions (National Fund) is a uniquely powerful national experiment in sector-based workforce development focused on the needs of both lower-wage people and employers. As the introductory chapter to Connecting People to Work posits, the National Fund was a key step building upon ideas that began in the 1990s. The National Fund was buffeted by challenging conditions as the economy dramatically shifted from moderate growth and low unemployment to the depths of the Great Recession.
Even through economic upheaval and growing pains (site additions, national level capacity increases, securing additional funding), the need to track progress and capture lessons remained primary goals of an evaluation effort that required collaboration between local partners and national evaluation experts.
Evaluation calibrates the achievements against the National Fund's initial goals -- including the number of individuals and employers served as well as its growth in scope and scale. Most important is the evidence that the core principles are demonstrated in practice and that adherence to the principles correlated with higher performance across the sites.
Fidelity to Core Principles Linked to Performance: The National Fund's theory of change predicts a positive relationship between fidelity to the principles and the overall outcome of National Fund sites. The evaluators concluded that "the broad findings... suggest that high fidelity partnerships are more likely to yield higher outcomes that include participant, employer and system change."
In year four, evaluators examined how operationalizing key principles correlated with outcomes for job seekers, incumbent workers and employers. The first criteria gauged the fidelity of implementation with the principles. Each collaborative and workforce partnership was then rated based on their experiences providing services to employers, job seekers and workers.
Participant data through December 2011 was combined with other data and qualitative information from interviews, site visits and written reports. The analysis determined that 3/4 of the collaboratives garnered ratings of high to moderate conformity with National Fund principles.
Data was sufficient to allow the rating of most (80 of 125) workforce partnerships. The majority of sites (66 percent) targeting low-income, low-skilled individuals received the highest fidelity rating. Another 26 percent received moderate ratings. Three-quarters received high to moderate ratings on both employer engagement and career advancement. Furthermore, 67 percent achieved moderate or better ratings on sustainability.
Scope of Investments: The National Fund grew to an unprecedented scale as a workforce development initiative. From an initial commitment of $15 million, leveraged and pooled funds grew to just under $200 million by 2012.
People Served: The goal to serve 50,000 people with family-supporting jobs was within sight as the evaluators tallied 42,299 participants between 2008 and 2012. Evaluators also took note of worker demographics -- almost half had a high school or equivalent education or less, gender was nearly balanced and African Americans were the largest racial/ethnic group participating in the national program.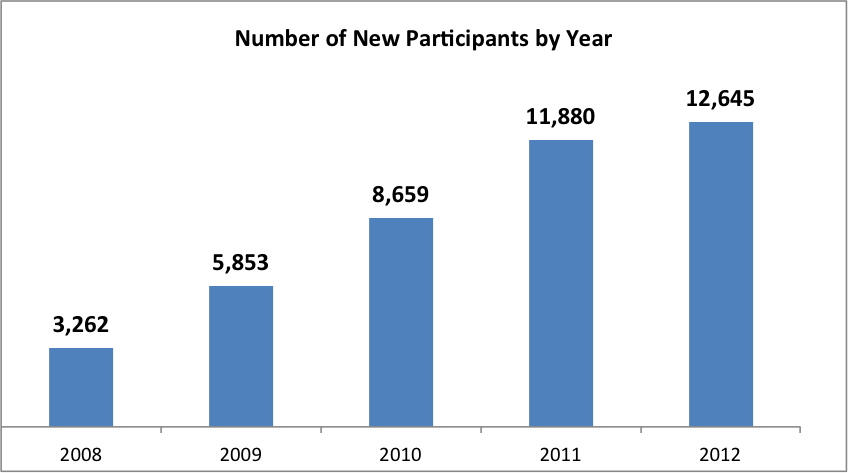 Business Engagement: As of 2012, 4,064 employers had been served which exceeded the National Fund goal of 1,000 employers. In 2012, an assessment of employer needs was the most provided service (57 percent in 2012). Recruitment, screening and referral of job applicants continued to be an important service to employers, but declined from 60 percent in 2011 to 53 percent in 2012. Other services were provided to smaller segments of the employer group including: 29 percent for new hiring training in basic skills; 26 percent for training of new hires in occupational skills; 15 percent for development of career ladder programs; and 14 percent for training plan development.
The largest shares of employers served were in construction (32 percent) and healthcare (26 percent). Manufacturing also grew quickly from a small base as the number of firms serviced increased 200 percent from 2010 to 2011.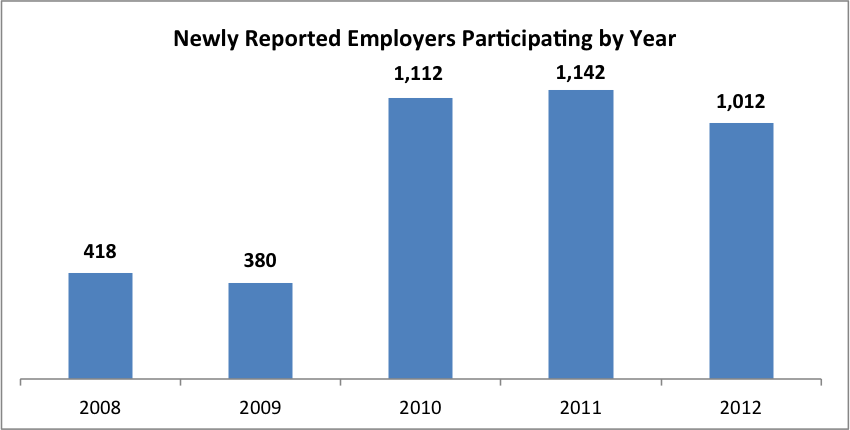 Degrees and Credentials: Credentials, degrees or certificates are a prerequisite for many jobs. By 2012, the number of degrees and credentials completed by workers stood at 10,471 -- up from 679 in 2008.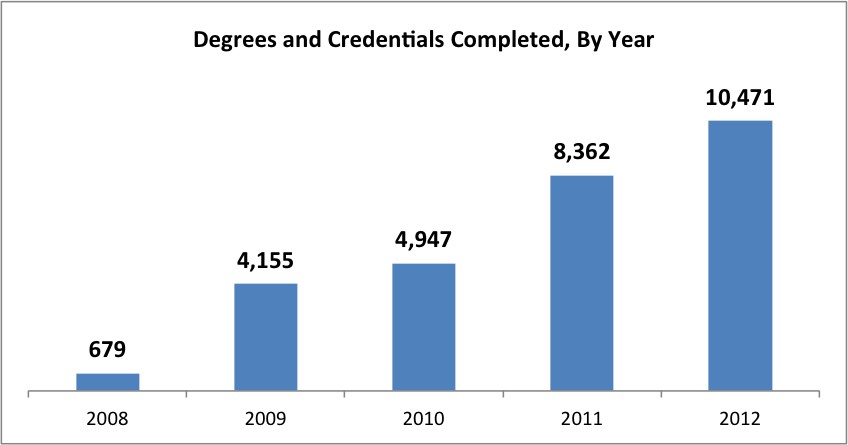 Job Placements: In 2012, the sites reported that 11,694 job seekers secured job placements. This was a marked 52 percent increase over the 7,671 placed in employment in 2011. Certainly, the improving economy helped, but investment by local sites was also paying off.
Conclusion: The National Fund is charting a way forward that presents real promise within a public policy climate that demands innovation. Policies must deliver results that matter and can be felt. Investments in workforce development and employment services are key to unlocking growth.
The National Fund's approaches and lessons provide a way forward for a national, state and local public policy debates. Sustainable change requires meeting both the needs of job seekers and lower-wage workers seeking career advancement as well as the employers who create these opportunities. A major component of success was engaging employers and ensuring that skills attained met the test of market relevance and competition. To learn more about evaluating the National Fund, read chapter twelve of Connecting People to Work.
This post is by Mark G. Popovich, Hitachi Foundation Vice President of Program Managing Good Companies @ Work. The blog is part of a special blog series inspired by the release of the edited volume, "Connecting People to Work: Workforce Intermediaries and Sector Strategies" and focused on the question: what do we know about what works in connecting people to work? In the coming weeks, the blog series will include perspectives from several authors featured in the book, "Connecting People to Work."
REAL LIFE. REAL NEWS. REAL VOICES.
Help us tell more of the stories that matter from voices that too often remain unheard.