Many of the great composers who were also great performers were well known for championing the works of others. Mendelssohn, as conductor, was essential in restoring the nearly forgotten legacy of J.S. Bach. Similarly, he re-introduced Schubert who had all but disappeared to audiences in the mid-19th century.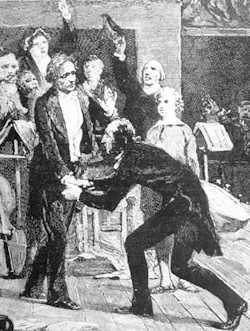 Paganini as the ultimate showman and musical entrepreneur was a brilliant self-promoter but did advocate for the idiosyncratic and much misunderstood Berlioz (in photo right). Schumann promoted the works of the young and unknown Brahms. And in more recent times, Mahler presented Hansel und Gretel. Bernstein performed Mahler, Copland, Gershwin and Britten. Pierre Boulez, as the virtuoso firebrand conductor, took on all comers, most memorably Stravinsky and Debussy. These evocative tales of musical endorsement are the stuff of myth and legend, but beneath the stories lie journeys of discovery and transcendence that have helped to move music forward as well as to reflect on the past.
But what of the great performers whose sole aim is just that, to play? Are they "merely" performers? What researches, developments and transformations in their understanding of the literature are essential for their journeys as artists? I have read sometimes that performers are simply a vehicle, who provide technical expertise but whose role is merely recreative rather than creative. Their journey is seen, therefore, as much simpler, a less energized existence, away from the furnace of individual creativity.

By contrast, I have always conceived of performers as being complicit in the very act of creation. Through their journeys of musical discovery, by developing their insights and deepening their understanding, they present to us their most recent and most authentic reading of the great works in the canon.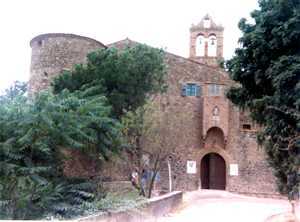 This summer I had the immense good fortune to be a fellow traveler on several such journeys of discovery. My wife and I went to Tuscany to attend the Incontri in Terra di Siena chamber music festival. This event is centered around La Foce, that inspiring home of the great writer Iris Origo, and is organized by her grandson, the cellist Antonio Lysy. The festival lasts about a week and presents its concerts around the locality, from the courtyard of Castelluccio to the beautiful churches of Montefollonico and Pienza, as well as small intimate theatres such as the 1830 Teatro degli Avvaloranti in Pieve, which, although tiny compared to theatres in the States (it has only about 200 seats), nevertheless still has loggia boxes. (A charmingly pardonable example of maintaining the social hierarchy!) It was in Pieve that "the journey" began, really quite literally.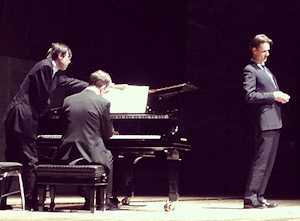 The great English tenor Ian Bostridge with his equally inspired pianist Julius Drake, gave a performance of just one work, Schubert's astonishing song cycle Winterreise. The irony of listening to songs focused on a winter tale at the height of the Italian summer was quickly forgotten. Wilhelm Müller's heartbreaking poems and Schubert's wrenching musical settings truly took you on a journey, of 70 minutes or so, or perhaps it was just a second, or something else entirely, that stretched out into timelessness. Bostridge and Drake are two artists who have performed this work hundreds of times together and yet find each encounter different and extraordinary, what with the special alchemy of music, words, setting and listeners. When the cycle finished after its long journey of doomed love, everything froze. The artists remained in the last word and musical sound, and the audience seemed to listen to the resonance of their experience, for no one stirred for minutes.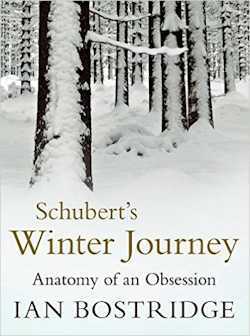 Then Bostridge returned to the stage many times to receive his deserved applause and in all that time he never once smiled. But this was not an act of casual arrogance towards his adoring audience; it was more the sense that he was still there in the music and couldn't be quickly dislodged.

Bostridge has recently written a book about Winterreise called Schubert's Winter Journey: Anatomy of an Obsession in which, he talks about his journey in discovering these 24 songs. It is written in eloquent non-musical language and even if you have never heard the song cycle it would still come across to you as great storytelling. This is how he introduces his subject and the very first song of the cycle "Good Night":
"Good Night" is very often the end of the tale, isn't it? It's what we say to children when the bedtime story is finished. It has something gentle about it, and this gentle song, a song, which in rehearsal or in performance, I always experience as both an ending to something and also as a prelude to the cycle proper. Marked down in dynamics and hushed pretty much throughout, as the wanderer creeps away from the household in which he has loved and, somehow, lost, it contains only the barest hints of the alienation and emotional extremes to come. The hints are there, though, to be registered and refracted through later songs.
With Julius Drake, Bostridge presented to his small ardent audience on that night, his present view of this work. Ever complicit with Schubert, he will undoubtedly provide listeners with many more revelations over what one hopes will be the long journey of his career.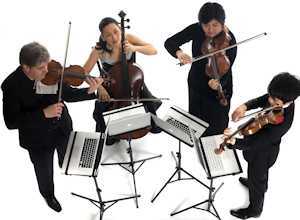 I had the same sense of a journey with the two performances by the Borromeo String Quartet which appeared at the festival on a flying visit from Boston. The Borromeos presented a Bach Fugue and Passacaglia in arrangements by their leader Nick Kitchen along with three of the late Beethoven String Quartets, Op. 130, 131, 132. These three late quartets represent the summit, to my way of thinking, of the quartet literature and any ensemble tackling them does so against a sea of expectation and anticipation. I have heard the Borromeos in this repertoire for many years and have savoured their journey through this world. Their two performances revealed that the journey is now very far advanced, although my conversation with Nick Kitchen led me to believe that there are still many years left of fascinating discovery.
What I heard in performance was something very special, something that perhaps I had not heard in their performances before. It was not an arrival, but an inflection point in their musical realization, and it left me energized and deeply moved, recognizing that Beethoven, like Shakespeare, represents one of our greatest and most innovative contemporary writers. The sense of familiar sounds and ideas, revealed, led me to talk further with Nick about the ensemble's journey in preparing these works. What he had to say opened up a new world of thought and discovery for me.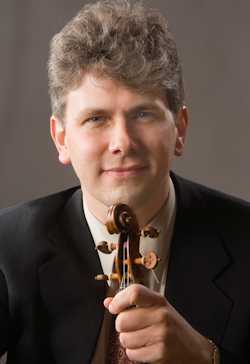 The Borromeos are still, I believe, the only string quartet in the world to play from laptop computers. Now why is that so strange and wonderful? Well it's really about how they are then able to understand and prepare their performances. The laptop allows the whole quartet to work from the full score. Rather than each player following just his own individual line, the performers see everything that is happening simultaneously and how their own part fits into the whole. The musical insights this yields leads me to wonder why more quartets are not following their lead. (Or indeed larger ensembles and even chamber orchestras.) The Borromeos can make notations on the screen just as one would mark up a hard copy score. They can turn the pages thanks to an ingenious foot device that Nick himself invented.
But what is really extraordinary it that the group plays from the original Beethoven manuscript. (That's Nick for you, always challenging, always seeking how to better penetrate the composer's intentions.) This is no easy feat: on first glance at the composer's hieroglyphs, you might think the score impossible to read. But you really can get used to Beethoven's most idiosyncratic scrawl as you realize that he was committing to paper something so potent and red hot that the very act of writing sears the page, and I am really not exaggerating. Nick has analyzed these scores in the minutest of detail and his findings are truly important to both performers and academics. (How he has accessed all these original scores from across the globe would be the subject of another essay!)
Beethoven attempts to write not just the music but the emotion he wants the musicians to understand and reproduce for the performance. This is far different from following the bland, featureless expanses of a printed edition, which has systematized and reduced the composer's direction to an oh-so-legible minimum.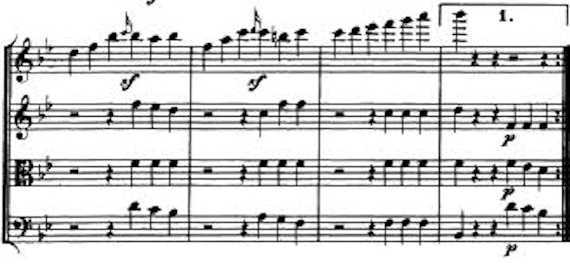 Looking at his score, in his own hand, one is astonished and awestruck by how much information he is giving, about what he would like to have happen. And it's more than just technical markings. Instead there are 11 different piano and 6 forte markings, many types of spiccato, and countless types of hairpins.

For the Borromeos to turn all of this into a musical journey of discovery presents all of us with the happy opportunity of listening as their performances grow into something perhaps even more extraordinary than what I heard in the beautifully quiet and sonorous churches of Tuscany.
With such performers as Ian Bostridge, Julius Drake and the Borromeos, we experience artists as the strivers, approaching their musical goals over many years. Sometimes, their reach is beyond the grasp of even the most gifted. But it is the journey itself, much more than the arrival which, is the most important part of the quest (as Cavafy and Odysseus would agree.) We should all watch and listen to their respective and incomplete musical journeys with unreserved attention, thanks and devotion. For such artists will continue to refresh our lives and our culture, touching our spirits with their sense of uncompromised music making.
Photo of Borromeo Quartet by Eli Akerstein; photo of Nicholas Kitchen by Christian Steiner
Calling all HuffPost superfans!
Sign up for membership to become a founding member and help shape HuffPost's next chapter