"We Stopped This Law (for a month)," headlined the alert on SMEXbeirut (www.smex.org), giving Lebanese journalists, activists, ICT experts, and others a breather from draft legislation that could potentially choke them.
According to the website of Social Media Exchange that specializes in new media training and creation of civil society groups in Lebanon and the Middle East, supporters were mobilized to halt the law before it crippled their respective activities.

Their beef: The proposed legislation "could have terrible implications for the Lebanese economy and for professional and personal privacy."
Among the draft law's major offenses: Article 92 that says anyone providing online services must apply for a license; Article 82 that allows for warrantless search and seizure of financial, managerial and electronic files, including hard drives, computers, etc.; and Article 70 that establishes the Electronic Signature and Services Authority (ESSA) as a new regulatory and licensing body with almost unchecked powers.
"It was sent back to parliament to revise the wording," said SMEX President Mohamad Najem this week. "Legislators never consulted any civil society organizations or companies, and many hadn't even read it."
Critics have lambasted members of parliament, many of them older and tech-challenged, with being totally clueless about the law's implications and dangers.
"The parliamentary committee in charge will add on members who are more familiar with technical and Web-related issues," said Najem of the review process that activists hope will be drawn out.
Press freedom advocates fear any such clampdown would put Lebanon, noted for its freewheeling media and open cyberspace, in the same league as other Arab countries that jail and torture bloggers for their dissenting views.
"The law is vague and mixes commercial transactions, bank signatures with Internet activity, be it individual, collective, athletic or political," said journalist, blogger and activist Ibrahim Arab of the 56-page draft legislation.

Journo/blogger Ibrahim Arab (Abu-Fadil)
This wide, unclear umbrella will provide ESSA with unlimited berth and a return to a security regime to control the increased activity of not only bloggers, but also websites of political parties and news organizations, he added.
"Had there been a separation between media and political activity and clearer points on that matter, and, bank and commercial activity, we wouldn't have had such vocal opposition," he explained.
If the law is passed, the Lebanese government will have shot itself in the foot and placed itself on the list of countries targeting liberties and human rights, Arab concluded.
Not so, argued Minster of State Michel Pharaon who told the BBC that the government needed this draft law to upgrade its IT requirements
But Member of Parliament Ghassan Moukhaiber slammed the hasty fashion his colleagues tried to pass the draft legislation.
Al Balad newspaper quoted him as saying it was full of holes and that ESSA's jurisdiction would counter that of many government ministries and empower it to act as judge and jury, in addition to allowing it to violate bank secrecy.
A series of cartoons by SMEX supporter Maya Zankoul to drum up anti-legislation support aimed to illustrate that it was no joking matter.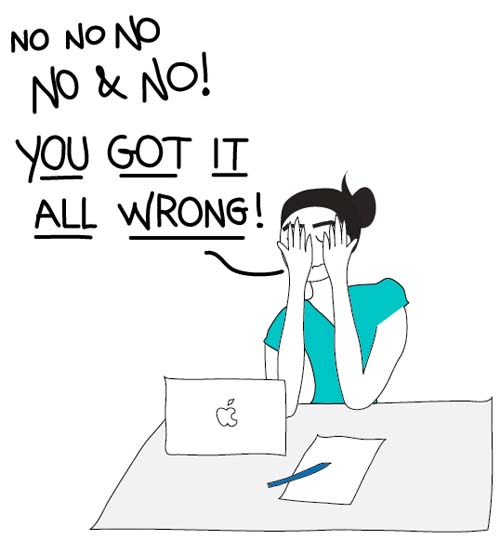 Maya Zankokul mocks decision to shackle Internet users
She said the Lebanese government got it all wrong, and urged officials to consider Internet laws that ensured the availability of broadband, that provided wider availability in remote Lebanese areas, and shamed officials for having sites that were "only IE6 compatible."
Graphic designer Naeema Zarif was mobilized to design a protest flyer to postpone a vote on the law. It made the rounds in cyberspace.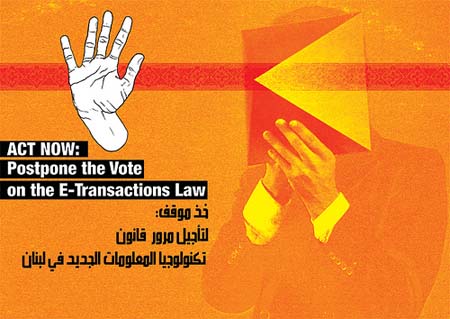 Nameema Zarif's design to postpone the vote
Gabriel Deek, the secretary general of Lebanon's Professional Computer Association, appeared on TV to decry the draft law.
The activists' campaign prompted the Lebanese daily Al Akhbar to describe the Internet law as a new security regime.
Its lead read: "Everyone wanting to work on the Internet must obtain a license. This is the latest innovation to shackle the World Wide Web."
Meanwhile, Lebanese University Media and IT professor Imad Bachir told a Beirut conference the Web may provide an expansive space for freedom of expression, publishing and exchange of information, but that content producers and providers had a responsibility to lift restrictions on access to information.
Ironically, Lebanon's controversial draft law comes on the heels of reports of a new U.S. Senate bill that would grant the American president emergency powers to seize control of, or even shut down, portions of the Internet.

According to CNET News, Sen. Joe Lieberman, who chairs the Homeland Security Committee and is the lead sponsor of the bill (dubbed "kill switch"), is advocating emergency presidential powers to pull the plug on the Internet, or parts of it, to safeguard the U.S. from any potential cyber attack akin to 9/11.

Related
Popular in the Community