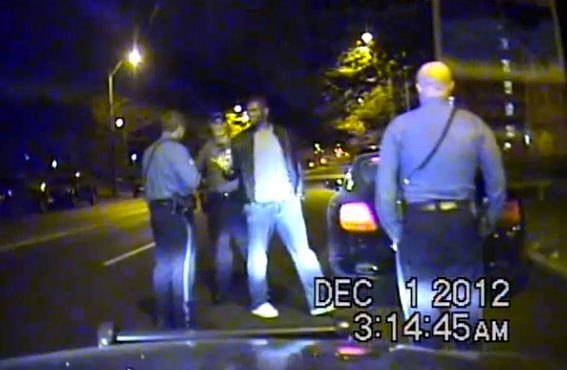 The Kansas City Police Department released a video on Friday of officers speaking with Kansas City Chiefs linebacker Jovan Belcher several hours before he fatally shot 22-year-old Kasandra Perkins on the morning of Dec. 1.
The KCPD also released a video, both via YouTube, that shows an officer en route to the Chiefs' facility several hours later. Belcher shot himself at the team facility after speaking with head coach Romeo Crennel and general manager Scott Pioli.
Police spokesman Darin Snapp had previously discussed the late-night encounter, saying that Belcher had been found asleep in his parked car and claimed he was visiting the home of a "girlfriend." According to the timestamp of the video, KCPD encountered Belcher shortly after 3 a.m. on Saturday morning. Officers approached and spoke with Belcher, who appeared cooperative and stepped from the parked vehicle.
NOTE: The audio for the video does not begin until the 4:57 mark.
"You just need to go upstairs. We're trying to cut you a break here," an officer can be heard saying to Belcher as they make certain that he is not driving. The video ends with Belcher walking away from the vehicle toward a residence.
"There was no cause for a field test," Young said, via the Kansas City Star. "The responding officers did not smell any alcohol. As you can see, there is no stumbling, there is no slurring. You need pieces in place to give a field sobriety test. You need indications."
The second video captures several frantic moments further along the tragic timeline of the murder-suicide, as a police officer rushed to the Chiefs' facility. He learned of Belcher's involvement during the drive to the facility. Upon exiting the car, the officer can be heard saying "I've got a sighting from afar. It looks like they're in a negotiation."
MORE FROM THE ASSOCIATED PRESS:
KANSAS CITY, Mo. — Police released video Friday night that shows officers finding Kansas City Chiefs linebacker Jovan Belcher asleep in his car just hours before he killed his girlfriend and later shot himself.

The recording was among two dashboard videos made available by police nearly a week after the murder-suicide. The second video shows an officer responding to Arrowhead Stadium, where Belcher shot himself in front of team officials shortly after killing Kasandra Perkins at their home on Dec. 1.

The first video shows officers finding Belcher asleep in his parked car around 3 a.m. that day outside an apartment complex. Officers talk to him, and he identifies himself as a Chiefs player.

Police said he was cooperative and told officers he was there to visit a woman he described as his girlfriend but that she wasn't home. The video shows Belcher later stepping out of his car and thanking officers, saying he's going to go upstairs.

Police have said a woman allowed Belcher into the building, though she wasn't identified.

The second video begins around 8 a.m. from the dashboard of a patrol car speeding to the stadium. Officers can be heard over the police radio confirming there had been a shooting connected to Belcher, and later that there was an armed suspect at the stadium.

The video shows the police vehicle arriving at a stadium parking lot and the officer stepping out, asking over his radio that other responding officers cut off their sirens, which can be heard in the distance.

"I've got a sighting from afar, it looks like they're in a negotiation ... I need a rifle asap," the officer says as he walks toward the parking lot. "I'm at the south side. I'm at the main entrance, trying to sneak up on foot."

The video cuts off seconds later.

Police have said officers were called to Belcher's home around 7:50 a.m., after he fatally shot Perkins, whose body was found on the floor of the master bathroom with multiple gunshot wounds. Belcher and Perkins had a 3-month-old daughter, Zoey.

Belcher then drove about five miles to the stadium, where he was met by general manager Scott Pioli and coach Romeo Crennel, whom Belcher thanked for all they had done for him. When police arrived at the stadium, Belcher moved behind a vehicle, out of clear view of officers, knelt down and shot himself once in the head, according to police spokesman Darin Snapp.

___
Calling all HuffPost superfans!
Sign up for membership to become a founding member and help shape HuffPost's next chapter