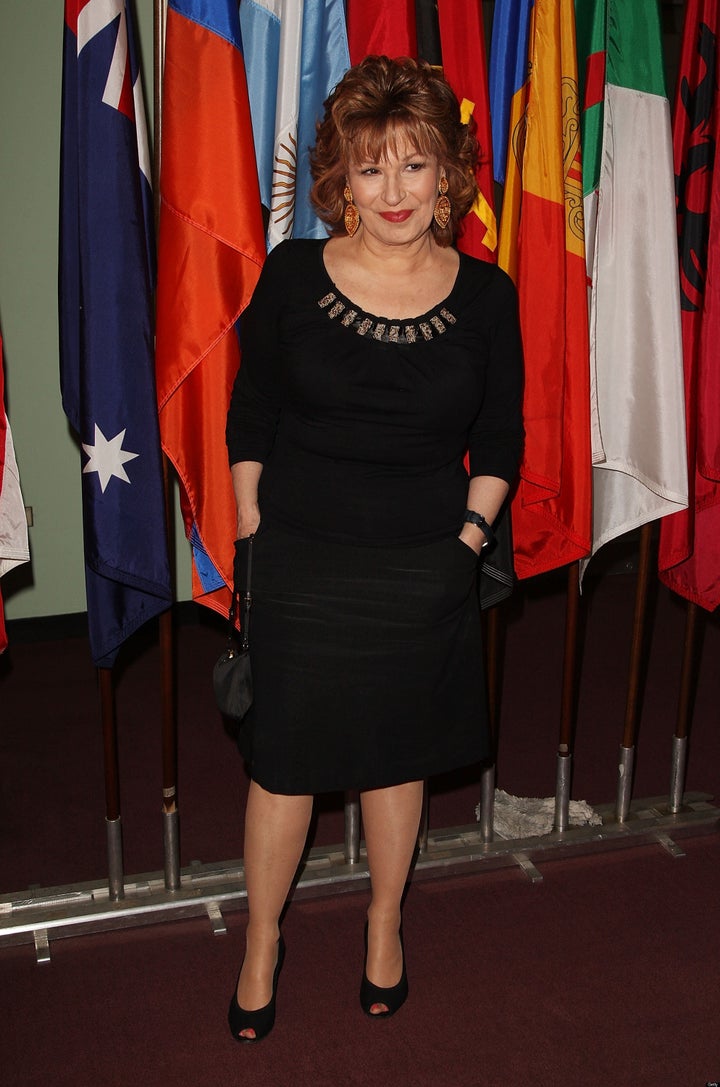 "I'd love to have Sarah Palin on the show," Behar said. "She would do very well with me, because I'm not out to get Sarah Palin. I want to hear from her, she has things to say."
Behar, an outspoken liberal, said she wants to invite guests from both sides of the aisle to appear on her show.
"I don't want to do just a liberal show," she said. "I interviewed Ann Coulter when I was sitting in for Larry King a couple of times, and we have a rapport. I like to talk to her. I think it's interesting to me to talk to people who don't agree with me all the time. Rush Limbaugh, let's get him on the show! Even Dick Cheney is welcome on my show. I'll have a faucet ready for him but he can come."
Behar said the show, which will premiere in the fall, came together in the last few weeks, and that she's envisioning it like the Sunday New York Times.
"I have a lot of interests. It's not just politics," she said. "I'm interested in so many different things and I'd like to cover a lot of territory. I'm trying to see my show as the Sunday Times. You have the Arts & Leisure section, you have the Op-Ed page, you have the Book Review...even the Style section has those wonderful essays about relationships. I love that topic -- I've been married, I've been divorced, I've been dating for 27 years -- I have lots of stuff to talk about. So there's all sorts of relatable topics and I hope that my audience comes over to my new show."
Behar said that her friend Larry King -- who she's subbed for many times and who she'll now go up against at 9PM -- called immediately to congratulate her.
"Larry called me [Wednesday] night as soon as he heard and congratulated me, and we have a plan to have dinner. We have a date in a couple of weeks," she said.
The 9PM hour's leading cable news host, Fox News' Sean Hannity, hasn't yet reached out.
"Hannity hasn't called!" Behar said. "Why not? I wonder, he doesn't call, he doesn't send me an email -- what's up with that?"
Regarding Rachel Maddow, who also airs at 9PM, Behar said, "I like Rachel very much. She was on 'The View' and we bonded. She's a very smart girl."
Ken Jautz, Executive Vice President of CNN Worldwide and the head of HLN (which rebranded from Headline News in January), said, "Joy fits very well in the HLN primetime lineup," which he said is dominated by what he calls the '"3 Ps" -- personality, passion, and point of view.
But he cautioned that while Behar and King are both on at 9PM, the networks don't consider them competitors.
"Absolutely not," Jautz said, when asked if Behar would be competing against King. "Joy's show, like the other HLN shows, is opinion based. Larry has always kept his personal point of view to himself. I see opinion as a differentiator between the shows in this hour. It's also a differentiator between the two networks."
HLN's strategy, Jautz said, is to develop a primetime lineup that is "distinct and different from CNN's."
"Our goal is to develop the two networks such that they are not competitive," he said. "We have two goals -- to strengthen and grow both of our fully-distributed domestic networks, HLN and CNN, but also to differentiate both of them. And I think that's what this does and that lineup does."
Jautz moved to create a new show at 9PM to capitalize on the lead-in from "Nancy Grace," which in May 2009 was up 72% in total viewers and 84% in the A25-54 demo compared to the previous year. The hour currently features a repeat of Lou Dobbs' 7PM CNN program.
"This was not a surprise to Lou," Jautz said. "Lou and I have been speaking all throughout...that I'd like to use Nancy's strong lead-in on an original program."
Behar, who will remain a co-host on ABC's "The View," said that she isn't nervous about being too busy once she adds HLN host to her list of duties because she has always had much of the afternoon free.
"I get up at 7, I do 'The View,' we're on the air from 11-12, and there's always something to do and then I'm free," she said. "So it's just more things that I like to do. That's how I see it.

Popular in the Community