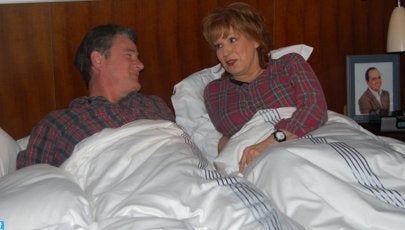 Joy Behar ended her HLN show with a surprising twist involving none other than Joe Scarborough.
Behar's show was axed last month, and she has spent the intervening weeks openly razzing the network for sending her packing. Her final show featured some spiky moments as well, but the finale was straight out of TV history.
Behar thanked her audience and fans, and invited her crew on stage for a farewell toast. The screen went to black, but that wasn't the end of the show.
Behar appeared in bed and woke up next to...Scarborough. In a spoof on the famed ending to the sitcom "Newhart," Behar woke up complaining about a nightmare, which Scarborough pointed out was just "cable news." Behar had teased the finale of the show earlier, tweeting, "Let's just say I'll be getting in bed with a Republican."
Scarborough and co-host Willie Geist wished Behar the best on Friday's "Morning Joe." Other celebrities have also been notably supportive. The New York Times noted that some of her guests spoke out against the cancellation this week. Whoopi Goldberg said on Tuesday, "I don't know what HLN is thinking!" while Jane Fonda said that her show wouldn't have been canceled if Ted Turner was still at CNN.
HLN will play reruns of Behar's show before switching over to Nancy Grace repeats in January. But that may not be the end of Behar's program. Behar told the Times, "I'm hoping to be picked up by someone else." She said that she is in the process of meeting with executives at different networks.
WATCH:
Popular in the Community