Say hello to your new favorite GIF.
"Michael Flynn promised full cooperation to the [Robert] Mueller team," Behar read in disbelief, "and is prepared to testify that, as a candidate, Donald Trump directed him to make contact with the Russians."
However, the news Behar read appears to have been taken from ABC News' Brian Ross, who was later suspended for four weeks without pay for an error in his reporting. Late Friday, Ross informed viewers on "World News Tonight" that Trump asked Flynn to contact Russians during the transition after the election, not before as was originally reported.
Still, the news of the guilty plea caused Behar to fling her arms in the air and yell "Yes!" as the audience cheered.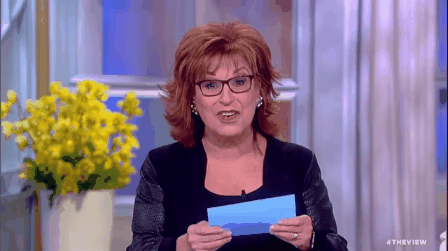 "It's beginning to look a lot like Christmas, and it's beginning to look a lot like collusion," guest Ana Navarro said.
To this, Behar retorted, "No, no, [it's like], he goes to jail! He goes to jail! He goes to jail! Lock him up!"
Honestly, it's just pure Joy. You can check out the full video above.
This post has been updated to include Ross' correction.
Popular in the Community