You can count Joy Bryant as one of the countless celebrities with a fashion line. But before you write off the "Parenthood" actress' collection as more cheap threads made in a far-off land, think again.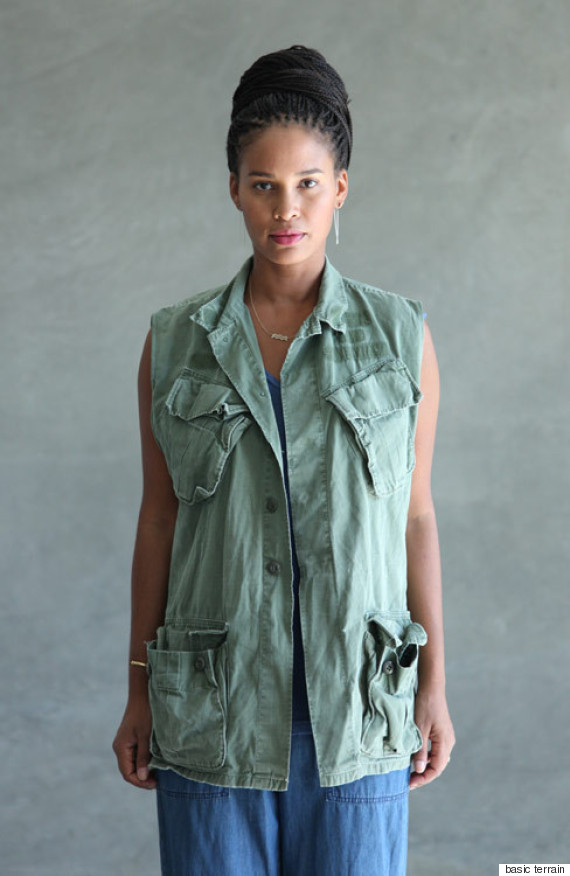 Basic Terrain, Bryant's first foray into fashion, is a high-quality sportswear brand that's made in the United States -- Los Angeles, to be exact. In fact, it all started in Bryant's kitchen, when her stuntman husband David Pope used a sewing machine to recreate a pair of his wife's favorite Thai fisherman pants. Those pants, called The Eden, are now the signature design of Basic Terrain, along with military-inspired jackets, cozy hoodies and relaxed jumpsuits.
"As I've gotten older, I don't want to wear tight clothes all the time," Bryant told The Huffington Post. "I want to be comfortable, but I also don't want to look schlubby. I think that we offer pieces that can make you look cool and effortless. That's my whole vibe. I don't want to look forced or contrived, like I'm trying too hard to look cool -- I just want to be cool."
And perhaps one of the coolest aspects about Bryant's homegrown collection is why she did it: "I just don't want to be old and say, 'coulda, woulda, shoulda,'" Bryant said.
The model-turned-actress could have easily just licensed out her name to be used on a fast fashion line, but she and her husband wanted to make both the time and financial sacrifice to do it their way.
"You have to be crazy to do something like this, because you're rolling the dice," Bryant explained. "I told my husband, 'Here's the thing, we could lose a lot of money on this or it could totally blow up.' Thankfully we're not going to get to a place where we'll lose our home, but we have nothing to lose and everything to gain."
"I'm a poor black child from the Bronx, who went to Yale," she added. "Anything is possible."
Here are some of our favorite looks from the Basic Terrain collection. Make sure to scroll down to the bottom for everything else we learned about Bryant.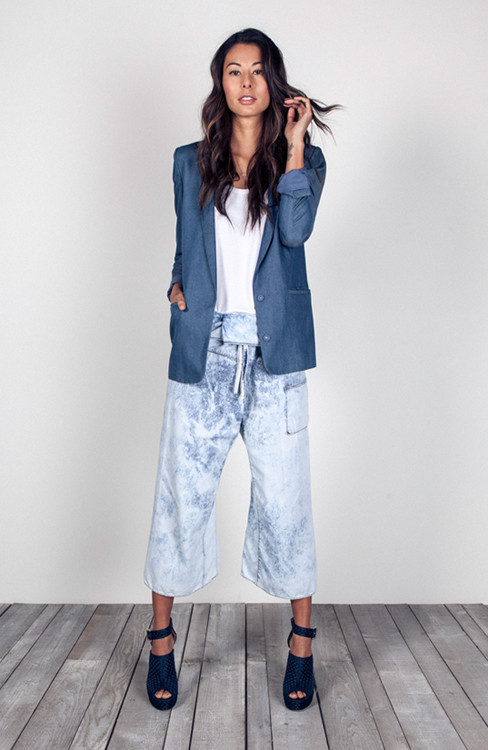 Basic Terrain
The Eden pant in Bleach, $192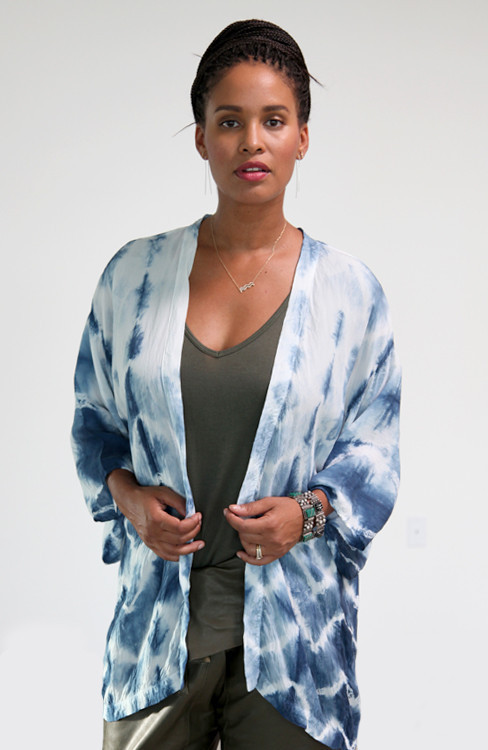 Basic Terrain
Kimono in Sky Tie Dye, $180

Basic Terrain
Denim Military Jacket, $265 and The Eden leather shorts, $590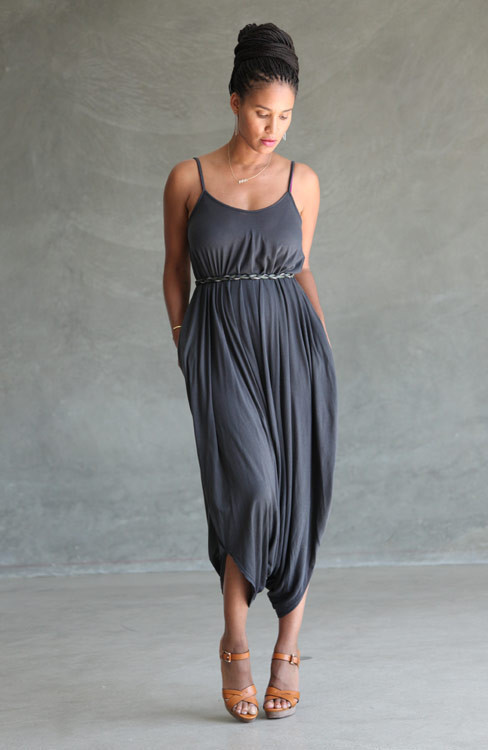 Basic Terrain
Harem jumpsuit, $158
What are your style inspirations?
These ladies have been my consistent top four or five style icons forever. First of all, Kate Moss. And Tracy Ellis Ross has always been my style crush -- way before people really discovered her. Also, Milla Jovovich and Carine Roitfeld.
How about your beauty must-haves?
Over the years I've really pared down my regimen and my skin has never been better. The products I use now are Epicuren. I love their cleansers, scrubs and the volcanic mask if I get a little zit. I also like Skinceuticals for their blemish control products. Jurlique for the rose water and lavender spray and some of their oils. What I do for moisturizer now is I do a few drops of rose oil and aloe vera gel. But the thing that I feel is my beauty secret is Thayer's rose petal witch hazel. I use that to take off my makeup or just to wash my face -- then I put on my DIY moisturizer.
What's your workout regimen?
I hike and I do Kundalini yoga. This is a more meditative yoga. You still get a physical benefit from it, but it's combining postures with breath work, chanting and mantras through a guided meditation. I like the mental aspect.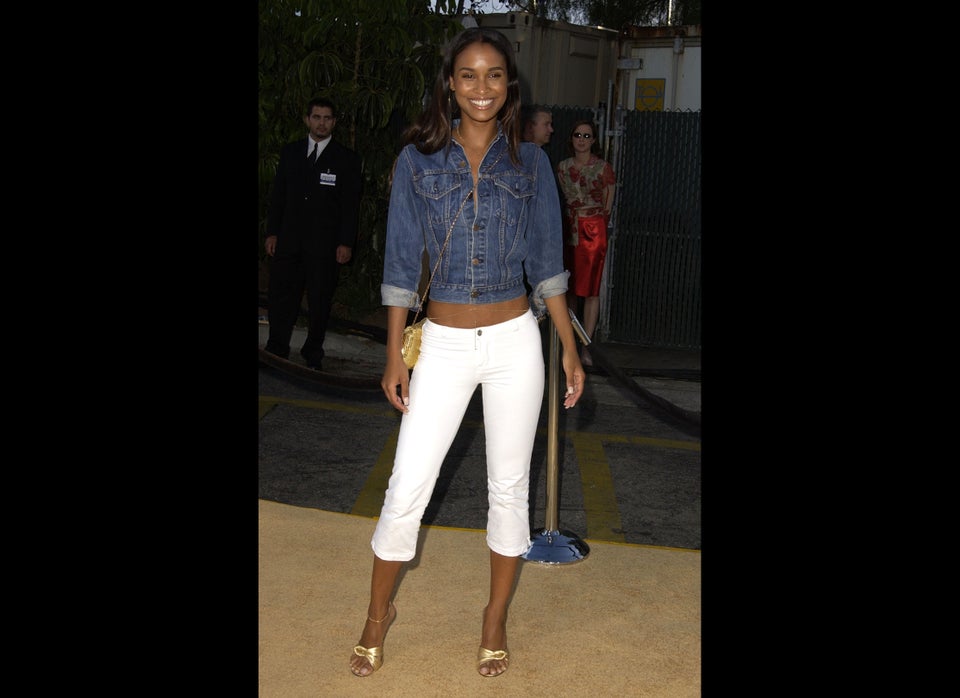 Joy Bryant's Stunning Style Evolution