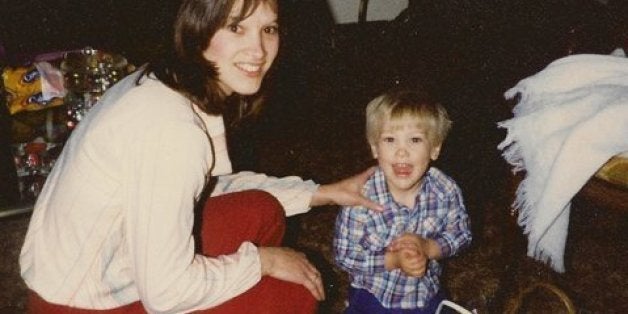 When David Hibbs exited the school bus on April 19, 1991, he was anxious to find his mom. It was a sunny Friday afternoon in Bristol Township, Pa. -- more importantly, it was report card day -- and the 12-year-old boy had just made the honor roll. Unfortunately, that happy moment in time proved to be short-lived. When the boy approached his house, a horror unlike any other he had ever experienced began to unfold before his eyes.
"When I got to the house, I noticed smoke coming out of a window," Hibbs told The Huffington Post. "I also saw my mom's car in the driveway, and I ran around to the back entrance, where I usually entered the house."
Hibbs pulled open the back door, which opened into the kitchen area, and found himself pushed back by a plume of thick smoke.
"There was smoke pouring out," he said. "I remember noticing that all four burners of the stove were on. I envisioned my mom cooking something, leaving the stove on, and somehow the whole house caught on fire."
The thick smoke made it impossible for Hibbs to proceed any further into the family's three-bedroom, one-story house. He needed help, and he needed it fast: His mom was inside the house. He did not see her when he peered through the smoke billowing into the kitchen, but he knew -- he knew deep down inside -- that she was still inside.
"I was hysterical and crying out, 'Help, help, my mom is in there,' and I got the attention of a neighbor who was weed whacking," Hibbs recalls.
When he looked up from his lawn work, Varan Lowry, then 45, noticed the smoke billowing from the Hibbs' home.
"The kid was yelling that his mom was inside the house," Lowry, now 68, told HuffPost. "There was a guy doing some concrete work for another neighbor, so I waved to him and he came running over."
Lowry and the concrete worker attempted to enter the house through the back door, but the smoke and intense heat forced them back.
"When the kid opened the back door, it let oxygen in, allowing the fire to run rampant," Lowry explained.
Within minutes, a half-dozen other neighbors joined Lowry and the concrete worker. Some tried in vain to use garden hoses to extinguish the flames during the search for Hibbs' mom.
"I asked him where he thought she would be and he said she was probably napping in her room," said Lowry. "We broke a window to that room, but she was not there."
Firefighters were soon on the scene and a paramedic placed a still-hysterical David Hibbs in the back of an ambulance.
Hibbs said he does not remember how long he was in the ambulance. Time, he said, felt like it was standing still.
"The [paramedic] was trying to calm me down," Hibbs said. "I was banging on the door because I felt trapped and overwhelmed. I don't know how long it took them to put out the fire."
Hibbs remembers little more about his time in the ambulance until the paramedic brought him news of his mom.
"He finally said, 'Your mom is dead,'" Hibbs remembers. "He said it [without emotion] and I was stunned."
Firefighters found the body of 36-year-old Joy Hibbs in her son's bedroom.
According to retired Bristol Township Detective Lt. Richard Bilson, the scene inside the bedroom was horrific.
"She was lying face-up on a mattress that was nothing but springs," Bilson told HuffPost. "Her body was black -- completely burnt beyond recognition. She looked like a mummy and the entire room was charred."
Bilson said fire investigators initially thought Joy Hibbs was the tragic victim of a house fire. The following day, a coroner confirmed part of that theory -- her death was tragic, albeit no accident.
"The coroner advised us she died before the fire started," Bilson said. "He located five stab wounds, to her neck and chest, and there was a computer cord wrapped around her neck. At that point, it became a homicide investigation."
Unfortunately, there were few clues to be found in the home. The fire had gutted much of the interior and anything that wasn't scorched was watered down or unwittingly trampled upon by firefighters.
"There was nothing we could dust for prints or get DNA from," said Bilson. "We were literally without any physical evidence."
Fire investigators determined the fire was started in the same bedroom where Joy Hibbs' body was found. They checked for a variety of accelerants, but were unable to identify any, meaning the cause of the fire is unknown, Bilson said.
Hibbs' body was too badly burned for the coroner to determine if a sexual assault occurred; however, an item found at the scene suggested she was not.
"When we examined her, her clothes were burned off, but the snap that was on her jeans -- the waist snap -- was intact and still closed," Bilson explained. "If her jeans had been pulled off, it is unlikely that the [perpetrator] would have took the time to redress her."
Bilson added, "The fire was set by the [perpetrator] to cover his tracks. The fire was strictly an afterthought, to destroy evidence."
In addition to the lack of evidence, authorities were having trouble establishing a motive.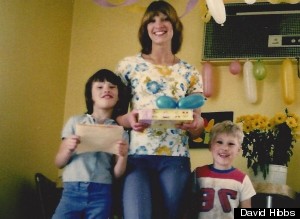 Joy Hibbs with her two children, Angie and David.
Joy Hibbs, according to friends and relatives, was a charming country girl who grew up in Northern Florida, where she met and married her husband before they settled down in Pennsylvania.
"She loved the outdoors," her husband, Charlie Hibbs, then 36, told the Philadelphia Inquirer in July 1991. "She liked to fish, to work in the garden and to cook. We spent a lot of time together. We went everywhere together."
David Hibbs shared similar memories.
"She had a really good spirit," her son told HuffPost. "She was graceful, polite and easygoing."
With no motive for murder, investigators concentrated on putting together a timeline of Joy Hibbs' activities the morning of her murder.
After sending David and his 16-year-old sister, Angie, off to school, Joy went to a local bank to cash her paycheck from her job as a medical assistant. She left the bank at about 9:53 a.m.
At that point, Hibbs went grocery shopping. A receipt showed authorities that she left the store at 10:54 a.m.
Shortly after, the Rev. Furie Orlando, a minister at Bensalem Baptist Church, visited Joy Hibbs at her home. The 71-year-old minister was accompanied by another member of the church.
Orlando, who died in 2004, discussed the visit in a July 1991 interview with the Philadelphia Inquirer. He said he came calling on Joy Hibbs after she expressed interest in joining the church when she stopped in at Easter.
"I asked her if she was 100 percent sure that if she died, she'd go to heaven," Orlando told the Inquirer. "She looked a little disturbed to think that spiritually she was not ready for heaven, but we prayed there in the living room and she had tears of joy, for she knew then that she would go to heaven."
Joy Hibbs was, Orlando said, "saved and born again that day."
According to Bilson, he questioned Orlando, the associate who was with him and other members of the church.
"We questioned them and that went nowhere," Bilson told HuffPost. "They all fully cooperated."
Orlando and his associate left the Hibbs' home just before noon.
There were two other incidents at his house before David Hibbs exited the school bus at 1 p.m.
The first was of a 1980s-model, dark blue Chevrolet Monte Carlo that a neighbor saw parked in front of the Hibbs' house between 12:30 and 1 p.m. The second was a sighting by Lowry -- a sighting previously unreported in the media.
"While I was doing the lawn, a [garbage man] went in back of the house," Lowry told HuffPost. "I don't know why he went back that way because the trash was out front. I told police about it, but they just washed it aside."
Lowry said he does not remember what time the garbage trucked stopped at the house. He believes it was sometime between the pastor's visit and the time David Hibbs got off the school bus.
Bilson is unaware of anyone providing information about a garbage man.
"That is news to me," Bilson said. "Our whole division was working on it, so I don't know if another detective was aware of that or not. If I had heard about it, I would have investigated it."
The other lead -- the one involving the mysterious Monte Carlo -- was investigated by police.
"There was a suspect that developed to some degree, a Robert Adkins," Bilson said. "He drove a Monte Carlo and Charlie Hibbs readily admitted he had purchased small amounts of marijuana from this guy."
Bilson said the witness who spotted the Monte Carlo in front of the Hibbs' residence was later shown Adkins' vehicle and was adamant that it did not match the Monte Carlo she saw that day. Nevertheless, it was the detective's only lead, so he asked Adkins if he would voluntarily submit to a polygraph examination.
"He refused," the retired detective said. "That raised my antennas, but there was not enough probable cause to do anything with it."
Contacted by HuffPost, Adkins confirmed he knew the Hibbs family.
"Yes, I would get them some," Adkins said of the marijuana. "We both bought about a quarter ounce a week. I was not a dealer and they gave me the money and I'd get it. I haven't done that in a very long time."
David Hibbs said he remembers overhearing his parents talk about a disagreement with Adkins in the weeks leading up to his mother's murder.
"I remember hearing my mom talking about it on the phone two weeks before this all happened," David Hibbs said. "My dad wanted my mom to return pot because he said it was all stems and seeds."
Adkins acknowledged there was a disagreement over the sale of some marijuana.
"I think it was Joy that brought it back … and wanted the money back," he said. "But they took pot out of it and added seeds to it. I told her, 'I can't take it back. That guy would be mad at me thinking I was trying to rip him off.'"
The disagreement was known to investigators.
"It's not like these people were buying pounds of marijuana," Bilson said. "It was small amounts, and even if they owed someone $20 or $40, is that going to result in a homicide? That doesn't make sense."
As for the polygraph, Adkins said he had good reason to refuse it.
"I had a torn nerve in my shoulder and carpal tunnel," he said. "My attorney advised me not to take the test [because] the nerves could throw it off."
Adkins also has an alibi for his whereabouts on the day of Joy Hibbs' murder.
"We left for the mountains that Friday and came back Sunday," he said. "Detectives I knew and respected came to my home that Sunday or Monday, I believe, and told me what happened. I honestly couldn't believe it, because she wouldn't hurt anyone."
The lack of identification of the witness who spotted the Monte Carlo, as well as Adkins' alibi, Bilson said, is what prompted authorities to stop looking at Adkins as a possible suspect in the case.
"He was in the Poconos," said Bilson. "I sent two detectives up there to where he was staying, along with a photo of him, and my detectives came back and said they had verified he had been there at the time of the murder."
After ruling out Adkins, detectives took a closer look at Joy Hibbs' personal life. She and her husband had celebrated their 18th wedding anniversary six days before her murder and investigators wanted to know if any issues were festering below the surface.
"I spoke to people that knew them," Bilson said. "I asked if she was running around or if he ever bitched about her. Every time the people would say, 'no, no, no.' Everyone said they were happy and in love."
Bilson also interviewed Charlie Hibbs.
"He was fully cooperative," the former detective said. "He took a polygraph and passed with flying colors. He was willing to do whatever we wanted him to."
In his July 1991 interview with the Philadelphia Inquirer, Charlie Hibbs said he was devastated by his wife's murder.
"I don't believe in God anymore," he said. "If there was a God, this wouldn't have happened. She never hurt anyone in her life. She had me on a diet and not smoking. Now, I'd die tomorrow and I don't care. It doesn't bother me. I'm sick to my stomach all the time."
Essentially, Joy Hibbs only had one enemy -- the one who killed her -- and for more than two decades, authorities have been unable to determine just who that someone is. That, to David Hibbs, is unacceptable.
"I honestly believe they know who did it and they botched the investigation," David Hibbs, now 35, told HuffPost. "All of the detectives who worked on it retired shortly thereafter. These were cops who had put their time in and were waiting to retire. They didn't know what they were doing."
Bilson said he understands David Hibbs is angry, but does not believe there is anything more he could have done.
"I know the son thinks we did a s****y job, but it was his mother and if it had been my mother, nobody would have done it good enough, either," said Bilson. "What he does not understand is, if you don't have evidence or probable cause, you don't have anything."
In the last 22 years, little has changed in the case. Contacted by HuffPost last week, the current investigator assigned to the case, Bristol Township Lt. Terry Hughes, would only say it is an active and ongoing investigation.
For now, it would seem, the case remains as cold as it was in the weeks following Joy Hibbs' murder.
"I've grown up feeling like there is always something missing," David Hibbs said. "I feel cheated by the person that did this. I want people to ask questions about what happened. I want them to care about what happened. I want them to care that police could not solve it and I want them to be outraged by that."
Before You Go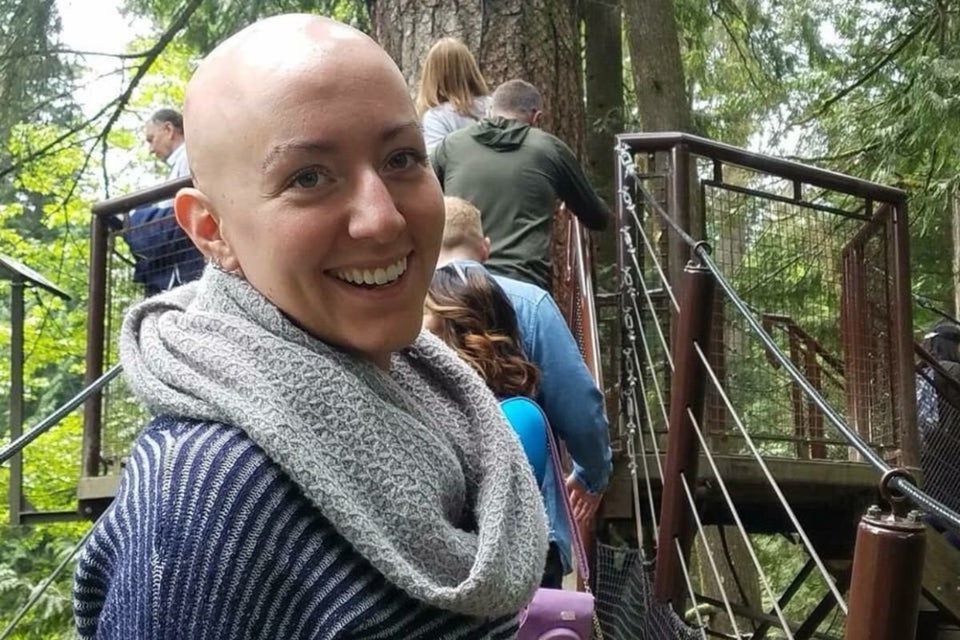 Missing People
Popular in the Community