Three weeks ago today, on Friday June 9, hundreds of family members, friends, and well wishers packed into the New Revelation Baptist Church to pay their last respects to Darius Smith, a 15-year-old child who was killed by an off-duty customs agent in Arcadia, California. The throngs of mourners and supporters lined the isles of the church, crowded the lobby and balcony areas, and spilled out of the church onto the outside lawn. Football coaches, mentors, family members and friends told story after story of how this young man had made a positive impact on their lives and how devastated they were to lose him.
As I stood amid a sea of mostly young black faces at New Revelation Baptist, I found myself seeking my own new revelation by asking hard questions about what has become a dangerously mundane ritual around young black bodies. We know the ritual all too well. They are killed. We cry out for justice. They are slandered, defamed, and discredited in the press. We uphold their memories as sacred before God. A funeral is held. Justice is denied. And like an old cassette tape, the world presses stop, rewind, and play. Stop. Rewind. Play. Stop. Rewind. Play. We relive the same ritual again, and again, and again.
How on earth is anyone to find solace in the midst of such overwhelming grief? How in the world is anyone to eek out an ounce of hope to press on? What does a life of healing, flourishing, and joy even look like for communities that are constantly riddled with deeply traumatic pain?
As I began to slip in the depths of my own sorrow and yield to the temptation to surrender my heart to the dreadfully stark nihilism in this ritual around black bodies, I looked up and saw Darius's mother, Rishawna Myricks. What was she doing? How was she coping? Well, as the organist played and the choir sang, "Jesus is My Help", she was dancing. That's right, dancing.
And as we made our way out of the church and then jumped into cars to file over to the cemetery, she was the one who, along with local Black Lives Matter activists led her community in a chant to "Say His Name!!". And we did.
And when the horse drawn carriage with the bullet riddled body of her slain son passed by, someone from the family in the slowly driven car behind the carriage once again did something that I did not expect. They rolled the windows down, and turned the music all the way up to play one of Darius's favorite songs. And as if nobody there missed a beat, Ms. Myricks, and everybody there knew that it was time to dance in his honor. And so we did. Every single person let the healing waves of music wash over them with their soulful and buoyant caress, and just danced their hearts out right where they stood. We danced like Darius was right there with us. For in that moment, he truly was. It could not have lasted for any more than two minutes. But for those two minutes we turned that cemetery from a place of death and mourning into a place of life and honor. I have no earthly idea how it happened. Somehow, by some great miracle, we followed his mother's lead, and it just happened.
At that moment, I witnessed the joy of a community that, even in mourning, knew that it had access to one of the most powerful tools of resistance to a system of state sponsored violence and oppression that seeks to crush the joyful spirits of vibrant communities like these. As a Christian pastor, I could not help sense that I was bearing witness to the embodiment of Isaiah's prophecy that "you have turned my mourning into dancing, my sorrow into joy". I could not help but hear Nehemiah encourage his people to rebuild by saying that the "joy of the Lord is your strength" when they were being oppressed by a brutal and ruthless power.
I am not suggesting here that joy will always be present in times of mourning. Every person and every community must grieve and resist in a way and at a pace that is right and healthy for them. Yet, as the onslaught of trauma and terror continues to reek havoc on our communities both through the systematic racism of state violence and through the deeply internalized racism of gang violence, families and communities like the Smith and Myricks families in Northwest Pasadena point each of us of the power of joy. That is, especially in the face of a brutal and oppressive empire, the power to have joy is the power to resist.
This inexplicable power to dance in the midst of mourning is not to be smugly dismissed, as has many suggest, as some sort of "slave religion" or momentary hyper-spiritualized pie in the sky delusion. No. Nurtured by centuries of spiritual practices both in Africa and here in America, this a bold and prophetic act of resistance and defiance of a demonic force that seeks to kill you and to snuff out your joy. We are a people that has born witness to and embodied the miraculous ability to dance on the head of the enemy of our souls and press on to create a future that we do not yet see, and to do it with defiant joy. We are a people who have somehow been able to sing , live, and shout "Hallelujah anyhow". And this is the kind of joy that no evil power can extinguish. This is the joy of resistance. This is the joy of the Lord that is our strength.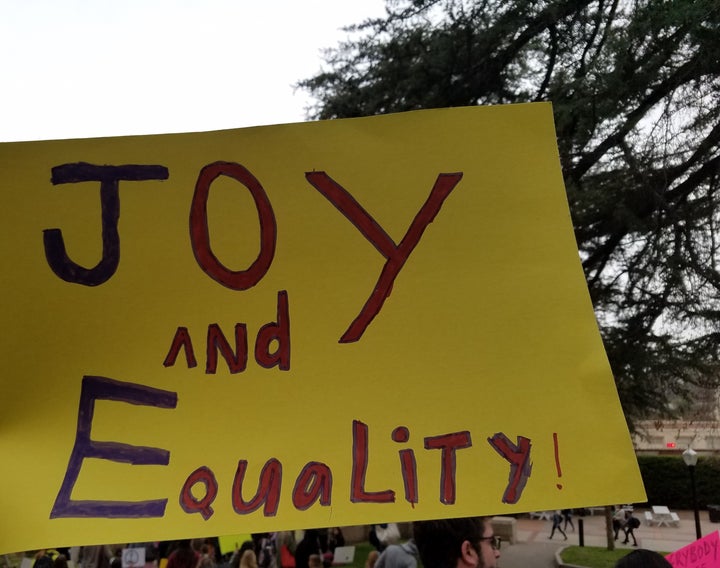 Popular in the Community