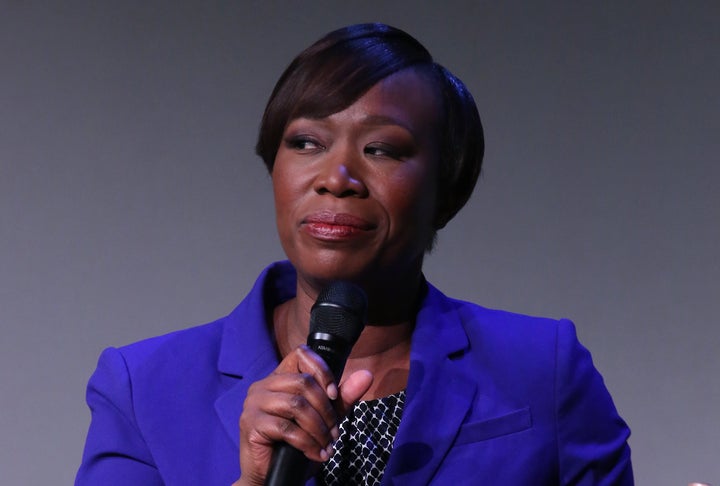 MSNBC's Joy Reid said she doesn't "believe" she wrote the anti-LGBTQ statements she has previously alleged were the result of a cyberattack on her now-defunct blog.
"I genuinely do not believe I wrote those hateful things because they are completely alien to me," Reid said, "but I can definitely understand based on things I have tweeted and I have written in the past why some people don't believe me."
Reid added that the cybersecurity experts she hired to investigate the alleged cyberattack have not been able to prove that her blog had been hacked.
"I've not been exempt from being dumb or cruel or hurtful to the very people I want to advocate for," Reid said. "I own that. I get it. And for that I am truly, truly sorry."
Reid already apologized in December for writing homophobic posts about former Florida Gov. Charlie Crist (D) between 2007 and 2009 after Twitter user @Jamie_Maz shared screenshots of the posts.
Last week, @Jamie_Maz tweeted dozens more screenshots, also allegedly from Reid's old blog, that included statements such as "most straight people cringe at the sight of two men kissing" and "adult gay men tend to be attracted to very young, post-pubescent types."
Yet this time around, Reid had steadfastly denied writing the posts, claiming on Monday her blog was hacked and that a cybersecurity expert had identified "unauthorized activity." This appears to contradict with her Saturday comments alleging the outside experts were unable to prove she was hacked.
Reid did not address on Saturday her seemingly contradictory statements about the alleged hacking or detail whether cybersecurity experts were continuing to investigate the matter.
A representative for MSNBC did not immediately respond to HuffPost's request for comment about Reid's differing statements.
Jonathan Nichols, Reid's hired cybersecurity consultant, said in a statement Tuesday that he "found evidence Joy Reid's now-defunct blog, The Reid Report, was breached after a review of suspicious activity." He did not immediately respond to HuffPost's request for comment on Reid's comments Saturday that appeared to state otherwise.
As HuffPost and other outlets have reported, only a pretty bizarre course of events would have led to those allegedly fraudulent homophobic blog posts.
Reid, who has been noticeably silent on social media since claiming her blog was hacked, shared a post on Instagram about heading "back to work."
Reid opened her show Saturday ― the first episode since news broke on Mediaite of the screenshots on Monday ― by addressing the scandal and apologizing for past homophobic and transphobic comments on her blog and in her tweets.
She then dedicated the next 30 minutes or so of her two-hour show to discussing how "hurtful speech" affects marginalized communities with a panel of LGTBQ activists.
"I can only say that the person I am now is not the person I was then," Reid said. "I like to think I've gotten better as a person over time ― that I'm still growing."
Her attorney, John H. Reichman, said in a statement Wednesday that her team had "received confirmation the FBI has opened an investigation into potential criminal activities surrounding several online accounts, including personal email and blog accounts, belonging to Joy-Ann Reid."
The FBI would neither confirm nor deny the existence of such an investigation when asked by HuffPost.
Popular in the Community