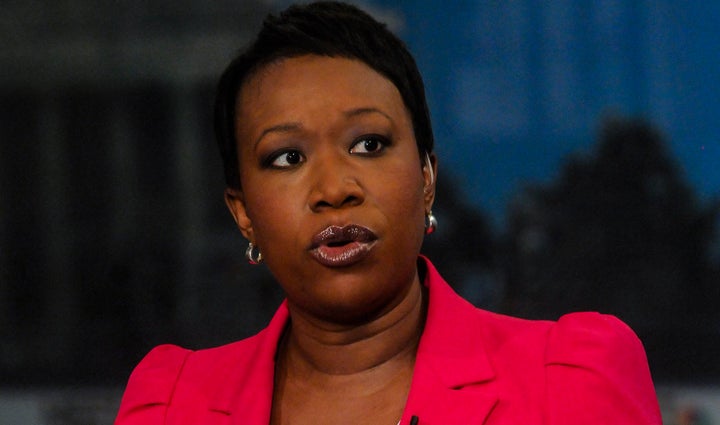 The Daily Beast has suspended Joy Reid's column amid mounting scrutiny of the MSNBC host's claims that she was the victim of a cyberattack that posted dozens of homophobic statements on her former blog.
In a letter to staff on Thursday, Daily Beast Executive Editor Noah Shachtman said that Kevin Poulsen and Max Tani ― respectively, the site's cybersecurity and media reporters ― were investigating Reid's claims, CNN reported.
"In the meantime, we're going to hit pause on Reid's columns until we're satisfied that Kevin and Max's reporting has run its course," Shachtman wrote, adding, "We've all said and done things in our lives that we wish we hadn't done. We deserve the room to grow beyond our past. But these allegations are serious enough that they deserve a full examination."
Reid apologized in December for writing homophobic posts about then-Florida Gov. Charlie Crist (R) between 2007 and 2009 after Twitter user @Jamie_Maz shared screenshots of those posts.
Last week, @Jamie_Maz tweeted dozens more screenshots, also allegedly from Reid's old blog, that included statements such as "most straight people cringe at the sight of two men kissing" and "adult gay men tend to be attracted to very young, post-pubescent types."
This time around, Reid has vehemently denied writing the posts, contending that her blog was hacked. But as HuffPost reported, only a pretty bizarre course of events would have led to the allegedly fraudulent posts.
Reid's attorney, John H. Reichman, said in a statement Wednesday that the FBI had opened an investigation into the alleged hacking.
"We have received confirmation the FBI has opened an investigation into potential criminal activities surrounding several online accounts, including personal email and blog accounts, belonging to Joy-Ann Reid," Reichman said. "Our own investigation and monitoring of the situation will continue in parallel, and we are cooperating with law enforcement as their investigation proceeds."
On Thursday night, The Daily Beast published a report on the hacking claims made by Reid's cybersecurity consultant, Jonathan Nichols. Like HuffPost, Poulsen determined Nichols' "evidence" of the alleged hacking didn't hold much water.
Reid "says a cybersecurity consultant has proof that her old blog has been hacked," Poulsen wrote. "But that consultant, Jonathan Nichols, had trouble producing the promised evidence. And what he did produce failed to withstand scrutiny, according to a Daily Beast analysis."
Reid dropped out of a panel she was slated to moderate in New York City on Thursday. She informed event organizers on Wednesday night that she would need to withdraw from the CAFE Change Summit, sources close to the event confirmed to HuffPost.
The Change Summit was organized by former U.S. Attorney Preet Bharara and his media venture CAFE. Reid was set to moderate a panel featuring Pete Buttigieg, the mayor of South Bend, Indiana; Ravi Bhalla, the mayor of Hoboken, New Jersey; and Washington state Lt. Gov. Cyrus Habib, according to BuzzFeed.
A representative for Reid declined to comment on Reid's withdrawal from the Change Summit and the suspension of her Daily Beast column.
The LGBTQ advocacy organization PFLAG announced Tuesday that it was rescinding its Straight for Equality in Media award to Reid in light of the "ongoing investigation" into her blog posts.
The story has been updated with The Daily Beast's decision on Reid's column, the results of the outlet's investigation and her attorney's statement.
Popular in the Community