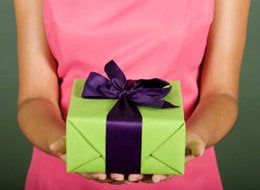 I hope you're not all shopped out because this year's list of New Radical gift ideas may just prove irresistible. And I know that you have equally inspiring ideas to share! So, take a look at what's on my radar and leave a comment about the world-changing gifts you know will stir the hearts, minds and souls of the ones we love. (You could even see it as a way of dropping hints... your very own HuffPost wish list!)
Comfort and Joy
Oh, what a concept: fleece made from fleece! Yes, sheep, not plastic. Another brilliant innovation from Icebreaker, the progressive, sustainable New Zealand company we love. Yes, this is outdoor wear, but it grooves in the city, too. Last night, I wore my royal purple Igloo Zip to dinner, accessorized with an uber-long strand of pearls from the 1920s. I was comfortable, cozy and chic. My 20-something nephew put the Aspiring Hood through its paces as he hopped from club to club on a raw night, alternating between hot and cold air. The verdict? "Dude."
A Room with a View
"Out My Window" is a stunning new documentary by the National Film Board's Katerina Cizek. It's web-based -- yes, interactive -- and uses innovative photography and 360-degree video technology to tell the stories of 13 high-rise-dwelling families from around the world. "It's about our urban planet and the view people have from their windows," Cizek says. (Now, this is reality TV.) More than 100 people from around the world came together on this project -- watch it, be astonished and stay connected as they unveil more features in 2011 (maybe you want to tell your story?). And while "Out My Window" isn't for sale, you can buy something from the NFB's online store -- help keep documentary filmmaking alive!
Storytime for Children
I'd like to recommend two books, because it's Christmas and I won't eat just one cookie, either! I got a warm, fuzzy feeling from Katie Smith Milway's "The Good Garden: How One Family Went from Hunger to Having Enough." It's set in the Honduran countryside and is a great introduction to the global stage for comfortable-but-curious kids (part of the "Citizen Kid" series by KidsCanPress). And a second book will make you laugh so hard you fart. Ha! I am so looking forward to sharing "Rude Stories," by Jan Andrews (illustrations by Frances Blake, published by Tundra Books). The tales have roots in Japan and Canada, Africa and Eastern Europe -- as you'll discover, their themes are universal. And hilarious.
My Head Hurts
Remember the movie "Love, Actually," and how the character played by Laura Linney cared for her institutionalized brother? Did you know that psychiatric patients seldom get visits at this time of year -- or gifts? There's such a stigma associated with mental illness. (Sigh.) But we can help! The Centre for Addiction and Mental Health (CAMH) Foundation has a clever campaign -- Gifts of Light -- where people like us can send practical and meaningful gifts to men and women who are struggling this way. Out-patients, too. Let's actually give some love this Christmas.
My Heart Breaks
Every day, journalists and photographers face peril, and many have died in the last year, bringing us news of the world. They know this, we know this. Yet, as I sat quietly sipping a cup of tea and reading Carlotta Gall's piece in The New York Times about how the photojournalist Joao Silva just lost his legs after stepping on a land mine in Afghanistan, I burst into tears. How can we help Joao and his family? Buy his breathtaking work -- he has a book, "In The Company of God," and there's a special site set up to help.
Cuddle Up In Style
Bye-bye law career (sorry, Mom and Dad!), hello self-employment. Artist-cum-entrepreneur Emily Fischer has turned street maps from around the world into rhapsodies of cloth. You will love her silk-stitched cotton quilts -- whether you're a kid or a grown-up, traditional or hipster. Check out the Haptic Lab site to see if your town is included -- and don't forget, she also does custom work (how about a map of your dad's hometown for his next birthday, hmm? Or one of Jerusalem for the holidays?).
Play It Again
Someone who really knows me (I'm just saying) would give me a subscription series to the Royal Conservatory of Music's Koerner Hall -- a shiny new concert hall in Toronto with an always-exceptional line-up. Like this fall, I managed to snag a ticket to the blow-my-mind show of someone I'd only just discovered: Buika. Have you heard her? Omigod. She opens her mouth and out tumbles Spain, Africa and jazz. (I'm also grooving to Herbie Hancock's Imagine Project, with its powerful message and jazz, pop, and world music influences. Mmm, good.)
Hot Wheels
Whoever said it first got it right: without our health, we're nothing. I love Riders for Health, whose founders saw that getting health care to Africans in remote locations was being hampered by... a shortage of wheels! So, they started an organization that supplies bikes, motorbikes and other vehicles to help health care practitioners do their jobs. Sky News just did a great piece that follows a TB worker up into the mountains on his motorcycle, working to prevent the spread of TB and HIV. You can make a virtual gift to support a particular RFH initiative, you can buy a t-shirt, or you can be part of the Flip for Good program (buy a special-edition Flip camera, and proceeds go to RFH).
And One For The Teacher
If you're a parent, you know the story - thanks to budget cuts, teachers are spending their own money to buy supplies for their students. You also know that teachers really don't want (or need) yet another mug or fruitcake (with or without apples). ClassWish.org has introduced "Thank the Teacher Gift Cards", which can be redeemed for classroom supplies. And they're tax-deductible, too.
OK, I'm pickin' up good, good, good vibrations from all y'all. Do tell -- what are your favorite world-changing gift ideas?