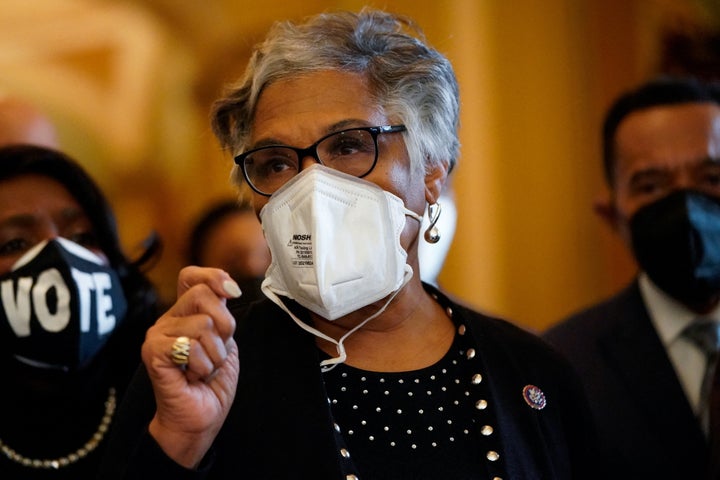 The chairwoman of the Congressional Black Caucus says a Republican congressman poked her and told her to kiss his ass after she asked him to wear a mask.
Rep. Joyce Beatty (D-Ohio) said Tuesday that she asked Rep. Hal Rogers (R-Ky.) to put on a mask as they boarded a subway train that conveys lawmakers to the Capitol from a House office building.
"He then poked my back, demanding I get on the train," Beatty wrote on Twitter. "When I asked him not to touch me, he responded, 'kiss my ass.'"
The congressman declined to comment when approached by a HuffPost reporter. Later Tuesday afternoon, Rogers apologized to Beatty.
"My words were not acceptable and I expressed my regret to her, first and foremost," he said in a statement.
Members of Congress often slam each other on Twitter, and occasionally say rude things to each other, but an actual physical poke is somewhat extra. Rep. Don Young (R-Alaska) apologized almost immediately after he pushed a reporter in 2019.
While Democrats, House staff, police officers and reporters have generally followed mask-wearing rules around the House chamber, Republicans typically put on their masks only when they're about to enter the House chamber itself. Some have been fined for refusing to mask up in the chamber, too.
"This is the kind of disrespect we have been fighting for years, and indicative of the larger issue we have with GOP Members flaunting health and safety mandates designed to keep us and our staff safe," Beatty wrote on Twitter Tuesday, prior to Raju's tweet about Rogers' apology.
Addressing Rogers, she wrote: "When you are ready to grow up and apologize for your behavior, you know where to find me."
Popular in the Community